Woodbine Racetrack is one of the greatest and most unique tracks in the world, and playing it successfully requires knowing the Woodbine horse racing betting odds. The sweeping grounds are bigger than even Belmont Park in New York, another massive venue. Woodbine Racetrack has two turf courses, an inner seven-furlong course, and an outer mile and one-half course, as well as a one-mile synthetic racetrack in the middle. Woodbine is also home to Canada's most famous race, the Queen's Plate.
The odds for the Woodbine Mile are now available. The odds are subject to change so ensure you check back with this page as often as possible for the latest adjustments. The odds were last updated on September 21, 2020:
Breeders Stakes Winners odds
Woodbine Racetrack Betting Online
When you're ready to start making a profit at Woodbine Racetrack, remember that you can add to your success with cashback and similar bonuses on all horse racing bets placed with an online racebook like the ones recommended here. Choosing a racebook is an important step to making the most of your bets and expanding your bottom line. Woodbine has a lot of good bets and major races, as well as plenty of turf racing which makes it unique in North America.
Woodbine Best Bets
Like most horse racing tracks, Woodbine has several best bets to play. The types of bets offered are: Win (horse must finish first), place (first or second), show (first, second, or third), exacta (top two in order), trifecta (top three in order), superfecta (top four in order), Daily Double (winners of two consecutive races), and then the Pick 3 and Pick 4. There are also boxed exotic bets, such as an exacta box, where the top two horses can finish in either order. There is also an exacta or trifecta key, where you guarantee one horse will finish in a certain spot, then box the rest around that finish.
The two biggest bets are the Jackpot Hi-5 and the Power Pick-6. The Jackpot Hi-5 is a bet where the bettor must select the top five finishers of a race in the correct order, but there is only a payout if the bettor is the only winning ticket. If multiple winning tickets exist, 50% is paid out and the rest is added to a carryover. The pool can grow quite large and carry over for weeks on end! It is offered as the last race on the program.
The Power Pick-6 is a Jackpot bet that includes the last six races of every live card at Woodbine. It is a 20 cent minimum bet, and it pays out only when there is one winning ticket. Like the above jackpot, 50% is paid out in consolation and the rest is carried over.
The pools for these are often huge, with carryovers in the hundreds of thousands of dollars. On big racing days, there are guaranteed payouts, meaning these pools become truly massive.
Favorites only win 30-33% of the time, so they are often a bet against to make more money. The minimum age to bet at Woodbine is 18 years old.
How to Bet at Woodbine Racetrack
To place a bet at Woodbine Racetrack, first, decide how much money you want to bet. Then select your horse or horses, and what kind of bet you are going to do. Place your bet by using the horse's number, rather than its name. Once the race is official, you can then see how much money you win back.
Woodbine has a unique configuration in that there is an undulating outer turf course over 1 1/2 miles, an inner synthetic main track that can weather any storm, and then a smaller seven-furlong turf course that was installed in 2019. That used to be a harness racetrack, but the harness racing moved to Woodbine Mohawk Park at the end of 2018. Knowing which track you are betting on helps because some horses prefer a quick trip and others love the wide-sweeping course of the outside grass.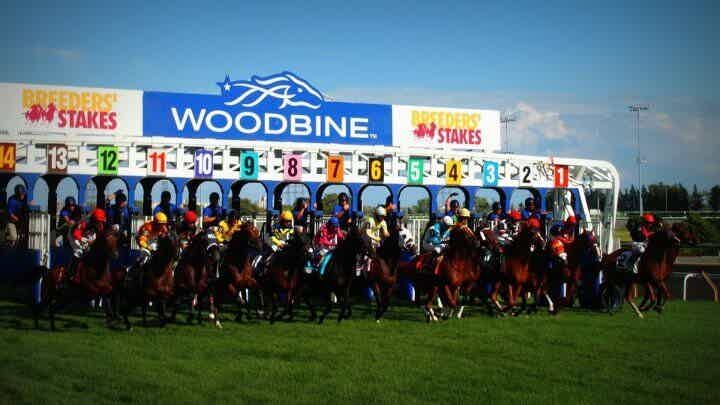 Woodbine Best Races
In 1952, 400 acres were purchased near the Toronto airport to build the new Woodbine Racetrack. It was opened in 1956, and in 1959 Queen Elizabeth II attended the 100th running of the Queen's Plate.
Woodbine is home to the best races in Canada, starting with the $1 million Queen's Plate – often referred to as the Canadian Kentucky Derby. Then there is the $1 million Ricoh Woodbine Mile, and the $800,000 Pattison Canadian International. Woodbine is also home to two major Breeders' Cup prep races, the Natalma Stakes (G1), and Summer Stakes (G1) for two-year-old turf horses. Those are Win and You're In races for the Breeders' Cup Juvenile Turf and Juvenile Fillies Turf. They are also prestigious races in their own right.
Two legs of the Canadian Triple Crown take place at Woodbine: the Queen's Plate, which has been run for 161 consecutive years, and the Breeders' Stakes on the turf course. There is a Filly Triple Crown, too – the Woodbine Oaks, Bison City Stakes, and Wonder Where Stakes. The best races for two-year-olds are the Cup and Saucer and Coronation Futurity, which often crown the best juvenile of the year.
There is a strong series of sprint races for older horses, both on the turf and the all-weather track. The most famous horse at Woodbine is Pink Lloyd, who has been a dominant sprinter there for four seasons.
The winner of the Woodbine Oaks often goes on to tackle the males in the Queen's Plate. The Queen's Plate is a race that has been won by many longshots, such as
2020: Mighty Heart – $28.50
2016: Sir Dudley Digges – $33.90
2013: Midnight Aria – $35.20
2007: Mike Fox – $32.40
2006: Edenwold – $34.40
It has also been won by favorites such as Wonder Gadot and Holy Helena. Fillies have won four of the last ten Queen's Plates.
The 2020 Queen's Plate exacta paid $365.20 on a $1 ticket. The 20 cent superfecta paid $3,877.95. The Queen's Plate is a lucrative race to bet on.
The Pattison Canadian International (G1) is a turf marathon that brings some of the best turf horses in the world. Overseas trainers such as Sir Michael Stoute, Aidan O'Brien, and David Simcock send their runners to contest the 1 1/2 mile race. In 2020, the race was not run due to the COVID-19 pandemic and was replaced with the Grade 1 Northern Dancer. Both races are often won by international imports. Canadian International day also features the E. P. Taylor for fillies and mares, which is another Grade 1 race that draws some of the best fillies from overseas competing in Canada for the first time. Historically, the winners of the E. P. Taylor go on to be great broodmares, with many of their offspring winning more big races in Canada, America, and Europe.
Because of the easy flights into Toronto and the rich purse money for turf racing, Woodbine Racetrack is a place many of the top overseas jockeys love to visit. Frankie Dettori and Ryan Moore, are just some of the world's best jockeys who have won there, as did Andrea Atzeni in 2018 and 2019. Ryan Moore won the Canadian International three years in a row from 2013 to 2015. The winningest horse in International history is Joshua Tree, who won it in 2010, 2012, and 2013.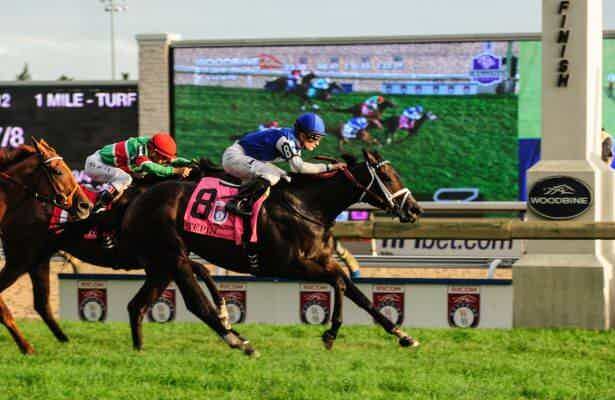 Woodbine Live Odds
There are many places you can find the Woodbine live odds. Check out online sportsbooks such as Bovada and MyBookie, and watch the award-winning Woodbine Simulcast Show that starts one hour before post time each day with hosts Jeff Bratt and Jason Portuondo. They also offer free expert picks every day on-air and on the website. The Woodbine morning line is developed when the fields are announced, between 2 and 4 days before the race day. On the biggest weekends, when there are multiple stakes races and international appeal, Woodbine has what is called a Double Draw where they draw for both Saturday and Sunday on the Wednesday before the races.
Woodbine Mile Odds
The Woodbine Mile has a long history of being won by both popular favorites and shocking longshots. Here are the Woodbine Mile odds and payouts for the last 10 years:
2019: El Tormenta – $91.40 (44-1) (Favored Got Stormy, 2nd)
2018: Oscar Performance – $7.70 (5-2) (Favored Delta Prince, 4th)
2017: World Approval – $6.70 (Favored)
2016: Tepin – $2.90 (Favored)
2015: Mondialiste – $9.60 (3-1) (Favored Lea, 2nd)
2014: Trade Storm – $11.10 (4-1) (Favored Jack Milton, 9th)
2013: Wise Dan – $2.50 (Favored)
2012: Wise Dan – $3.10 (Favored)
2011: Turallure – $14.90 (6-1) (Favored Courageous Cat, 2nd)
2010: Court Vision – $16.60 (7-1) (Favored Famous Name, 7th)
2009: Ventura – $6.20 (2-1) (Favored Bribon, 5th)
The Woodbine Mile has only gone to the favorite four times in the last 10 years, and when favorites don't win their average finishing position is 5th. But the favorites who have won are some of the best milers in the last few years, including Wise Dan and Tepin, who will both be Hall of Fame horses.
Horse Racing Related Content