UFC, or Ultimate Fighting Championship, is a huge and growing sport in the United States. We've laid out the top UFC betting sites where you can bet on all the biggest UFC vegas fights.
UFC is different from boxing in that it is based on MMA, or mixed martial arts. That's to say that it is something of a free-for-all. No biting or eye-gouging. Other than that, whatever you pull out is good to go.
That's what can make betting on UFC fights so exhilarating. You never know what is going to happen.
To help you navigate this world of MMA betting and make the best bets, we will show you the best UFC betting sites and lay out some strategies. You will know exactly where and how to bet on UFC.
Where to Make UFC Bets Online
The first step to making the best UFC bets online is finding the best betting sites. Each site will offer its own advantages and disadvantages, so read this excerpt to find the best one for you.
If you do not find what you are looking for here below, check out our full list of recommended sites.
UFC Bets at GTBets
GTBets is great if you are looking for a place to make your first MMA bets. This is because they not only offer a big welcome bonus, but they also offer a second one!
GTBets offers live wagering on UFC fights. So sign up, and join the excitement at this trusted Sportsbook. It's been in the business since 2011, and their experience shows!
UFC Bets at Intertops
Intertops has it all. They offer two casinos with two sleek looks and a top-notch sportsbook for UFC betting.
It was the first sportsbook to move online as early as 1996. They also offer a great welcome bonus: 100% matching up to $500.
It is a great site to keep an eye on UFC odds. Intertops has extensive odds for lots of fights. So you can watch as they go up and down, and bet smart.
UFC Bets at BetDSI
BetDSI is ideal for new UFC bettors. They offer 100% welcome bonus on your first deposit, so sign up soon! 
UFC Bets at BookMaker
BookMaker is very solid. This is your sportsbook, especially if you have some cryptocurrencies that you want to spend in your entertainment budget this month. They accept over 40 cryptocurrencies. 
UFC Bets at Bovada
Bovada has the market corned when it comes to online sports betting. They are the biggest player, so you can't go wrong if you are looking for a great UFC sportsbook. 
UFC Bets at BetOnline
BetOnline has everything you need! Extensive odds and live betting will keep top UFC bettors satisfied. 
How to Bet on UFC
Now that you have an idea of where to bet on MMA, you will need to grasp the basics of how UFC betting works.
So we will present a few things to keep in mind when looking to make an MMA bet. These strategies can be helpful with most types of sports betting, but they have specific twists when applied to UFC betting.
Beware the hype: UFC is prone to celebrity betting. These athletes are fighters and receive extra adoration because they put themselves at such risk. As very brave and athletic people, they are easy to admire.
But do not let your admiration affect how you bet. A Conor McGregor bet is probably a safe choice, but wager on him for his skill, not for his celebrity.
Similarly, certain fights receive a lot of hype. Here emotions can take control and we can start to bet with our hearts. Not good.
If you are just starting to bet on UFC, maybe your first bet should not be on fights like UFC 189. With so much hype and media to study, it can be a lot to take into account.
Similarly, it is important to familiarize yourself with how odds in general work. Understanding how this works will be a great tool. If you are trying to figure this out while making your first bet, it will be more work to cloud your mind.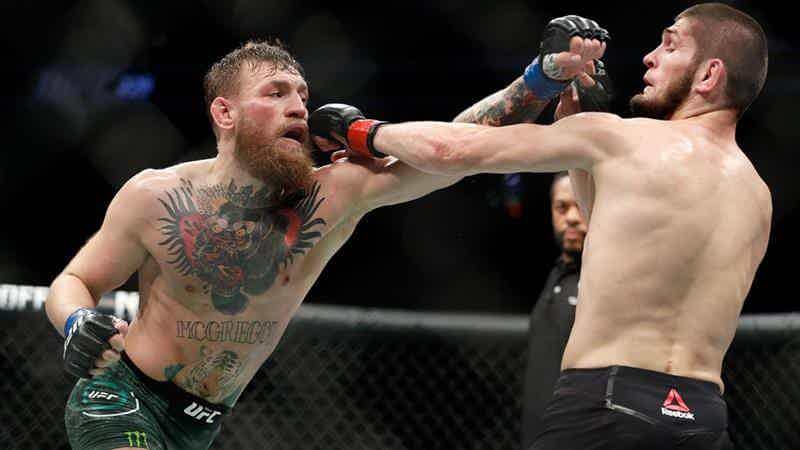 UFC Betting Guide
In order to guide you through this, we have laid out the basic types of UFC bets, each of which will have its own strategies.
Moneyline: The simplest UFC bet is the moneyline. Here you just choose the winner. It's a simple way to bet that comes with a few strategies.
A strategy that is almost exclusive to the moneyline bet is the sure bet strategy. This is where you would gamble on Bethe Correia, for example.
In the sure bet strategy, you place a wager on the favorite in each fight, and even with a few upsets, you are likely o come out on top over time. In order to make a profit, the favorite cannot always be a knockout, or you won't have anyone betting against you.
A little bit of risk is necessary. Even in the sure bet strategy.
Another common bet is the round bet. Here you bet not only on the winner like you would with moneylines. But also on the round that you think the fight will end.
You can either choose a group of rounds or a particular round.
These bets require significantly more expertise. You should understand different fighters' levels of defense, offense, and stamina. Here the sure bet strategy is much more difficult.
UFC Betting App
All of our recommended betting sites are optimized for mobile use. Just open the browser on your smartphone or tablet, navigate to one of your betting sites, and log in.
You're good to go!
The good news is that there is nothing to download. No app to take up precious memory on your phone or space on your home screen.
It's all good whether you are using iOS or Android. These UFC betting sites have you covered.
Related Content