This is the place to find Melbourne Cup odds and information. The 2020 Melbourne Cup will take place on November 3, and because the racecourse will be closed to spectators, it is more important now than ever to get ready to bet the Melbourne Cup online.
2020 Melbourne Cup Winners odds – Last updated on September 21st, 2020.
Fondly known as "The Race That Stops a Nation," the Melbourne Cup is Australia's biggest horse race. It is held at Flemington Racecourse in Victoria each year on the first Tuesday in November. The famous horse race, which began in 1861, regularly draws crowds of over 100,000 spectators and is a public holiday in the city of Melbourne. The race has an $8 million purse and can have up to 24 entries.
Melbourne Cup Betting Tips
Favorites don't often win the Melbourne Cup. Their average finish position since 2005 is eighth, with just one winner of late (Fiorente in 2013). Historically, betting on longshots is a good idea in the Melbourne Cup. Pay attention to what post position, or barrier, the horses draw.
Horses who break very wide on the outside, or are trapped down on the rail, can have a more difficult time than those in the middle of the field. Also watch for the weight carried by the winners, meaning the weight of the jockey, saddle equipment, and any extra weight combined. Horses who carry higher weights in this two-mile handicap will struggle versus those carrying less weight. 
It is important to find the best horse to bet in the Melbourne Cup. This can be a horse you have been watching all year or for several seasons, or an up and coming type who is getting good at the right time. The Melbourne Cup is so prestigious it draws horses from all over the world, and European invaders have recently done very well. Look for horses that have won one of the major prep races, or have shown that they are a great stayer over the distance in their own country.
The Melbourne Cup field is determined by horses that win or run very well in what is called "exemption races." These start with the Andrew Ramsden in May, followed by the Bart Cummings, the Caulfield Cup, the Cox Plate, and the Lexus Stakes.
Some of the preps are just days before the big race itself. Other races that can produce Melbourne Cup runners are the Geelong Cup and the Mackinnon Stakes. Horses that have won ballot exemption races automatically get into the race, but then Racing Victoria decides on the rest of the field. They use a nomination process that begins in August before the race.
Melbourne Cup Online Betting
Picking the right sportsbook – or bookie – is the best way to get the best prices for the Melbourne Cup, as well as Melbourne Cup live odds. Places such as BetNow and BetOnline can offer current odds, and also Melbourne Cup expert tips. Online betting is more important than ever now, while crowds are being kept away from the racetracks. The right racebook not only offers wagering on racing worldwide but also bettors are eligible for the sign up bonuses and can expand their profits even more.
How to Place a Bet on the Melbourne Cup
Although the Melbourne Cup "sweeps" are very popular in Australia amongst friends, workplaces, and parties, participating in a sweep is not as exciting as placing your own strategic wagers. Choose the amount of your bet, the race number if you are betting the Melbourne Cup undercard as well as the Melbourne Cup itself, and the horse number or numbers involved.
Like most races, the Melbourne Cup bet types include win, place, and show betting, as well as exacta and trifecta wagering. Different markets from North America, Europe, and Asia may offer different wagering opportunities than those in Australia itself. If betting in Australia or the United Kingdom, try each-way betting, where a lone bet can cover a horse finishing in the top three, and sometimes in the top four depending on the bookmaker and size of the field, which for the Melbourne Cup should be substantial.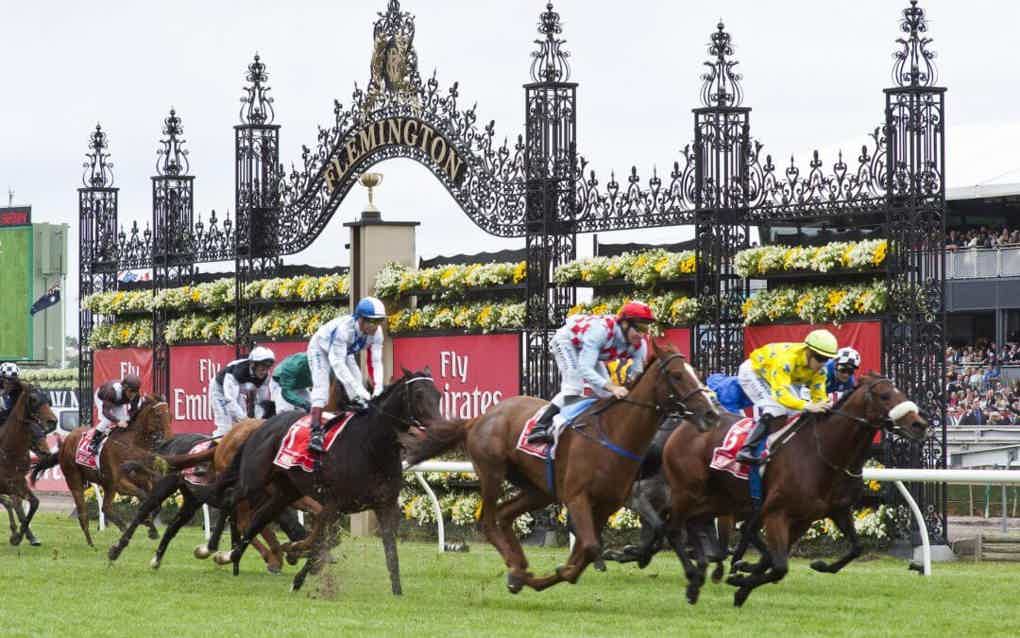 Melbourne Cup History
The Melbourne Cup was first to run in 1861. Archer defeated a field of 16 rivals on that day, then returned to win it again in 1862. Just 14 years into its run, the Melbourne Cup settled onto its famous day of the first Tuesday in November, where it has been run since In 1890.
That year, the Cup was contested by a whopping 39 horses and was won by Carbine under a staggering 145 pounds. That is a record for both weight carried to win, and the number of runners in the field.
Phar Lap, who is considered the best historical Australian horse to ever run, won the Melbourne Cup in 1930. He has since had a movie made about his life, and his body is still on display at the Melbourne Museum in Australia.
Foreign invaders trained outside of Australia were not originally allowed to race in the Melbourne Cup, but once air travel made this possible, overseas trainers circled the big race as a prize to be won. Irish, English, and Japanese horse have tried to win it, with Irish trainer Dermot Weld scoring in 1993 and 2002. Japan's Katsuhiko Sumii won in 2006 with Delta Blues.
As for fillies and mares defeating the colts, the mighty mare Makybe Diva became the first horse to win the Melbourne Cup three times. That feat will be very hard to duplicate or ever top! Makybe Diva is one of just 14 fillies or mares to win the Cup and ultimately earned over $14 million on the track. The winner of 15 of 36 starts has been honored with two different life-size bronze statues, including one at Flemington where the Melbourne Cup is held.
In 2001, Sheila Laxon became the first female trainer to officially win the Melbourne Cup, with the New Zealand mare Etheral. Other fillies or mares to win the race are Briseis, Auraria, Sister Olive, Rivette, Rainbird, Evening Peal, Hi Jinx, Light Fingers, Empire Rose, Let's Elope, and Jezabeel.
The all-time record for winning margin is eight lengths, recorded by Archer in 1862 and Rain Lover in 1968. Although three-year-olds don't often win, horses have won up to age eight, which has happened twice.
Foreign-trained horses who have won the Melbourne Cup include Comedy King, Backwood, Phar Lap himself, Wotan, Beldale Ball, At Talaq, Kingstone Rule, Vintage Crop, Jeune, Media Puzzle, Makybe Diva, Americain, Dunaden, and Cross Counter. Horses coming from New Zealand technically count as overseas, even though they are considerably closer than horses coming from England or Ireland! Dunaden's win came by just a nose over the popular Red Cadeaux. That runner finished second in the Melbourne Cup three different times out of four tries.
Three-year-olds don't often win the Cup, but Rekindling did it in 2017, the first horse to do so since Skipton in 1941. Gai Waterhouse is the first Australian female trainer to win the race; she did it in 2013 when favored Fiorente won. Her father was a two-time Melbourne Cup-winning trainer, with Just a Dash and Toparoa.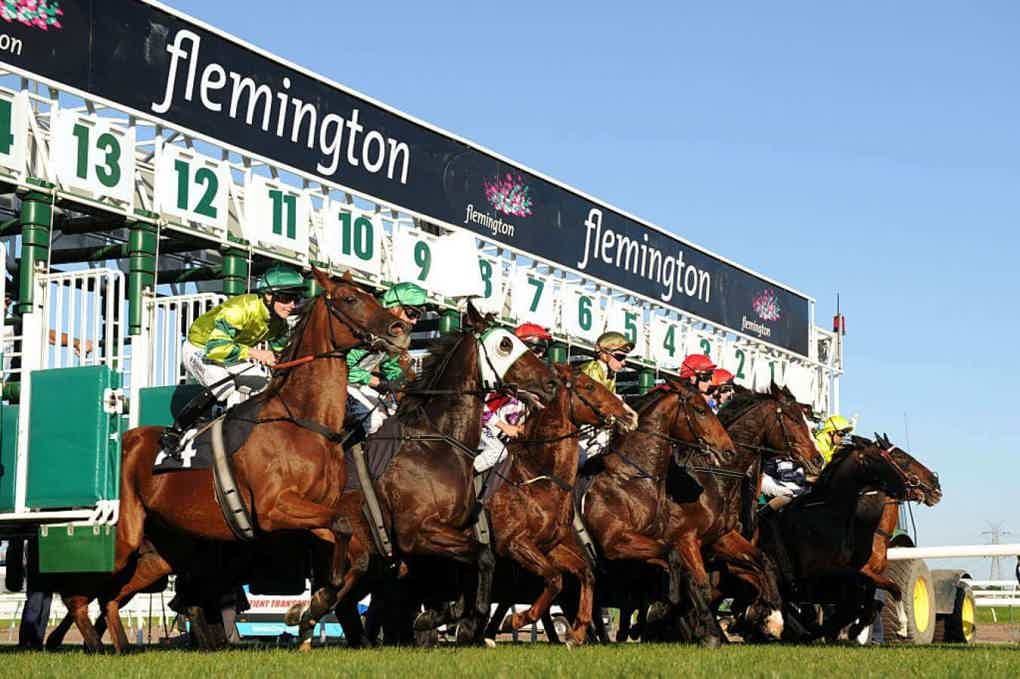 Melbourne Cup Best Bets
Melbourne Cup betting results on a minimum $2 bet are shown below. These prices can show you the value of the Melbourne Cup, and why it is important to bet on horses who are not the favorite.
2019: Vow and Declare – $11
2018: Cross Counter – $9
2017: Rekindling – $14
2016: Almandin – $11
2015: Prince of Penzance – $101
2014: Protectionist – $8
2013: Fiorente – $7
2012: Green Moon – $20
2011: Dunaden – $8.50
2010: Americain – $13
2009: Shocking – $10
2008: Viewed – $41
2007: Efficient – $17
2006: Delta Blues – $18
The win by Prince of Penzance in 2015 is one of the most famous wins of all time. The shocking win with female rider Michelle Payne aboard has since been made into a full-length movie called Ride Like a Girl. This movie showcases how the Melbourne Cup takes over the entire nation, with school children and workers watching with rapt attention. Prince of Penzance was the fourth horse in Melbourne Cup history to win at 100-1 odds, joining The Pearl (1871), Wotan (1936), and Old Rowley (1940).
How Much Money Is Bet on the Melbourne Cup?
The Melbourne Cup is a race where there is a ton of value because local bettors and casual fans select horses bred and raced in Australia and tend to ignore invaders. That is why keeping an eye on overseas entrants can be a lucrative deal for the astute Melbourne Cup bettor.
There was a $106 million turnover in wagers in 2019, but the amount has been as high as $125 million. The four-day racing carnival leading up to and including the Melbourne Cup has as much as $450 million wagered total.
Related Content