Few races are as special and revered as the Travers Stakes, and finding the best Travers Stakes odds can make a difference in your wagering bottom line. The famous horse race is for three-year-old Thoroughbred horses running 1 1/4 miles or 10 furlongs around the historic track at Saratoga in upstate New York. It carries a purse of $1 million and often draws the race winners of the Triple Crown.
The Travers Stakes is typically run in the last week of August and serves as a stopping point between the Triple Crown and the Breeders' Cup. It draws the best sophomores from New York, Kentucky, and California, and has given some of the greatest finishes in the history of the sport. Read more to find out about the best Travers Stakes betting odds, history, and Saratoga information.
Travers Stakes Entries and Odds
The 2021 Travers Stakes is scheduled for August 28, 2021. The purse will be at least $1 million if not more. Entries for the historic race will be drawn on August 25, when the Travers Stakes post positions and Travers Stakes morning line odds will be officially announced. From there, expert picks will be available. Watch this space for the most up to date Travers information.
Betting the Travers Stakes Online
The best way to bet the Travers Stakes online is by setting up an account with a reputable online racebook. Choosing where to deposit your money and wager from is an important choice, and we have reviewed the biggest betting sites such as Bovada and BetUS to get you the best bang for your buck. As the date of the race approaches, these outlets will have the Travers Stakes live odds. They will also offer sign up promotions and bonuses to stretch your cash even further.
Do your own research into each betting outlet we have detailed here, to make sure you are getting the best customer service and Travers Stakes current odds.
Travers Stakes Payouts
Some of the most shocking upsets in racing history have happened in the Travers Stakes, which is why the Travers Stakes payouts can be profitable and worth betting on.
Back in 1930, American Triple Crown winner Gallant Fox lost to 100-1 shot Jim Dandy in the race; the latter now has a race at Saratoga named after him that is used as a prep to the Travers each year. In 2015, Keen Ice defeated another Triple Crown winner, American Pharoah, in a huge upset. 11-1 Arrogate won in 2016 in record time and ultimately took the Breeders' Cup Classic, Pegasus World Cup, and Dubai World Cup.
Only five favorites have won the Travers Stakes in the last 15 years, which is right at that 33% strike rate favorites generally have across the board. Some recent Travers Stakes payouts are, with winning favorites marked by an asterisk:
2020 – Tiz the Law* $3.00
2019 – Code of Honor $10.80
2018 – Catholic Boy $16.20
2017 – West Coast $14.20
2016 – Arrogate $25.40
2015 – Keen Ice $34.00 
2014 – V.E. Day $41.00
2013 – Will Take Charge $21.20
2012 – Golden Ticket $26.80/Alpha* $4.10 (dead heat)
2011 – Stay Thirsty* $6.80
2010 – Afleet Express $16.00
2009 – Summer Bird $7.80
2008 – Colonel John $10.40
2007 – Street Sense* $2.70
2006 – Bernardini* $2.70
2005 – Flower Alley $8.00
The average winning payout of the Travers Stakes over the last 15 years is $14.70.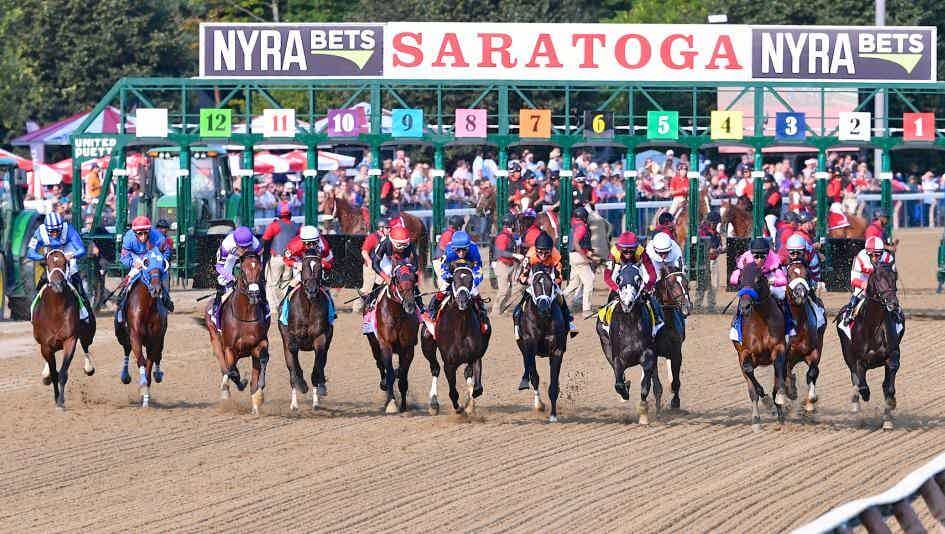 Travers Stakes History
The $1 million Travers Stakes is older than the Kentucky Derby, Preakness, and Belmont Stakes. It has been run continually since 1912, but the first edition was in 1864. The historic race is the centerpiece of Saratoga Racecourse, which opened in 1863. 
The most wins by a trainer is five for Bert Mulholland, with his most recent win coming in 1963. Trainer Shug McGaughey is closest to breaking that record with four wins. Kentucky Derby winners that have also won the Travers include Street Sense (2007), Thunder Gulch (1995), and Sea Hero (1993). 2006 Preakness Stakes winner Bernardini won the Travers, and Belmont Stakes winners to score include Tiz the Law (2020), Summer Bird (2009), Birdstone (2004), Point Given (2001), and Lemon Drop Kid (1999).
The $1 million race is currently raced over 1 1/4 miles, but it has been held over the distances of 1 3/4 miles, 1 1/2 miles, and 1 1/8 miles. It is one of the most prestigious races in North America. The winner receives a blanket of red and white carnations, the Man o' War Cup trophy, and the winning silks are painted on a canoe in the Saratoga infield.
The very first Travers Stakes was won by a horse named Kentucky. A horse named Hindoo won the race in 1881 as part of an 18-race win streak. The mighty Man o' War, considered by many to be the best of all time, won the Travers in 1920 over Upset, the horse who handed him the only loss of his career, in record time. Whirlaway became the first and only Triple Crown winner to win the Travers in 1941.
American Pharoah tried to match that feat in 2015 but finished behind Keen Ice in an upset. The most famous running of the Travers was in 1962 when top three-year-olds Ridan and Jaipur broke together and dueled for the entire ten furlongs. Jaipur ultimately won by a nose in track record time.
The mighty runner Damascus has the largest winning Travers margin record at a whopping 22 lengths. That happened in 1967.
In 1978, arch-rivals Affirmed and Alydar met for the final time in their 10-race rivalry. Affirmed had defeated Alydar in all three Triple Crown races, and crossed the finish line first in the Travers, but was disqualified for interference.
Seven fillies have won the Travers, including Ruthless, but the most recent filly winner was in 1915 when Lady Rotha beat the colts.
It is considered special when all three horses that won the individual Triple Crown races all gather again in the Travers. This most recently happened in 2017, when Cloud Computing, Tapwrit, and Always Dreaming faced off in the Travers. Sometimes there has been an upset by an outsider that defeats all three of the Triple Crown race winners. In 1918 Sun Briar defeated Belmont Stakes winner Johren, Preakness winner War Cloud, and Kentucky Derby winner Exterminator.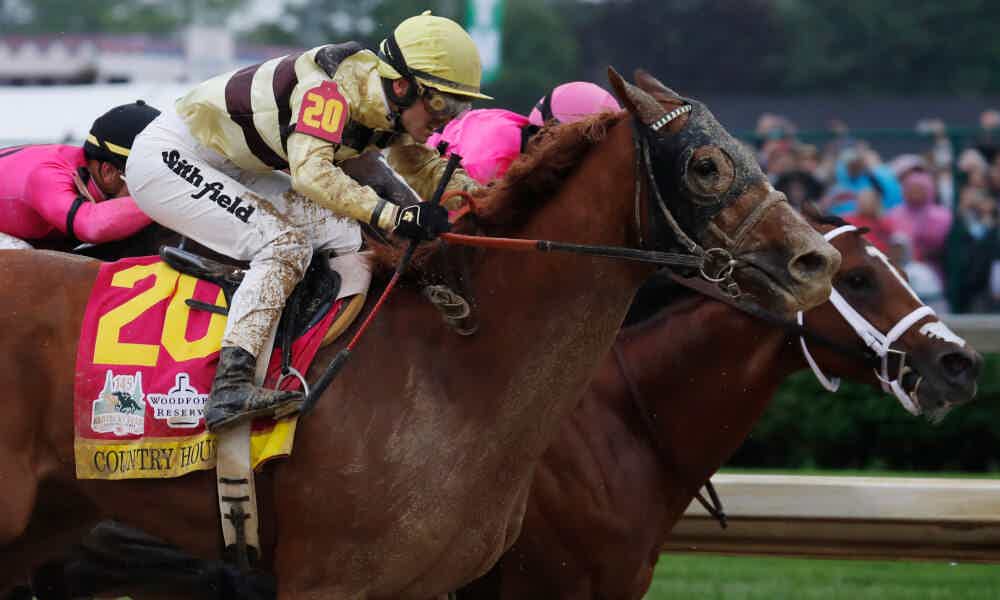 In 1982, Canadian-bred Runaway Groom won at odds of 13-1, defeating Kentucky Derby winner Gato Del Sol, Preakness winner Aloma's Ruler, and Belmont Stakes winner Conquistador Cielo. Most recently this happened in 2017, with Kentucky Derby winner Always Dreaming, Preakness Stakes winner Cloud Computing, and Belmont Stakes hero Tapwrit. West Coast, trained by Bob Baffert and ridden by Mike Smith, went wire to wire to win.
The "Big Red Train" Point Given became the first horse to ever win four consecutive $1 million races in 2001 when he won the Travers after already taking the Preakness, Belmont, and Haskell. He went on to be named Horse of the Year.
The first dead heat for the win in Travers history came in 2012, with favored Alpha and longshot surprise Golden Ticket finishing noses on the line together. Saratoga had to add a second canoe in the infield pond and a second winning jockey's statue in the paddock.
General Assembly, one of the best sons of Secretariat, set a Travers record of 2:00.0 in 1979, which stood until Arrogate won by over 13 lengths in 1:59.36 to set a new record.
Best Bets at Saratoga
The best bets at Saratoga are:
Win: Bet on a horse to finish in first place
Place: Bet on a horse to finish first or second
Show: Bet on a horse to run first, second or third.
Exacta: Bet on two horses to finish first and second, in order.
Trifecta: Bet on three horses to finish first, second and third, in order.
Superfecta: Bet on four horses to finish first, second, third and fourth, in order.
There are also boxes available for multi-horse wagers, meaning you can pay a little more and the horses you select can finish in any order. You can then choose two or more horses for an exacta box, or three or more for a trifecta box.
Saratoga also offers Daily Double, Pick 3, Pick 4, Pick 5, and Pick 6 wagering on varying minimum bets from 20 cents to $2.
Travers Stakes Free Picks
After Tiz the Law's win in 2020 you can feel more comfortable betting on the Travers Stakes favorite because they have proven again they can win this race. But the Travers has had its share of upsets, which makes sense because Saratoga is fondly known as the Graveyard of Champions.
Look at prep race winners if you want a good idea of who can win the Travers. The Triple Crown races, especially the Belmont Stakes with six Travers winners recently, produce a lot of Travers winners. Seven winners from the Jim Dandy Stakes have won the Travers. 
The Jim Dandy has a better record as a Travers predictor than the Haskell Invitational (G1) at Monmouth Park. The Haskell – Travers double has been done four times in the past 30 years, but not since Point Given in 2001. Of the Triple Crown races, the best guide has been the Belmont Stakes. Only three horses have completed the Kentucky Derby and Travers double in the last 30 years.
Related Content