Improving your Churchill Downs betting game is immensely important for your profits and success. Churchill Downs hosts the most important horse race in the country, the Kentucky Derby, a race that annually produces the most handle of any race in North America. But the Kentucky Derby isn't the only race at Churchill Downs, as there are three meets per year to watch and wager on.
Churchill Downs sees a lot of action throughout the year and we will be sure to post all of the main races as the odds come in. All of the very best action can be found right here, so be sure to keep checking back with this page. There are no odds available right now, but as soon as they are we'll be sure to update this page accordingly. This page was last updated on September 15, 2020:
How to Bet at Churchill Downs
Learning how to bet at Churchill Downs will greatly improve your bottom line. The historic racetrack in Louisville, Kentucky, was first opened in 1875 and has since offered world-class racing. The Twin Spires were added in 1895 and have been witness to every race on the course since.
Churchill Downs has a one-mile dirt racetrack and an inner seven-furlong turf course. There are three race meetings: May through June, September, and November. The Kentucky Derby is run on the first Saturday in May every year.
The Churchill Downs minimum bet amount is $2 for win, place, and show. Daily Double and Super High-5 wagers are $1 minimum straight bets. The Single-6 is a 20 cent minimum wager. Trifecta, Pick-3, Pick-4 and Pick-5 wagers are $.50 minimum bets. The exacta is a $2.00 minimum straight bet with $1.00 boxes and wheels. Superfecta wagers are ten cent minimum straight bets. Trifecta wagering at Churchill Downs is held on any race with five or more separate betting interests. Superfecta wagering is held on any race with six or more separate betting interests. Super High-5 wagering may be held on any race with seven or more betting interests.
The Churchill Downs betting menu includes: win, place, show, exacta, trifecta, superfecta, Daily Double, Pick 3, Pick 4, Pick 5, Single 6, and Super Hi-Five. The Pick 3 is a rolling wager offered throughout the day until there are less than three races left. The other multi-race wagers start on a certain race each day.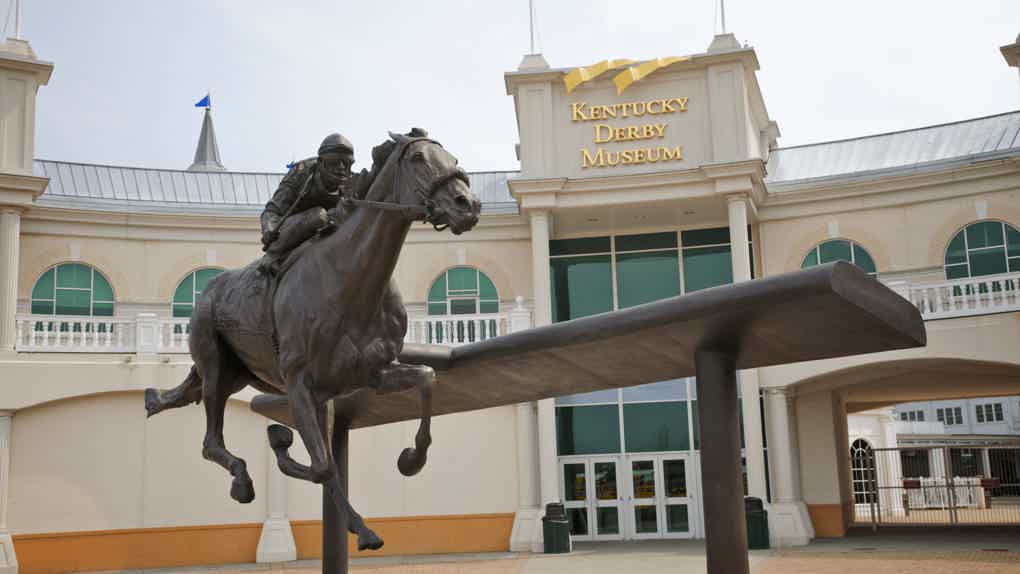 Churchill Downs Online Betting
Make sure to pick your favorite racebook option and get ready to up your game with Churchill Downs online betting! There are Churchill Downs sports betting to be had at any of the online racebooks, be sure to examine them for the best deals and bonuses available. There are over 2,000 available online wagering services, so being aware of the best ones is paramount. These betting sites will also offer up to date Churchill Downs betting odds.
Churchill Downs Best Bets
To find the Churchill Downs best bets, make sure to look for free expert picks and the Churchill Downs betting guides shown here. It is also wise to be aware of the Churchill Downs stakes schedule.
The best races at Churchill Downs, aside from the Kentucky Derby, are the Kentucky Oaks, Turf Classic, Churchill Downs Stakes, Derby City Distaff, La Troienne, and the Clark Handicap, run on Thanksgiving weekend each year.
The La Troienne is for older fillies and mares over 1 1/16 miles and is held on the same day as the Kentucky Oaks. Blind Luck, Unrivaled Belle, and Breeders' Cup winners Ginger Punch, Jewel Princess, Escena, Spain, and One Dreamer have also won the La Troienne. It was upgraded to a Grade 1 in 2014. In 2020, the winner of the La Troienne was the great mare Monomoy Girl, a three-time Grade 1 winner at Churchill Downs.
The Old Forester Bourbon Turf Classic is a $1 million Grade 1 race over nine furlongs on the turf. Jockeys Pat Day and Jerry Bailey each have three wins apiece, and trainer Bill Mott leads with three wins as well. The Hall of Fame runner Wise Dan won it twice in 2013 and 2014. Other top horses to win include English Channel, two-time Breeders' Cup winner Lure, and Einstein. In 2020, the race was won by Digital Age for trainer Chad Brown. This race always comes directly before the Kentucky Derby.
The Clark Handicap has been won by great horses like Tom's d'Etat, Gun Runner, Shackleford, Wise Dan, and Blame in the last decade. In 1999, the three-year-old filly Surfside defeated older males. In 1997, Kentucky Derby and Preakness Stakes winner Silver Charm scored for trainer Bob Baffert, who is tied for most wins in the Clark. It is currently run over a distance of 1 1/8 miles.
The Churchill Downs Stakes is a seven-furlong race for older sprinters. It was won in 2019 by subsequent Breeders' Cup Sprint winner Mitole and has been won by Preakness Stakes winner Shackleford. Other winners include top stallions Speightstown and Distorted Humor. In 2020, the Churchill Downs Stakes was moved from May to November.
The former Humana Distaff has now been renamed the Derby City Distaff. The seven-furlong sprint for fillies and mares has been won by Breeders' Cup heroine Groupie Doll, and in September 2020, the race went to Bell's the One in an epic throwdown to the wire with 2019 Kentucky Oaks winner Serengeti Empress. It was one of the best races of 2020.
Other top races at Churchill Downs are the Stephen Foster, Edgewood, American Turf, Churchill Distaff Turf Mile, Eight Belles, Falls City, Golden Rod, and Kentucky Jockey Club Stakes.
The Stephen Foster is typically run in late June and showcases the best older horses in Kentucky. Some of the winners of the $500,000 race include Breeders' Cup Classic winners Awesome Again, Saint Liam, Curlin, Blame, Fort Larned, and Gun Runner. In 2020, the race went to Toms d'Etat in impressive fashion.
Churchill Downs has hosted the Breeders' Cup nine times, most recently in 2018. The two-day championship of racing includes the $6 million Classic, won in 2018 by Accelerate. There is also the $6 million Turf, $2 million Distaff, $2 million Mile, $2 million Filly and Mare Turf, and $2 million Sprint. The 2018 Turf was won by world superstar filly Enable over another brilliant filly in Magical. Those two mares are still racing in 2020.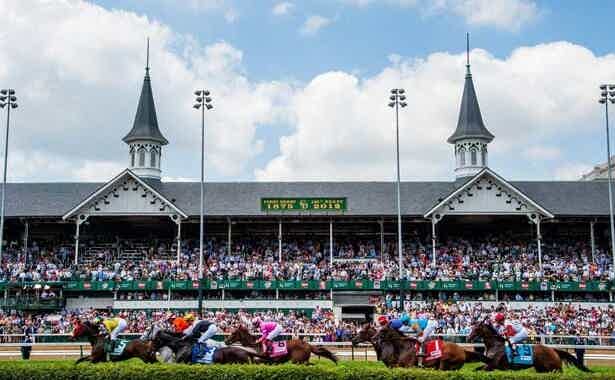 Churchill Downs Betting Tips
Knowing the best trainers and jockeys at Churchill Downs will help pick your winners. Trainers such as Steve Asmussen, Mike Maker, Brad Cox, and D. Wayne Lukas all do well at the Kentucky track. It helps to keep an eye on trainers shipping in for the races, versus those based there. Trainers like Chad Brown are based mostly in New York and sometimes ship in with top horses for the biggest races, while Al Stall and Brendan Walsh call Churchill Downs home.
As for jockeys, Tyler Gaffalione, Corey Lanerie, Ricardo Santana, Jr., and Julien Leparoux all call Churchill Downs home most of the time. Brian Hernandez, Jr. and James Graham are two more jockeys you don't want to ignore at Churchill Downs.
Knowing about the Churchill Downs betting pools is important. All the multi-race wagers, such as the Pick 3 and Pick 4, have their own separate pari-mutuel pools. The payoff comes from deducting the take out and consolation payouts and dividing the rest among the winners. In the case of scratches after the ticket is placed, the bettor gets the post-time favorite. If there is a dead heat winner, both combinations payout.
How Old to Bet at Churchill Downs
The minimum betting age at Churchill Downs is 18 years for all legal forms of gambling, including lottery and racing bets. Kentucky is a state that offers a lot of wagers and contests, such as the Churchill Downs betting challenge, to people as soon as they are of legal age to bet.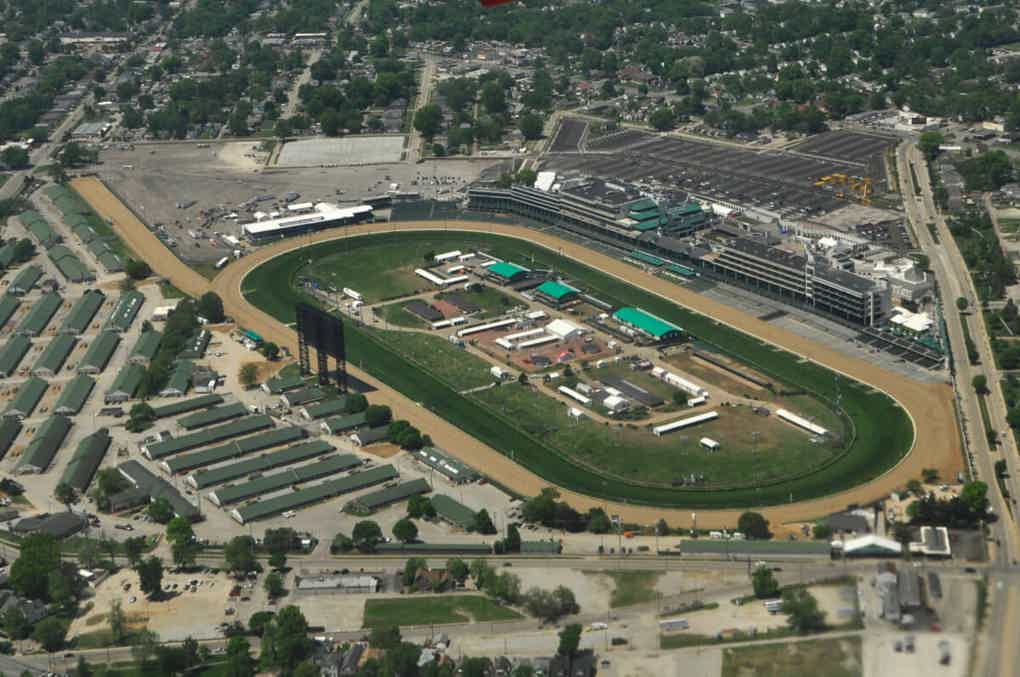 Churchill Downs History
Churchill Downs is a famous racetrack opened in 1875 and home of the Kentucky Derby. It has a capacity of 170,000 fans.
The track first gained prominence by being close to a train track, allowing for easy transport of horses to the races. It has gone through many multi-million dollar upgrades since the early days, with new boxes and suites for Kentucky Derby attendance constantly being constructed. It was designated as a historic landmark in 1986.
The sprawling complex is painted white and green and can host horse racing both at night and during the day. It is also connected to a popular tourist attraction, the Kentucky Derby Museum, which is open year-round.
Standing proudly on the backstretch is a staggering screen for viewing the races. It is 27 meters high and 52 meters wide and weighs over 1 million pounds. At the time of its installation, the "Big Board" was the largest high definition video board ever constructed.
Travis Stone is the current racetrack announcer, following stints by Mark Johnson, Larry Collmus, Michael Wrona, and the late Luke Kruytbosch.
There are 33 graded stakes races run at Churchill Downs each year. The best horses in the world travel to compete for high purses over Kentucky Derby weekend, and sometimes the Breeders' Cup when Churchill Downs is hosting. Both events have been the sight of some of the greatest moments in racing history, such as when Secretariat won the Derby and when horses like Personal Ensign, Arazi, and Alysheba won the Breeders' Cup.
Related Content