Red Rock Sportsbook 101
Everything in this resort is huge for an off-the-Strip property, including the Red Rock Las Vegas sportsbook, casino floor, and 72-lane bowling alley.
Locals and tourists looking for a resort experience with all the luxurious amenities will find it at 11011 West Charleston Boulevard in downtown Summerlin, which is about a 25-minute drive from the famous Las Vegas Strip.
Like the South Point and M Resort, which are south of the Strip, Red Rock sportsbook odds offer a little more value than those mega books in the main tourist area, like the Bellagio and MGM Grand.
Visitors can watch sporting events 24/7 in the Red Rock sports betting area, but the Red Rock sportsbook hours for wagering vary depending on the day of the week. The hours are Sunday to Thursday from 8 a.m. to 11 p.m., and Friday and Saturday from 7 a.m. to 12 midnight. Players must be 21 years of age or older to wager anywhere in the state of Nevada, including at one of the many betting windows at this venue.
Red Rock Las Vegas sportsbook odds for all the major sports — like the NFL, NBA, MLB, and NHL — are posted daily at 8 a.m. There are hard copy printouts available for future betting on all the major championships and leagues, including entertainment and eSports.
There are various kinds of seating in this spacious sportsbook, with capacity for more than 200 guests. There is lounge seating, a VIP section, and personal chairs with individual TVs in the racebook section called the Winner's Circle.
The 96-foot video wall, which is made up of multiple high-quality flat screens, is the main attraction of the room. A poker room and keno area complete this gaming area. The Sports Bar, where smoking is allowed, sits right in the middle of all the action.
This friendly resort, which is definitely one of the best sportsbooks off the Strip, is also kind to its drink vouchers. While most sportsbooks on Las Vegas Boulevard demand hundreds of dollars in sports bets for a drink, Red Rock's soft rules are around $20 for sports and any betting ticket for horse racing.
For those on the go that don't want to spend hours watching the big game unfold in the sportsbook, Red Rock offers a sporting betting app that can be used anywhere in the state of Nevada. You can register at any of the 10 local Station Casinos for the STN Sports App, which can be downloaded to your Android or iOS device.
Tourists should remember that Red Rock online sports betting is only available within the state. Once you leave Nevada, the platform cannot be used. It doesn't matter if you use this app or one from the Golden Nugget downtown or Caesars Palace on the Strip, these sports betting apps are only valid in the Silver State.
It's Game Time at Red Rock
Take a break from all the hiking, biking, kayaking and golfing in the Summerlin area and pick a winning bet in the Red Rock sportsbook.
There are plenty of odds and games to choose from every day of the week. Expect a packed house and a lineup at the betting windows for all the major championships, especially the Super Bowl.
Available Sports

Here are some of the sports to wager on at the land-based venue and Red Rock sportsbook online:

Pro and college basketball
Major League Baseball, including playoffs and World Series
Mixed Martial Arts and UFC events
Major soccer leagues from around the world
Boxing, but mostly just major fights
Hockey, including the playoffs and Stanley Cup
Auto racing, with weekly race odds and Sprint Cup Championship futures
Golf, with weekly odds and futures on all four majors
Tennis, with odds on all four Grand Slam events

Available Bets

Here are some of the bets available on the Red Rock sports lines:

Money line
Point spread
Over/under totals
Future betting
Proposition bets, especially for the Super Bowl
Parlays
Teasers
Red Rock online sports betting offers even more wagering options, especially on props and "in-play" wagering where odds and spreads change continuously as the sporting event unfolds. The betting lines can make drastic moves in "live betting," which keeps punters focused on every play.
Red Rock Rewards
Station Casinos, including Red Rock, has the same rewards card for all 10 of its Las Vegas locations.
It's called my BoardingPass where cardholders earn points for casino play, horse and sports wagers, and poker. But your points and status credits also pile up on everything you spend money on at any Station resort, including restaurants, bars, concerts, bowling alleys, movie theaters, hotel stays, and spa experiences.
Membership is free to join at any of the Station Casinos resorts.
The entry-level status is called Preferred. From there, cardholders graduate to higher levels like Gold, Platinum, President, and Chairman. Points are accumulated from January 1 to June 30, and from July 1 through December 31. You keep your status for the remainder of the six months, plus the next six.
The higher levels earn resort and cruise discounts, plus many other privileges and free play.
Red Rock's Free Parking

Free, free, free. Red Rock has multiple outdoor parking lots off Charleston Boulevard and a five-floor parking garage and outdoor lot off Pavilion Center Drive. There's no charge for any of them.

• This is a huge property, with the biggest bowling alley in the Las Vegas area, a 16-screen movie theater, and many scheduled live concerts. Rock Rock has prepared for lots of traffic with five separate parking areas on the property.

• There are multiple open-air parking lots available across the street from the resort.

Public Transportation Options

There are many forms of public transportation in and around Red Rock — taxi, ride share programs, limousine and public transit bus service. But the easiest and cheapest ride for resort guests is the free shuttle service to and from McCarran International Airport. The shuttle makes round trips every two hours starting at 5 a.m. and ending at 9 p.m.

Download the free ride share program apps Uber and Lyft to your mobile device. The cost for a ride is about two-thirds of the taxi service. Pick up your ride share on the second level of the parking garage at the airport.
There are more Uber vehicles on the road than Lyft in Las Vegas. Price both options before completing your transaction. It will cost about $30 for a ride on either service from the airport to Red Rock.
There is always a long queue of taxis waiting at the airport outside the main terminal. The cost for a ride to Red Rock is about $60 — about double the cost of a ride share.
Limousine services are available with the going rate around $85-90 an hour.
Red Rock is located in a residential area in Summerlin. A single fare bus pass on residential streets is $2 and a 24-hour pass is $5.

Food & Drinks at Red Rock

There are 10 restaurants and the same number of bars at the Red Rock resort, ranging from budget-friendly quick eats like Fatburger and the 24-hour Grand Cafe to upscale, award-winning venues like T-Bones Chophouse. Red Rock also has a wide selection of fast-food stops in the food court. Plus, room service is available 24 hours a day.

Here are some of the fine dining selections which offer gourmet cuisine from around the world:

Blue Ribbon Sushi Bar offers a full menu of Japanese cuisine with an indoor/outdoor cocktail bar.
Voted best steakhouse in Las Vegas in 2011, T-Bones features an extensive menu of meat and seafood.
Two rustic wood-burning ovens produce authentic dishes every day at Hearthstone.
The Lucky Bar anchors the Red Rock casino floor. Here are some other drinking spots and lounges:
Rocks Lounge has live entertainment almost every night of the week with plush VIP seating.
Las Vegas cocktails are served seven days a week at the more laid-back Onyx Bar.

Red Rock Hotel and Natural Landscapes

The 816-room and suite hotel at Red Rock, which included a $35-million renovation in 2014, is far from what most are used to in Las Vegas.

If you're looking for a rowdy, party atmosphere with pillars of lights and concrete, the Strip is that way.

If you're looking for a quiet, relaxing pace with stunning, natural landscapes, this self-contained oasis at Red Rock is the place for you.

Standard rooms, at 500 square feet, have either one king or two queen beds. Prices start around $85 a night, plus a $44 resort fee.
Suites come in nine different shapes and sizes and range from 1,100 to 7,500 square feet.
All rooms come with 42-inch flat screens with 40-plus cable channels, iHomes, mini-fridges, and bathrobes.
A massive swimming and sunbathing area features nine pools, private cabanas and huge daybeds.
Other resort features include the biggest bowling alley in Las Vegas and a 16-screen movie theater.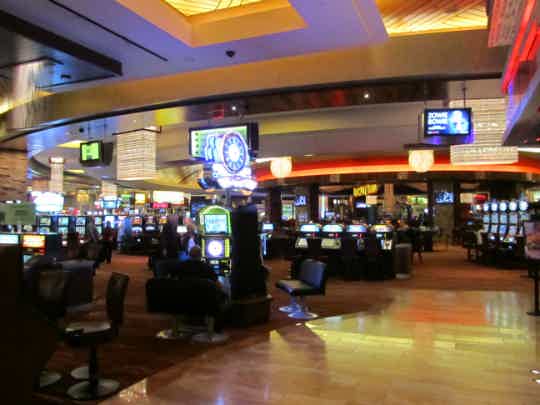 Red Rock Casino
Red Rock's 118,000-square-foot casino boasts more than 3,000 games, including hundreds of penny slots, video poker machines and dozens of table games.
Some of their gaming highlights include an around-the-clock poker lounge, keno lounge, and a bingo room, which hosts eight hour-long sessions daily.
For high roller action, players have the option of two VIP rooms offering Las Vegas slots up to $100.
Blackjack is the big game here, with 34 live tables. Bet limits range from $5 to $1,000. Here is a sample of other table games:
Roulette, with wheels containing the standard two sets of zeroes.
Craps, start at $5 minimum with standard rules.
Baccarat, a few tables with $10 minimum.
Other table games on the casino floor include Pai Gow Poker, High Card Flush, Ultimate Texas Hold'em, Crazy 4 Poker, Three Card Poker, Mississippi Stud, and Let it Ride.
Complimentary drink service is quite generous at Red Rock for those playing one of the 2,700 slot machines or table games. A tip is recommended if you expect the good service to continue.