The South Point Hotel Casino & Spa is a California-style off-the-Strip resort with an equestrian center, 64-lane bowling alley, movie theatre and one of the biggest bingo halls in town. This is not your ordinary Las Vegas gambling destination.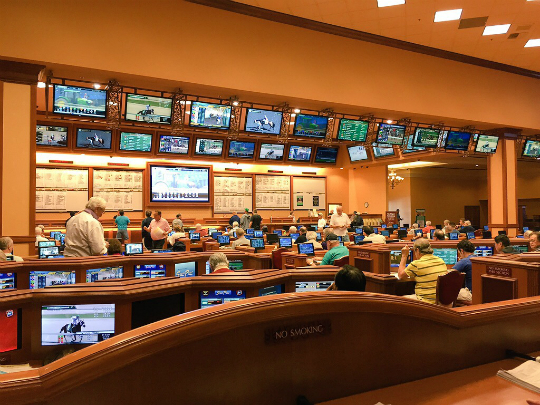 South Point Sportsbook 101
This is the biggest sports and racebook those travelling from California on Interstate 15 will find as they start to see the bright lights of the big city. The South Point Las Vegas sportsbook, 24-story tower and convention center is located at 9777 South Las Vegas Boulevard, but it is about seven miles directly south of all the mayhem on the Strip.
South Point sports betting stretches across an entire side of the main casino floor. Just follow the bright lights of all the televisions and you can't miss it.
And here's another feature that blows away the competition and makes it one of the best sportsbooks around: South Point sportsbook hours are unlike any other property in Las Vegas. It's open 24 hours every day, although players must be 21 years of age or older to wager anywhere in Nevada, including on South Point entertainment, esports and any other gaming platform available in Las Vegas.
Wait, there are more outstanding features at the South Point sportsbook? A complimentary drink voucher is available upon request for a $20 sports bet. In the racebook, they're free if you show a betting slip to the server. You won't find that deal anywhere else in Vegas. Some of the books on the Strip command as much as $300 in sports bets before you're offered one single voucher.
South Point Las Vegas sportsbook odds are easy to view on the main wall of the venue, with betting lines mixed among the many LED screens. The same is true in the racebook, with one big screen surrounded by about 20 smaller TVs.
Both rooms have plenty of space for large numbers. The sportsbook's regular seating is around 200, while the racebook's capacity is around 160. There isn't luxurious leather seating in either venue, but the chairs are adequate with desk space on the right side of each seat.
There's even more room in the adjacent Del Mar Lounge and Del Mar Deli, which offers a variety of sandwiches. You might even want to use that free drink to wash down a 75-cent snack from the hotdog vendor in the sportsbook.
Each book has more than enough cashiers to keep lineups to a minimum as bettors play the South Point sports lines on all the major games of the day in the NFL, MLB, NBA and NHL. The book also has special events for the Super Bowl, Monday Night Football and March Madness.
If players want to do all their work on their mobile device, South Point online sports betting is now available on the new South Point Sports App. The sportsbook recently changed providers, so players that download the new app must complete a new application form and have a South Point Club Card.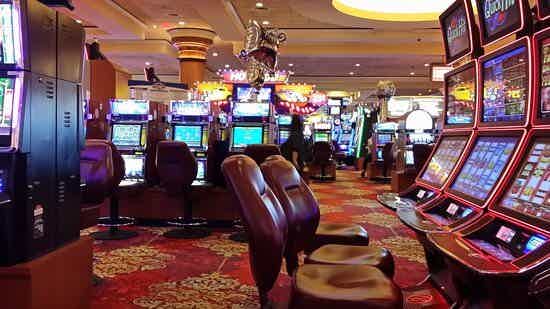 Place Your Bets at South Point
The South Point sportsbook, which can be accessed through an entrance by the free outdoor parking lot, makes up for its poor location in Las Vegas with easy comps, plenty of food options and ample seating. It's easy to see why this spot — like the nearby M Resort — is popular with local players.
Available sports

Here are some of the sports available to wager on at South Point betting windows:

Pro and college football
Pro and college basketball
Major League Baseball, including playoffs and World Series
Mixed Martial Arts and UFC events
Major soccer leagues from around the world
Boxing, but mostly just major bouts
Hockey, including the playoffs and Stanley Cup
Auto racing, with weekly race odds and Sprint Cup Championship futures
Golf, with weekly odds and futures on all four majors
Tennis, with odds on all four Grand Slam events

Available bets

Here are some of the bets available at the land-based South Point sportsbook:

Money line
Point spread
Over/under totals
Future betting
Proposition bets, especially for the Super Bowl
Teaser
Parlays
There are even more odds listed on the South Point sportsbook online, including "in-play betting" where betting lines are listed for games already in progress. The odds for the money line, point spread and over/under keep changing throughout the game to the final score.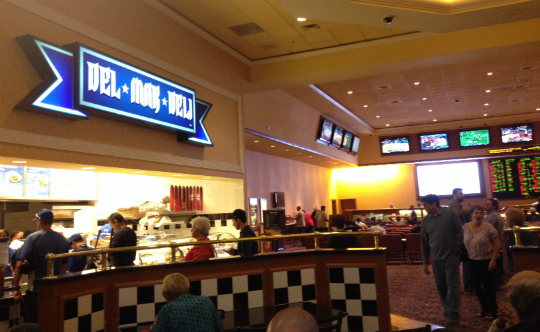 South Point in the Suburbs
Sports betting and slot machines are not the only draw to the South Point Casino Hotel & Spa, which is located in a quiet suburb about a 15-minute drive south of the Strip.
It houses a massive equestrian center with a 4,600-seat arena, a 400-seat concert hall and a 16-screen movie theatre. There's plenty to do here, but there's no flashy theme like most of the resorts on the Strip.
Visitors arriving at McCarran Airport will head south to Interstate 15 and exit at Silverado Ranch Boulevard. The property sits at the main intersection of this road and Las Vegas Boulevard.
Travellers heading northeast on a four-hour drive from Los Angeles will exit I-15 east onto Silverado Ranch Boulevard. Guests will see the resort from the highway.
The property is located in Enterprise, Nevada, which is south of Las Vegas and west of Henderson.
South Point Parking

The South Point resort offers free parking with hundreds of open-air spaces and a seven-floor parking garage. It may not seem like a big deal, but the mega resorts on the Strip are charging as much as $20 a day for parking.

Elevators take you from the parking garage to the casino (north entrance) of the South Point property.
The parking structure elevators do not connect to guest rooms.
Free parking available for trucks and RVs.
Use of valet service is complimentary.

Get to the Point

Start off your Vegas vacation with the best bet and use a ride share app to reach your destination at South Point. A taxi fare starts at more than $6 once you jump into the cab with all the fees and taxes, and you haven't gone anywhere yet. Limousine services are available, but they run around $85-90 an hour.

Download the ride share program apps Uber and Lyft to your mobile device. The cost for a ride is significantly cheaper than the taxi service. Pick up your ride share on the second level of the parking garage at the airport.
A taxi fare from the airport to South Point is around $30. Just hope there's not a lot of traffic as the meter continues to click whether your vehicle is moving or stuck in traffic. There is always a lengthy queue of taxis outside the main terminal if you choose this option.
Visitors can take the public transit bus service to South Point. From Las Vegas Boulevard, take the southbound Express to the South Strip Transfer Terminal. Then board the bus on Route 117, which will drop off across from South Point. The return pickup bus stop is located on the South Point property.
The Las Vegas public transit bus service runs 24 hours a day on the Strip, with routes to and from the airport as well. A two-hour bus pass on the Strip is $6, 24-hour pass is $8 and a three-day pass is $20.
South Point offers a complimentary shuttle service for hotel guests only to and from the airport, hourly from 6 a.m. to 9:30 p.m. You must call the resort ahead of time to make reservations.
The shuttle service also makes round-trips for hotel guests to the Strip and Town Square retail space.

Food & Drinks at South Point

South Point may not carry with it the buzz of the Strip, but it sure makes up for it with all the amenities it has packed on this property, including a fine selection of dining venues. The resort offers 11 restaurants featuring a wide variety for every price range and appetite.

Let's take a look at a smorgasbord of South Point restaurants:

Michael's Gourmet Room is a multiple award-winning restaurant with many elegant dishes prepared tableside. "One of our guests told us that his dinner at Michael's was better than the meal he had eaten the week before at the White House!"
For an authentic Italian meal with fresh ingredients, make a reservation to Don Vito's.
Get a 7 oz. New York steak, two eggs, hash browns and toast for $6 at Coronado Cafe.

Here are a few of the eight bars and lounges at South Point:

Plenty of seating and big screens await guests at the 360-degree Grand View Bar Lounge.
The Lobby Bar, with $3 beers and $5 cocktails, might be the perfect stop before entering the showroom.

Join the South Point Club

Every casino is Las Vegas has a rewards card, including South Point. Most properties are owned by major corporations, so their cards are good at multiple properties.

MGM Resorts International uses the Mlife card, where members can generate points and rewards at all eight properties on the Strip, including the Bellagio, Aria and MGM Grand. South Point's card is only active on this one property. No other casino uses it.

Guests must register for the Club Card at the rewards center at South Point, which is located by the hotel elevators near the cashier cage. Club members must be 21 with a valid ID.

Members earn points and comps by gambling at slot machines, table games, poker, sportsbook and racebook. Locals receive free slot play and food vouchers based on their play. Out-of-town guests receive complimentary room offers.

Like all the other reward cards, the higher level cardholders and high rollers receive more comps, perks and free play.

South Point Casino Experience

There seems to be more action in the sports and racebook than the 90,000-square-foot main casino floor at South Point.

The gaming area houses 2,270 of the most popular slot and video poker machines, 60 table games, and a bingo room with seating for 600 guests.

The minimums at table games is an attractive $5, but the selection is relatively limited. Some of the games available to play include:

Blackjack, tables offer an attractive 3-2 odds on a 21 with $5 and $10 minimums.
Roulette, with all wheels containing the standard two sets of zeroes.
Craps, start at $5 minimum with standard rules.
Baccarat, with a few tables with varying minimums from $5 to $25.

Other table games spotted on the casino floor include: Progressive Pai Gow, Progressive Three Card Poker, Mississippi Stud, and Ultimate Texas Hold'em.

The South Point poker room has 22 tables for play, but it doesn't seem to get a lot of action.

Just like the sportsbook, complimentary drink service is very good on the main casino floor for guests playing slots, video poker or table games. A tip is always a good idea if you are hoping for seconds.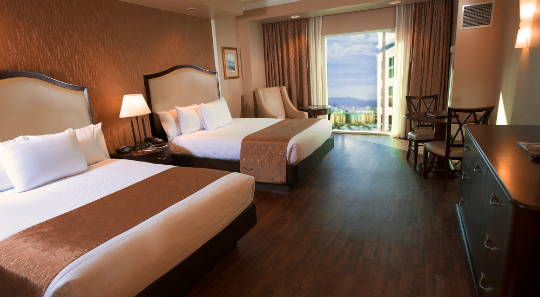 Plan Your Next Stay at South Point
The South Point Casino Hotel & Spa, which opened in December 2005, has 2,163 guest rooms, including 83 suites on the top floor. The 24-floor hotel tower is located on the 60-acre property adjacent to the Silverado Ranch.
Hotel rooms — which start at around $60 a night — are modern and welcoming, with couches and spacious desks.
Basic rooms, which include a king or two queen beds, are 500 square feet.
Hotel suites — which start at around $125 a night — include TVs in the living room and bedroom.
The Professional Suite, at 835 square feet, and Specialty One Bedroom Suite, at 1,000 square feet,
each has a living room area, coffee maker, small couches, and separate bedroom.
South Point is the only resort in the Las Vegas area to house an equestrian center — a venue that frequently hosts some of the most prestigious equestrian events in the world.
The resort fee, which awaits guests at checkout, is $21 per room per night. It includes fitness center access, airport shuttle and Internet access.