New York New York Sportsbook Review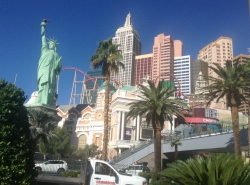 New York New York is busy like the big city … except it's in the desert. Statue of Liberty, roller-coaster ride, Time Square, Greenwich Village — it's all on one 18-acre property. The resort makes New Yorkers feel right at home in the middle of Las Vegas betting.
Everything might be supersized in the Big Apple, but the New York New York sportsbook certainly isn't. Many visitors have a hard time just finding the place in this mid-tier resort, which is home to New York-style pizza, classic casino gambling and one of the newest gathering spots in Las Vegas simply called The Park.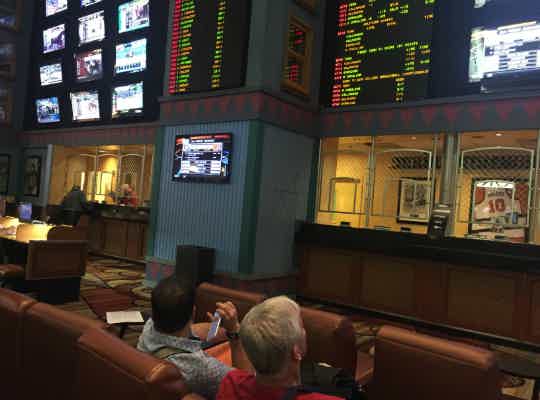 New York New York Sportsbook 101
It's as if the builders of this resort forgot to include a sporting venue.
The New York New York Las Vegas sportsbook is one of the smallest on the Strip. It looks like it was an afterthought. Put up a few TVs on a wall, mount a few benches and seats to the floor, and let's call it a sportsbook.
New York New York sports betting, which is located at 3790 South Las Vegas Boulevard, would never come up in the discussion of the best sportsbooks in the area. It's that bad.
The New York New York sportsbook hours are Monday to Friday from 8 a.m. to 10 p.m., and Saturday and Sunday from 7 a.m. to 10 p.m. Players must be 21 years of age or older to wager anywhere in Nevada, including on New York New York entertainment esports.
It's called a non-smoking venue, but this unimpressive space is totally exposed to the casino floor. New York New York sportsbook odds are posted on the right side of the only wall, along with many TVs which would probably be smaller than those in your home.
There is row seating with a desk area on the right-hand side for about 25 people. There are 10 betting stations, but only one or two are open for sports bettors and horse players most days of the week.
The only time all the stations are open is for major championships like the Super Bowl or March Madness. The rest of the time, players are here to bet on the daily sporting events in the NFL, NBA, MLB or NHL. There's also some hard copy printouts available, offering New York New York Las Vegas sportsbook odds on future betting.
New York New York also offers a free "how to bet" seminar for individuals or groups upon request.
Plan on spending at least $100 on sports to get a complimentary drink voucher. Horse players, however, get a much better deal. The soft rule is to just show a valid ticket to a server to get a free drink.
Bettors must first register at any of the nine MGM properties on the Strip to take their action online with the playMGM app, which can be downloaded to your Android or iOS device. New York New York online sports betting is offered on all the major sporting events, but it is only available in the state of Nevada.
The best online solution anywhere in the United States is the top-ranked site Bovada. This trusted provider has been in operation for years and offers members numerous bonuses.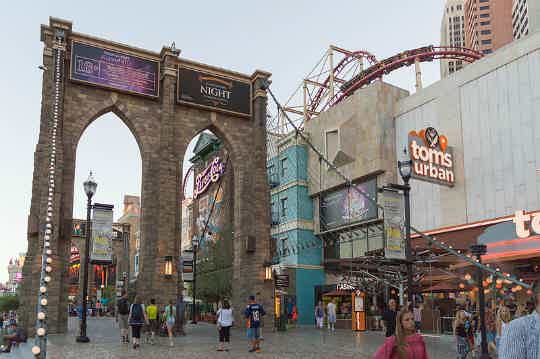 It's Game Time at New York New York
The New York New York sports lines are the same as the other eight MGM properties on the Strip. The only difference is it may be harder to concentrate on your next bet with the sounds of the Manhattan Express roller-coaster whipping through the casino every once in awhile. Put aside $14 if you want a ride on that attraction after making your bets.
Here are some of the games and championships New York New York is taking action on throughout the year:
Pro and college football
Pro and college basketball
Major League Baseball, including playoffs and World Series
Mixed Martial Arts and UFC events
Major soccer leagues from around the world
Boxing, but mostly just major fights
Hockey, including the playoffs and Stanley Cup
Auto racing, with weekly race odds and Sprint Cup Championship futures
Golf, with weekly odds and futures on all four majors
Tennis, with odds on all four Grand Slam events
Here are some of the bets available at the land-based New York New York sportsbook:
Money line
Point spread
Over/under totals
Future betting
Proposition bets, especially for the Super Bowl
Parlays
Teasers
New York New York sports betting online offers even more wagering options, especially on props and "in-play" wagering where odds and spreads change continuously as the sporting event unfolds. Bettors want more action, and this type of betting delivers. In-play wagering is also offered on other apps in Las Vegas, including all Caesars properties like the Flamingo and Planet Hollywood.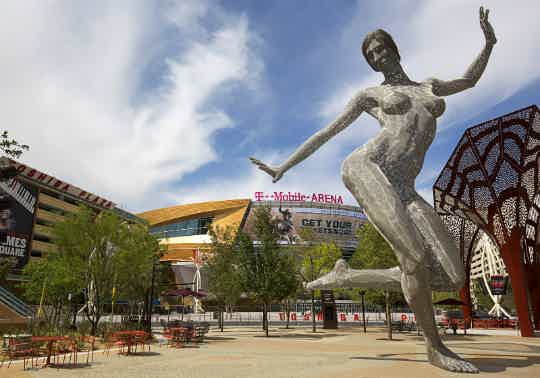 Location at Main Intersection
This tiny replica of New York City where visitors can get a bite to eat in the Village or take a stroll over the Brooklyn Bridge is located on the west side of Las Vegas Boulevard and at the north corner of the main intersection with Tropicana Avenue.
New York New York is surrounded by other MGM properties — with Excalibur to the south, Park MGM and T-Mobile Arena to the north, and MGM Grand across the street.
New arrivals at McCarran International Airport will head west on Tropicana and cross over the Strip to New York New York Boulevard and the main entrance. A pedestrian bridge, one heading east and the other south, will take visitors to nearby casinos and shops.
Guests have easy access to the 20,000-seat T-Mobile Arena and one of the few green spaces on the Strip in The Park.
There's also a free tram across the street at Park MGM that will take visitors to the Aria and Bellagio. The four-car, air-conditioned tram arrives every three minutes at Park MGM.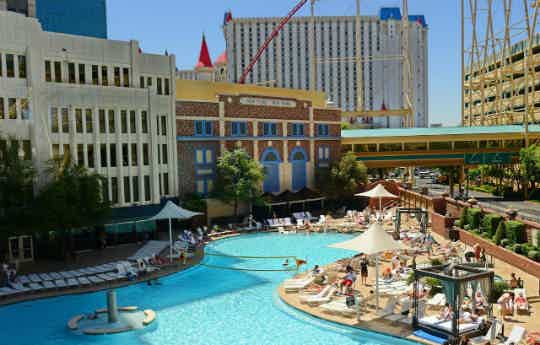 New York New York Parking
MGM Resorts, including New York New York, ignited a trend in 2016 when it started charging for parking for visitors and guests. Hefty parking fees have long been charged by big-city hotels but free parking, including valet service, was the norm in Las Vegas … until now.
The 10-floor New York New York parking garage is located to the west of the main resort off Tropicana Avenue.
Escalator access to The Park can be found on the second floor on the north side. Direct access to the T-Mobile Arena can be found on level four.
There's no charge for the first hour on your first day here. After that, it's $12 from one to four hours, $15 over four to 24 hours, and $15 per day after that.
Valet parking is even higher. It's $16 for under two hours, $18 for two to four hours, and $24 for four to 24 hours. After that, it's $24 per day.
New York New York, like other MGM resorts, does offer some discounts and complimentary parking to those that have an Mlife rewards card, excluding the lower-level and new cardholders.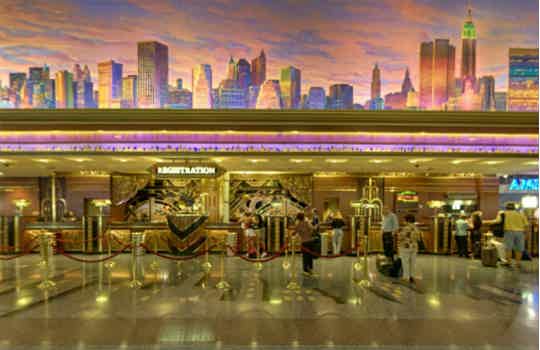 Public Transportation Options
It won't take long to get to New York New York after arriving at the airport or traveling on the interstate. This resort is just minutes away from McCarran International. It's even closer than the Cosmopolitan or Lagasse's Stadium at the Palazzo. A taxi or ride share will be the quickest one-way trip and it should cost under $20.
Download the ride share program apps Uber and Lyft to your mobile device. The cost for a ride is about two-thirds of the taxi service. Pick up your ride share on the second level of the parking garage at the airport.
A lengthy lineup of taxis are waiting at the airport just outside the main terminal.
Limousine services are available with the going rate around $85-90 an hour.
The Las Vegas public transit bus service runs 24 hours a day on the Strip, with routes to and from the airport as well. A two-hour bus pass on the Strip is $6, 24-hour pass is $8 and a three-day pass is $20.
The pass is good for the Deuce and Express bus lines. The Deuce is the slower of the two services, stopping at almost every resort on the Strip, including New York New York. The Express makes four southbound stops on the Strip, with the closest next door at the Excalibur.
Both bus services will take visitors all over the Las Vegas area, including the two outlet malls and Downtown Vegas.
Food & Drinks at New York New York
There are more than a dozen food and drink locations at New York New York, but there's even more just a five-minute walk from the resort, including the new Italian marketplace Eataly at Park MGM. Inexpensive dining options here make it a reasonable choice for families looking to stay cheaply on the Strip.
Here are some of the popular dining spots at New York New York:
The food ingredients are fresh, natural and Irish at Nine Fine Irishman. Enjoy the pub atmosphere inside or a two-level veranda or patio outside.
Try Chin Chin Cafe & Sushi Bar for a top selection in sushi, Chinese and Pan-Asian foods.
Gallagher's Steakhouse started in New York City in 1927 and has perfected every pick on the menu.
The Center Bar in the middle of the casino floor is open 24 hours. Here are a few other drinking spots:
Located next to Hershey's Chocolate World, the Chocolate Bar features classic and specialty cocktails.
The Ultimate Neighborhood Bar at Times Square is complete with a dueling piano show.
New York New York Rewards
One of the benefits of staying at an MGM property like New York New York is the fact that you can earn points with the Mlife Rewards Card at any one of the nine Las Vegas locations.
Collect points on it all — gaming, hotel rooms, shopping, food bills and shows. Swipe your card every time you spend money at one of these properties, which include the Aria, Bellagio, Mandalay Bay and Mirage.
The starting tier, which is Sapphire (blue card), has limited benefits, but the rewards change at the next level called Pearl. These members are awarded discounts, dedicated line options at restaurants and buffets, and complimentary parking.
Members can continue to graduate to the next Mlife level, with Gold, Platinum and Noir the top three levels. The higher the level, the more privileges on meals, room rates and complimentary gifts.
Tier credits are accumulated from October 1 to September 30. If you advance to a higher tier at any time, you'll enjoy those benefits for at least one full year.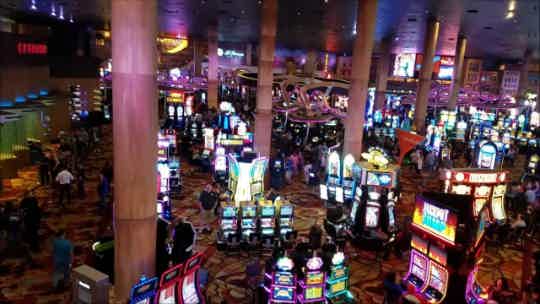 New York New York Casino
The casino at New York New York has more than 84,000 square feet of gaming space and almost 2,000 machines, including well over 1,500 of the hottest slot names today. Denominations range from penny machines all the way up to $100 a pull.
The casino floor consists of a central bar with 80 table games around the room. Table minimums are $10 most of the time, but you can often find a $5 blackjack table. Here are some of the table games available to play at New York New York:
Blackjack, some tables with 3-2 odds on a 21, but those carry a $25 minimum.
Roulette, this game with the biggest house odds has added a third zero to the wheel.
Craps, start at $10 minimum with standard rules.
Baccarat, just one table on the main floor with a $10 minimum.
Other table games on the casino floor include: Let it Ride, Face up Pai Gow Poker, Fortune Pai Gow Poker, Ultimate Texas Hold'em, Crazy4Poker, Cajun Stud, Casino War, and Three Card Poker.
The high limit room has tables for blackjack and baccarat, all carrying a $100 minimum. The room also has its own bar and seating area with several couches and chairs.
Complimentary drink service is offered to those playing the machines or table games. The service is pretty good most of the time on the lively main casino floor.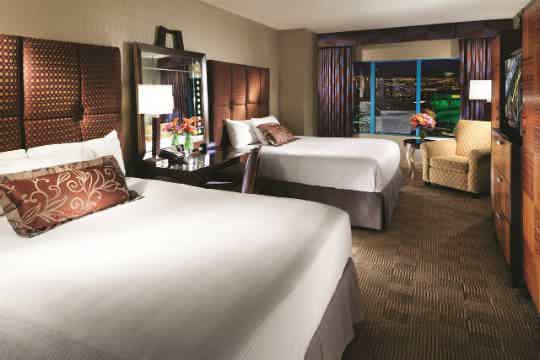 New York New York Hotel
The 2,024-room resort, which opened in January 1977, includes several towers configured to resemble New York City skyscrapers such as the Empire State Building and the Chrysler Building.
Foot traffic has increased dramatically in and around New York New York with the opening of T-Mobile Arena. Visitors from each of the NHL cities in North America will find it easy to stay here with just a short walk to the arena.
All budget-friendly rooms were renovated in 2011 and include room safes large enough for a laptop.
Basic 350-square-foot rooms start at around $50 a night. Price almost doubles with the $42 resort fee is included.
Rooms with large windows that overlook the Strip cost a little more.
Rooms vary by theme, including 500-square-foot Spa suites and New York-themed Park Avenue and Madison Avenue suites.
Very small pool area, which was renovated in 2013, has food and beverage service available.
Arcade with video and carnival-style games.