Wild Casino Review
Wild Casino is a new, but very legitimate and secure gaming site. In fact, being new gives it an advantage over some of its competitors in terms of cryptocurrency and mobile optimization.
If you were feeling nervous about the newness of Wild Casino, you can rest easy knowing that it is owned by commission.biz. This is the same group as SportsBetting.ag and BetOnline Casino.
Also being new, they are still working on their game collection. However, overall, this online casino is top-notch, especially when you gamble on your smartphone or tablet or with cryptocurrencies.
Accepts a lot of cryptocurrencies

Optimized for mobile use

Part of a trusted network
Selection of games still growing
Bonuses at Wild Casino
Wild Casino offers extensive welcome bonuses. As a new company, they are eager to attract new customers, and their welcome bonuses reflect this effort.
With the bonus code WILD250, you can get a 250% matching gift on your first deposit, up to $1,000. After that, you can use the bonus code WILD100 to get a 100% matching bonus on each of your next four deposits, up to $1,000.
But that's not all! Every Wednesday you can claim their Hump Day specials. If you deposit between $30-$149, use the bonus code HUMPDAY1 to get a 25% match. Any more than that you can use the coupon code HUMPDAY2 to get a 50% match, up to $250. 
Bitcoin at Wild Casino
Bonuses

How to Deposit Bitcoins

Other Cryptocurrencies
And these Bitcoin incentives are some of the biggest in the game. On your first crypto-deposit, you'll get a 300% match, and then 150% on the next four.

On your first deposit, use the Bitcoin bonus code: CRYPTO300. On the next four, use the promo code: CRYPTO150.

With a total bonus of up to $9,000. Those are some pretty numbers.

And they make it super easy to use too. They have experts standing by to help you through the Bitcoin process. Once you want to deposit them into your account, just follow these quick steps.

--Once you log in, the cashier screen will appear. From there, select "Bitcoin.
--On the next screen, you can open the list of promotions by clicking "bonus codes."
--If it's your first deposit, select the larger "First Crypto Deposit Bonus." On the following four deposits, you will be able to select the other crypto bonuses.
--This will automatically insert your bonus code. Select or input the amount you'd like to deposit and click "deposit now."
--Now you have two options for completing the transaction. From your wallet, you can either scan the QR code or copy and paste the wallet address. Both are provided after clicking "deposit now" from step 4.

The Wild Casino is very modern. This is also true for their deposit methods. They accept not only Bitcoin, but also a wide variety of cryptocurrencies. In addition, they accept Bitcoin Cash, Ethereum, Litecoin, and Ripple.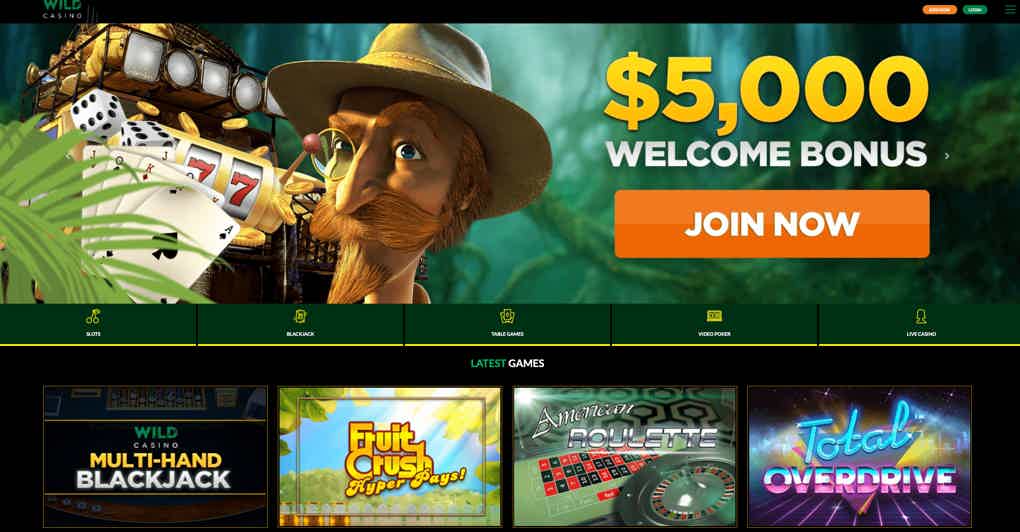 How to Sign-Up?
Wild Casino features a great website, which is very welcoming mimicking the visuals of a slot machine at times with imaginative 3D-imaging.
On arrival to the site, users should gaze to the top-right hand corner of the screen and they will find two buttons; one labelled "Join Now" and another "Login". Users will then be asked to present some basic data and confirm the account's activation through their personal email account.
Once this process is complete, users will be able to access the tables in the casino and start betting at their own leisure!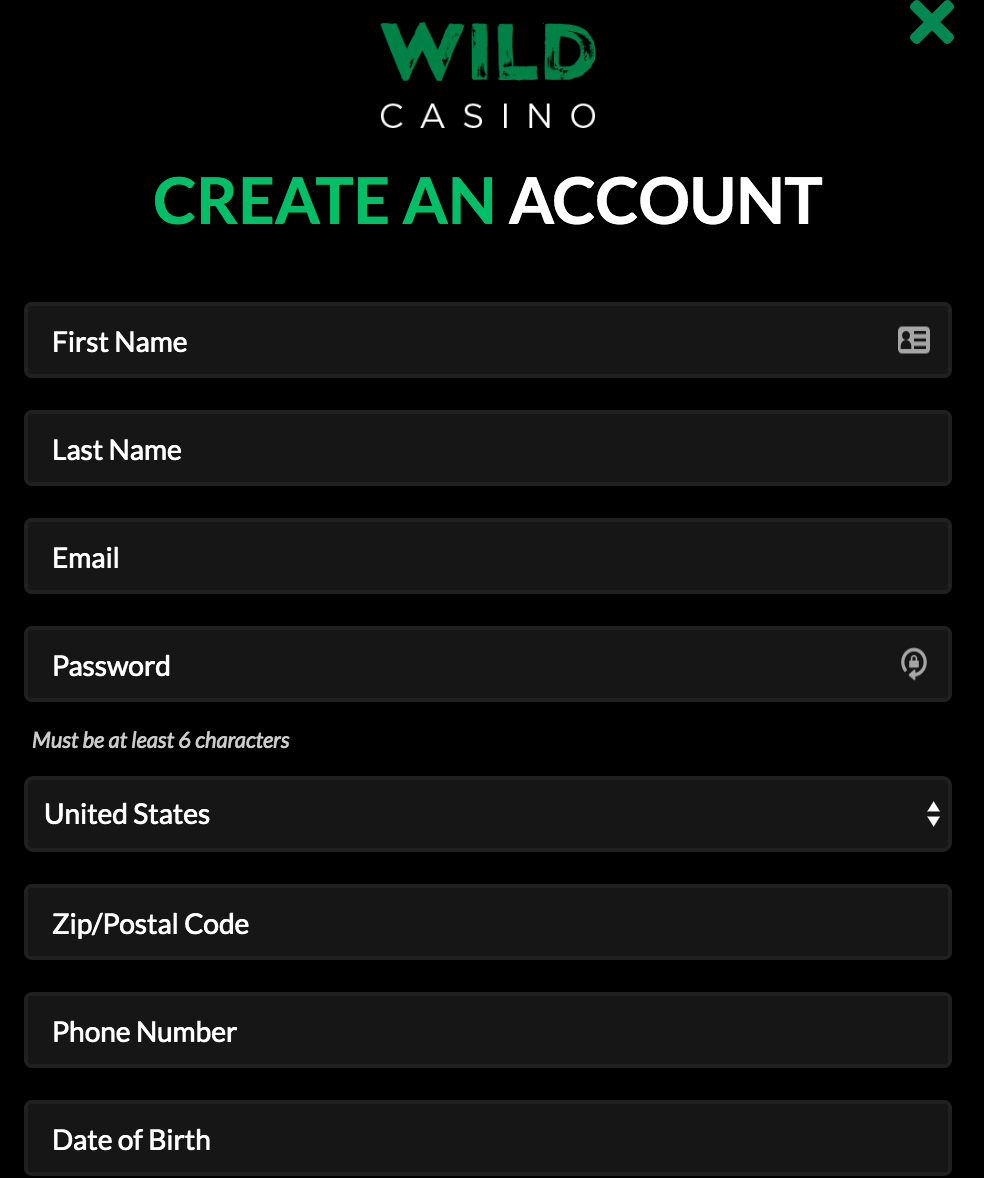 Wild Casino Mobile Casino
Wild Casino is a new company and they entered the market on top of the latest trends in the industry. When the company first came onto the scene in 2017, many of the major providers were releasing mobile apps. Wild Casino didn't miss out on an obvious opportunity and released one too.
iPhone
iPhone continues to be the number one choice of smartphone among Wild Casino players. Apple's iOS operating system is supported by the app.
Android
Android users can access the Wild Casino app from their device, as the downloadable software is compatible with all phones with the Android operating system.
Tablet
As technology continues to expand and evolve we see an increase in the various types of tablets available. Part of the design for the Wild Casino app had to take into account tablet users. So any tablet users can play the tablets from their favourite devices.
Wild Casino Loyalty Programmes
Everyone takes part in the Wild Casino Loyalty programme, from the moment they first bet! Players begin accumulating points as they wager on the tables.
The programme is designed to allow users to work their way through the various tiers and earn cash rewards along the way! Players can redeem their points at any point for cash rewards and points last the lifetime of the account.
Wild Casino Responsible Gaming
Wild Casino actively encourages responsible gaming amongst its players and wants to ensure that anyone feeling they may need help don't need to look far.
The team at Wild Casino put together a variety of responsible gaming help options, including the following:
Setting gambling limits
Taking a break from gambling
Self-exclusion
Help and support groups
Wild Casino Customer Support
Wild Casino strives to provide a first-rate service and gaming experience to each and every customer that comes to their site.
As such, they provide a customer service that is available around the clock 24 hours a day, 7 days a week. Wild Casino users can contact the team via Live Chat, or they can contact their team via email with queries at [email protected]
Wild Casino FAQs
Is Wild Casino legit?
The Wild Casino hasn't been in operation for very long, but they are one of the most legitimate online casino providers around. The short time in the industry often casts a doubt over the minds of players, but there have been no reported issues regarding malpractice on the part of Wild Casino.
How to withdraw funds from Wild Casino?
Withdrawing is as easy as depositing. Simply navigate to your account page through the app or online and then select the button marked "Withdraw". Users will then be taken to a new page with a variety of payment methods – select one and then your funds will be deposited within the declared timescale.
Who owns Wild Casino?
Licensed by the Panama Gaming Permission and owned by BetOnline, which is another major online provider and owned by Eddie Robbins III.
How to access Wild Casino
Gaining access to the Wild Casino is easy. All users need to do is download the Wild Casino app or access the website directly. At this point, users will need to sign up or sign in to their account and from there they will be able to start playing the tables.
Is Wild Casino available worldwide?
Wild Casino is available primarily in the U.S., however, if users are able to access online from other countries is subjective to each country. Across the globe, nations have their own laws regarding online gambling.
How to play Wild Casino
Playing the Wild Casino is much like playing in any other casino, even under the lights in Las Vegas! Simply choose a game from the various options available and start wagering, from there users will get the full Wild Casino experience.
When was Wild Casino founded?
Wild Casino is young blood in the gambling industry, license in Panama and first brought onto the scene back in 2017.
Is Wild Casino rigged?
Not at all. Wild Casino is a well-established and highly reputable casino, offering a broad range of games and old table games for users to get involved with during their Wild Casino experience.
Does Wild Casino offer responsible gaming?
There are many people that enjoy gambling and of course, the industry comes with its own pitfalls. One of those, which is the most important, is the development of gambling addiction through playing in the Wild Casino.
Wild Casino is aware of this potential problem and provides an array of tools for Wild Casino users to use in order to ensure they are gaming responsibly. Responsible gaming goes beyond just limiting playing time but offering self-assessment forms and someone to talk to on the phone if things become too much.
Wild Casino work with Bitcoin transactions?
Wild Casino strives to remain up to date with the most modern technologies and trends. This is also true for the various deposit methods. They accept not only Bitcoin, but also Bitcoin Cash, Litecoin, Ripple, and Ethereum.
Bottom Line
This new player on the game is great when you are gambling with cryptocurrencies or on the go. Otherwise, it remains a solid choice. But beyond its mobile and crypto-friendliness does not stick out.