Texas Station Sportsbook 101
Unlike the higher-end Aliante, which is another Station Casino in North Las Vegas, Texas Station is a low-budget venue right down to its sportsbook. Don't expect fancy decor, luxurious linens and an impeccable setting at 2101 Texas Star Lane.
Texas Station is located right beside a Walmart Superstore and North Las Vegas Airport. This isn't anything close to the upscale Grand Canal Shoppes or gaming floor at the Venetian on the famous Strip. 
Players must be 21 years of age or older to wager anywhere in Nevada, including on Texas Station entertainment odds, esports betting lines or any other gaming, sports or artistic event available on the platform in Las Vegas.
The sportsbook here is split into two sections, which seems common with these casinos for locals. The racebook is on the left with the traditional row-by-row seating and the Texas Station casino sports betting is on the right with premium leather club chairs. Betting lines are posted daily by 8:30 a.m.
The horseplayers share the main viewing wall with the sports bettors, with the left wall also filled with LED screens and horse racing's big screen for live racing. Sports odds for all the daily events and futures are displayed on the main viewing wall below a bank of big screens and behind the betting windows.
Bettors can line up to wager on pro and college football, baseball, basketball, and hockey, as well as NASCAR, golf, tennis, and boxing. Or, they can take their action online.
Like all the other Boyd Gaming destinations in the Las Vegas area like Suncoast and Sam's Town, players can sign up and wager on the B Connected sports app. But the platform, which is available on iPhone and Android devices, is only valid for Las Vegas sports betting in the state of Nevada. You won't be able to take advantage of Texas Station online sports betting if you live anywhere else in the United States.
But the best bet in the room isn't on a horse race or sporting event. It's all about drinking for free here. There's complimentary service for those on the horseplayers' side, while a $20 bet is required from the sports players for a drink voucher. It's a much better deal than what the mega-resorts require on the Strip — like the Cosmopolitan or Bellagio.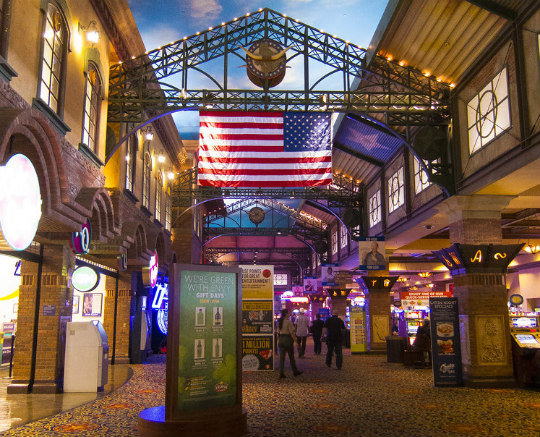 It's Game Time at Texas Station
There are plenty of odds and games to choose from every day of the week at the Texas Station Las Vegas sportsbook. Expect a packed house and a lengthy queue at the betting windows for all the major championships, especially the Super Bowl and March Madness.
Here are some of the sports to wager on at the land-based venue and Texas Station sportsbook online:
• Pro and college basketball
• Major League Baseball, including playoffs and World Series
• Mixed Martial Arts and UFC events
• Major soccer leagues from around the world
• Boxing, but mostly just major fights
• Hockey, including the playoffs and Stanley Cup
• Auto racing, with weekly race odds and Sprint Cup Championship futures
• Golf, with weekly odds and futures on all four majors
• Tennis, with odds on all four Grand Slam events
Here are some of the bets available on the Texas Station sports lines:
• Money line
• Point spread
• Over/under totals
• Future betting
• Proposition bets, especially for major championships
• Parlays
• Teasers
Texas Station online sports betting offers even more wagering options, especially on props and "in-play" wagering where odds and spreads change continuously as the sporting event unfolds. The betting lines can make drastic moves in "live betting," which keeps punters focused on every play of the game.
Enjoy the Action at Texas Station

Texas Station Parking

Public Transportation Options

Food & Drinks at Texas Station

Texas Station Rewards

Texas Station Casino

Texas Station Hotel
Related Content