Suncoast Sportsbook 101
The Suncoast sportsbook made some minor changes recently that scored with sports bettors as all of the older TVs were swapped out for newer LED screens. The picture quality is obviously better in this 150-seat venue, which is located at 9090 Alta Drive across from the outdoor mall Tivoli Village and five miles east of Red Rock Canyon.
Suncoast sportsbook hours are the same every day of the week: Monday through Sunday from 6 a.m. to 4 a.m. Betting lines are posted by 8 a.m. daily. Players must be 21 years of age or older to wager anywhere in Nevada, including on Suncoast entertainment betting lines, esports odds or any other sporting or artistic event available in the platform in Las Vegas.
Suncoast sports lines, which are powered by Boyd Gaming and available online on the sports betting app B Connected, are posted on a wall to the right of the main viewing area. There are plenty of betting stations located below the main screens, but only two or three are open most days of the week.
Bettors can line up to wager on all the top leagues in the U.S. and around the world. Suncoast Las Vegas sportsbook odds are displayed for NHL, NBA, MLB, and NFL games, while other daily betting lines and futures are offered on hard copy printouts.
The leather chairs on the right side of the venue are in high demand for sports players, while horseplayers fill the left side of the room at row-by-row desks with personal TV, light, and chair. Still, with 22 TVs around the book, there isn't a bad seat in the house.
Those looking for complimentary drinks will be happy to hear that a beverage server offers a beverage to anyone on the horseplayer side. That's the way sportsbooks used to take care of visitors, so it's refreshing to see the practice still in action at Suncoast. On the sports side, bettors can earn one drink voucher with a $25 bet or two with a $50 wager, which is a better deal than the mega-resorts on the Strip.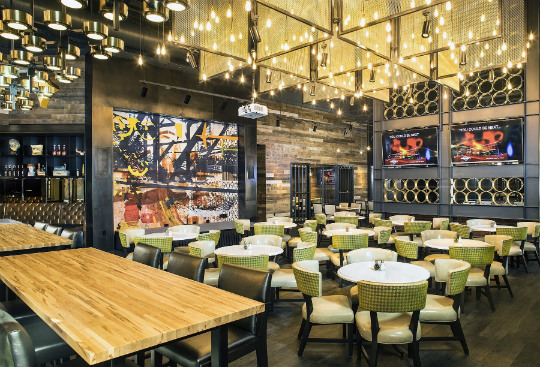 It's Game Time at Suncoast
The Suncoast Las Vegas sportsbook, which is stationed on the southwest corner of the resort next to the movie theater, is easily accessible from the parking garage since it is located at the same end of the property.
There are plenty of odds and games to choose from every day of the week. Expect a packed house and a lineup at the betting windows for all the major championships, especially the Super Bowl.
Here are some of the sports to wager on at the land-based venue and Suncoast sportsbook online:
Pro and college basketball
Major League Baseball, including playoffs and World Series
Mixed Martial Arts and UFC events
Major soccer leagues from around the world
Boxing, but mostly just major fights
Hockey, including the playoffs and Stanley Cup
Auto racing, with weekly race odds and Sprint Cup Championship futures
Golf, with weekly odds and futures on all four majors
Tennis, with odds on all four Grand Slam events
Here are some of the bets available on the Suncoast sports lines:
Money line
Point spread
Over/under totals
Future betting
Proposition bets, especially for the Super Bowl
Parlays
Teasers
Like all the other Boyd Gaming destinations in the Las Vegas area like Aliante and Sam's Town, players can sign up and wager on the B Connected sports app. But the platform, which is available on iPhone and Android devices, is only valid for wagering in the state of Nevada. You won't be able to take advantage of Suncoast online sports betting if you live anywhere else in the United States.
Enjoy the Action at Suncoast

Suncoast Casino Las Vegas is located on the outskirts of Summerlin — the "rich" neighborhood in the valley. The property backs onto the Angel Club Golf Course, which is a favorite with the casino crowd. Though it's off the regular route for tourists, the family-friendly resort has several gaming and entertainment choices with a wide range of pricing.

"This hotel and casino is off the Strip and very quiet and very comfortable," said a TripAdvisor reviewer in November 2019. "To me and my family, every time we visit it's like coming home to family."

Visitors arriving at McCarran Airport will head south to Interstate 215 and travel west to the Bruce Woodbury Parkway. Head north on Fort Apache Road. The street name changes at Charleston Boulevard to Rampart Boulevard. Continue on this roadway until reaching Alta Drive and the resort. The entire 17-mile trip from the airport takes around 25 minutes, depending on traffic.

Travelers heading northeast on a four-hour drive from Los Angeles will exit I-15 west at Bruce Woodbury Parkway. The resort is about 15 miles from the interstate.

A shuttle service is available to and from the airport seven days a week for hotel guests, but the cost ranges from $25 to $130 per person each way.

Suncoast Parking

Locals casinos are known for being a little more friendly than the mega-resorts on the Strip, especially without the hassle of paying for parking. The Suncoast resort with the Mediterranean theme is no different with five outdoor parking lots and a parking garage. It's free no matter where you park here.

The 5,000-space parking garage features a moving walking from the structure into the resort.

Open-air parking lots surround the resort, but the parking garage is on the west side of the property and accessible from Alta Drive.

Valet parking is also complimentary.

Public Transportation Options

Las Vegas offers an excellent transit bus service, but it's probably not the best public transportation option to travel if your destination is of great distance in the area. A better bet for Las Vegas gamblers is to use rideshare programs Uber and Lyft. The service is available 24 hours a day every day with hundreds of designated vehicles on the road. The service also picks you up and drops you off exactly where you want to go, with little wait times.

The Westcliff Airport Express (WAX) services Suncoast and the airport. It departs and arrives at terminals 1 and 3. The ride to Suncoast takes about 50 minutes, depending on traffic, and costs $6 per person.

Download the free rideshare program apps Uber and Lyft to your mobile device. The cost of a ride is about half to two-thirds of the taxi service. Pick up your rideshare on the second level of the parking garage at the airport.

Price both Uber and Lyft before completing your transaction. It will cost about $35 for a ride on either service from the airport to Suncoast.

There is always a long queue of taxis waiting at the airport outside the main terminal. The cost for a ride to Suncoast is about $75 — more than double the cost of rideshare.

Limousine services are available with the going rate around $85-90 an hour.

Food & Drinks at Suncoast

The 90 Ninety Bar and Grill gastropub, which sits on the resort's east side, is named after Suncoast's address. The casual restaurant includes star-shaped lights that were salvaged from the famous Stardust resort, which was demolished in 2007.

All casual and fine dining outlets have a social hour from 4 p.m. to 7 p.m. Here are some of the other spots for guests to try out at Suncoast:

SC Prime is an exclusive steak and seafood restaurant that offers spectacular views of the Las Vegas valley.

Salvatore's was named "Best of Las Vegas" Italian restaurant in 2012 and offers a nightly piano act.

Brigg's Oyster Co. features fresh seafood and steaks, including $1 oysters on Thursdays.

Suncoast does not have a nightclub, but it does have a few bars and lounges:

Fan's Sports Bar features classic American fare plus social games like darts and shuffleboard.

More quick eats are on the menu at The Game, which sits near the sportsbook and opens daily at 11 a.m.

Suncoast Rewards

Boyd Gaming's rewards card is not only valid for use at Suncoast in Las Vegas but nationwide at any of the company's 24 locations.

As the program's promotion says: "It's Good To B Connected." Players can acquire points and benefits and climb to the top level of the B Connected program at any of the eight Las Vegas properties, which also include Sam's Town and Aliante.

The program is free to join for new members. Players start at the Ruby level and progress through play or purchases at participating locations up to Sapphire, Emerald, Onyx, and Titanium. The rewards and benefits escalate with each level earned.

Players have from January through December to earn their tier and the following year to enjoy those benefits, including automatic discounts for hotel stays. Other top rewards include stays in Hawaii and the Bahamas, and other extraordinary annual gifts.

Boyd Gaming also has resorts consisting of a casino and hotel in Louisiana, Illinois, Indiana, Iowa, Mississippi, Missouri, Kansas, and Ohio. So, players are not just earnings the benefits for their next stay in Las Vegas.

Suncoast Casino

The Suncoast poker room may have closed in 2018, but there are still many other gaming options on the 80,000-square-foot newly renovated casino floor, including 1,800 video poker and slots machines and a 600-seat bingo center.

Guests will also find 30 table games on the main gaming area, with limits running anywhere from $5 to $1,000. There's a seat open at the following games:

Blackjack, some tables offer an attractive 3-2 odds on a 21, starting with $5 minimums.

Craps, start at $5 minimum with standard rules.

Roulette, with all wheels containing the standard set of 0-00, with $5 minimum.

Baccarat, with standard rules and $10 minimums.

Other table games include Pai Gow Poker, Ultimate Texas Hold'em, and Three Card Poker.

There is a bingo hall on the second floor that includes 98 seats in a new smoking section. There are eight daily sessions starting at 9 a.m. with another session every two hours.

Complimentary drink service is quite generous

at Suncoast for those playing the many video poker and slot machines. A tip is recommended if you expect to get another Fiji water, Corona or lemon drop martini.

Suncoast Hotel

Suncoast Hotel and Casino, which opened in September 2000, contains 432 rooms over 10 floors with access to a 2,000-square-foot pool and spa which backs onto a golf course. Room rates start at $62 but double on weekends and holidays. The resort charges a $21 per night resort fee as well, with complimentary WiFi.

Basic rooms, with one king or two queens, are 550 square feet in size with a flat-screen TV, full-length windows, coffee maker, and mini-fridge. Add $30 for a golf course view.

An executive suite, at 1,056 square feet, features a king bed, private bathroom, living/dining area and all the other amenities in the basic rooms.

All rooms and suites are non-smoking.

Children 15 and under stay free with an adult. The maximum total number of guests (adults and children) in a room is four.

Other resort features include a 16-screen all-digital movie theater, convention center, 24-hour business center, free WiFi in public areas, and free valet parking.