Sam's Town Sportsbook 101
Visitors to the sportsbook at Sams casino Las Vegas, located at 5111 Boulder Highway, will enjoy this massive venue with 60 LED screens of various sizes, comfortable seating, and a snack bar. A server also delivers complimentary drinks to those that have earned vouchers based on a $25 bet on either sports or horse racing.
Sam's Town sportsbook hours vary throughout the week: Monday to Thursday from 8 a.m. to 10 p.m., Friday from 8 a.m. to 12 midnight, Saturday from 6 a.m. to 12 midnight, and Sunday from 6 a.m. to 10 p.m. These are some of the longest hours of any sportsbook in Nevada. The daily betting lines are posted by 8 a.m.
Players must be 21 years of age or older to wager anywhere in Nevada, including on Sam's Town entertainment odds, esports betting lines or any other gaming event or casino platform in Las Vegas.
Sam's Town sports lines, which are powered by Boyd Gaming and available online on the sports betting app B Connected, are posted just to the right of the main viewing wall. There are about a dozen betting stations located below the main viewing area, but only two or three are open most days of the week.
Bettors can line up to wager on all the top leagues in the U.S. and around the world. Sam's Town Las Vegas sportsbook odds are displayed for NHL, NBA, MLB, and NFL games, while other daily betting lines and futures are offered on hard copy printouts.
The sportsbook has room for 309 guests, with row-by-row desk seating on the left for horse players and leather chairs and armrests on the right side in the sports section. The main viewing wall has one big screen TV in the middle with dozens of smaller-sized units on either side. With the individual TVs on the row-by-row seats, there is no excuse to miss the action in your game of choice.
Sam's Town Hotel and Gambling Hall also offer promotions and perks to keep sports players in the game, which include a weekly pick'em football contest with prizes up to $30,000. There's also a weekly picks segment on the resort website, hosted by sportsbook director Kevin Klein called Kevin's Corner.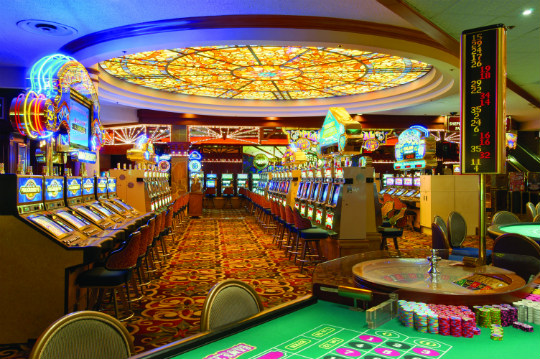 It's Game Time at Sam's Town
The huge Sams Town Casino Las Vegas sportsbook has plenty of walking space for guests to easily maneuver the room. Even though it's such a large house, expect it to be packed for major championships like the Super Bowl, NBA Finals and March Madness.
Here are some of the sports to wager on at the land-based venue and Sam's Town sportsbook online:
Pro and college basketball
Major League Baseball, including playoffs and World Series
Mixed Martial Arts and UFC events
Major soccer leagues from around the world
Boxing, but mostly just major fights
Hockey, including the playoffs and Stanley Cup
Auto racing, with weekly race odds and Sprint Cup Championship futures
Golf, with weekly odds and futures on all four majors
Tennis, with odds on all four Grand Slam events
Here are some of the bets available on the Red Rock sports lines:
Money line
Point spread
Over/under totals
Future betting
Proposition bets, especially for the Super Bowl
Parlays
Teasers
Sam's Town online sports betting offers even more wagering options, especially on props and "in-play" wagering where odds and spreads change continuously as the sporting event unfolds.
But the B Connected platform, which is available on iPhone and Android devices, is only valid for Las Vegas sports betting in the state of Nevada. You won't be able to take advantage of Sam's Town online sports betting if you live anywhere else in the United States.
Enjoy the Action at Sam's Town

Guests at Sam's Town hotel and casino Las Vegas can enjoy the relaxing atmosphere of a rolling waterfall or opt for an exciting laser light show. Both of these features are available for free at the enclosed Mystic Falls Park, which is located in the middle of the main gaming area. The indoor park is just one of the many attractions at Sam's casino, which is located two miles southeast of Boulder Station.

Visitors arriving at McCarran International Airport will head east on Tropicana Avenue to Boulder Highway. Turn left and head north for a couple of miles to the resort, which is on the right-hand side. The entire five-mile trip takes about 15 minutes.

Travelers heading northeast on a four-hour drive from California will also exit I-15 east on Tropicana Avenue. It's about a 20-minute drive from the highway to Sams Town Hotel & Gambling Hall and Las Vegas betting.

The resort provides a free shuttle service on air-conditioned buses to and from both the Strip and Downtown Vegas.

Each route has five daily departures from Sam's Town, heading to Harrah's on the Strip and the Fremont and California resorts downtown. The departures run about every three hours.

Sam's Town Parking

Sam's Town hotel and casino Las Vegas is like most of the locals' casinos in the area in that it offers plenty of on-site free parking, including three separate parking garages.

One garage has four levels, while the other two have five.

The garages are easily accessed from either Boulder Highway or Flamingo Road.

The two north garages offer a walkway to the casino on the third floor.

The south garage offers covered access to the movie theater.

There are two open-air parking lots on the property, with the largest at the south end.

Public Transportation Options

With so many resorts on the Strip, the city's transit bus system does a good job of providing service to the thousands of visitors that journey up and down Las Vegas Boulevard daily. But it's a different story off the Strip, especially if you want to visit the famous "Welcome to Las Vegas" sign south of Mandalay Bay. The most cost-effective solution is to use the two rideshare programs in and around the city.

Download the free rideshare program apps Uber and Lyft to your mobile device. The cost of a ride is about half to two-thirds of the taxi service. Once you have accepted your negotiated price, your cost is fixed on Uber or Lyft. Traffic congestion will not affect your price since you have already paid the fare.

Pick up your rideshare on the second level of the parking garage at the airport. It's not as convenient as the taxi queue right outside the main terminal, but the cost-saving is attractive.

There are more Uber vehicles on the road than Lyft in Las Vegas. Price both options before completing your transaction. The estimated cost to Sam's Town from the airport is around $19.

There is always a long queue of taxis waiting at the airport outside the main terminal. The cost for a ride to Sam's is about $32.

Limousine services are available at the airport with the going rate around $85-90 an hour.

Sam's Town is located on Boulder Highway, which is serviced by the bus system on Route BHX. A bus pass is $6 for two hours, $8 for 24 hours, and $20 for three days.

Food & Drinks at Sam's Town

You won't go hungry at Sam's Town, with quick-serve menu options like McDonald's and Subway in the food court to a fine dining restaurant in the main casino area. Be sure to swipe your B Connected rewards card for discounts at the Firelight Buffet. New members can enjoy breakfast for as low as $8, lunch for $10 and dinner for $12.

Here are some of the other culinary choices at the western-themed Sam's Town:

The Angry Butcher is a unique American steakhouse inside Mystic Falls Park. Reservations are recommended.

The hotel does not have room service, but food delivery is available through the in-house T.G.I. Friday's.

Calamity Jane's Ice Cream Parlor has whatever it takes to satisfy your sweet tooth.

There are nightly lounge acts at Roxy's Lounge. Here are some other bars at the resort:

Friendly bartenders greet guests inside Mystic Falls Park at the Ram's Head Bar.

Located near the main entrance, Winchester Bar delivers some Wild Wild West ambiance.

Sam's Town Rewards

Boyd Gaming's rewards card is not only valid for use at Sam's Town in Las Vegas but nationwide at any of the company's 24 locations.

As the program's promotion says: "It's Good To B Connected." Players can acquire points and benefits and climb to the top level of the B Connected program at any of the eight Las Vegas properties, which also include the Aliante and Suncoast.

The program is free to join for new members. Players start at the Ruby level and progress through play or purchases at participating locations up to Sapphire, Emerald, Onyx, and Titanium. The rewards and benefits escalate with each level earned.

Players have from January through December to earn their tier and the following year to enjoy those benefits, including automatic discounts for hotel stays. Other top rewards include stays in Hawaii and the Bahamas, and other extraordinary annual gifts.

Boyd Gaming also has resorts consisting of a casino and hotel in Louisiana, Illinois, Indiana, Iowa, Mississippi, Missouri, Kansas, and Ohio. So, players are not just earnings the benefits for their next stay in Las Vegas.

Sam's Town Casino

Sam's casino Las Vegas does what it takes to create a pleasant environment for players with smoking on the three-level casino area and another large non-smoking section.

The 120,000-square-foot gaming area — complete with sportsbook, racebook, poker room, bingo hall, and keno lounge — delivers for locals and tourists with hundreds of video poker and slot machines and more than two dozen tables games.

Here are some of the features from the well-known table games at Sams casino:

Four different kinds of blackjack with table minimums ranging from $3 to $25.

This casino is best known for its $3 craps tables with 10 times odds. Field bet pays triple on a 12.

Standard roulette wheels with the common set of green 0-00, with $5 minimum.

Other table games on the casino floor include Pai Gow Poker, Three Card Poker, Let it Ride, and Deuces Wild Stud. All tables carry a $5 minimum.

Bingo sessions are held every two hours starting daily at 9 a.m. The keno lounge, which seats 30 players, is located near the poker room and non-smoking slot area. There are nine tables in the poker room, with tournaments daily for as low as a $25 buy-in.

Complimentary drink service is provided on the main casino floor to players at every type of bet. A tip is recommended if you expect to be offered a second beverage of your choice.

Sam's Town Hotel

Sam's Town has been a favorite for locals and tourists for 40 years. It's not quite the same vibe as the mega-resorts on the Strip, but for most here the laid-back atmosphere is exactly what they're looking for in a Vegas vacation. The 646-room resort, which opened in April 1979, was last renovated in 2007.

Room rates for a deluxe king or two queens start at a budget-friendly $38 a night. The hotel will add on a $26 resort fee per night at the end of your stay.

There are 630-square-foot mini-suites with a jacuzzi tub, but these rooms typically cost three times the standard room rate.

The 56-lane bowling center is open daily from 7 a.m. to 1 a.m.

Other resort features include an 18-screen movie theater, arcade for kids, seasonal outdoor pool and hot tub, event center, and Gatsby's Salon. Visit the website for Sam's Town and take a look at Mystic Falls Park through its webcam.

Pets aren't allowed in the resort, but they are welcome in the RV Park directly south of the property.