Fiesta Henderson Sportsbook 101
Fiesta Station Casino Henderson calls itself the home for local horseplayers. Two-thirds of the seating in the Fiesta Henderson sportsbook is the traditional desk row configuration, with personal TV, light, and chair in row-by-row seating. It's the perfect setup to watch the races on the big screen or a racetrack of your personal preference.
Fiesta Henderson Hotel and Casino and its 137-seat sportsbook are located at the end of Interstate 215 at 777 West Lake Mead Parkway. 
Players must be 21 years of age or older to wager anywhere in Nevada, including on Fiesta Henderson entertainment odds, esports betting markets or any other gaming platform in the Las Vegas valley.
Along with the row seating in the middle of the room facing the main viewing wall, there are some high chairs and tables set up on the far left side of the book. But every seat in this house is a good one as there's more than enough television screens for a room this size.
The majority of the 30 TVs are placed above the odds boards and betting windows. There are four big screens in the middle with about a dozen medium-sized units on either side of the main wall.
Bettors can line up to wager on all the top leagues in the U.S. and around the world at the five betting windows. Fiesta Henderson Las Vegas sportsbook odds are displayed for NHL, NBA, MLB, and NFL games, while other daily betting lines and futures are offered on hard copy printouts.
What about complimentary drinks in this sportsbook? It's one of the top questions tourists ask when visiting the gambling capital of the U.S.
And there's good news at the Fiesta Casino Vegas. This is one of the best spots in the entire area for free drinks as there is no bet requirement for horseplayers. If it appears you're playing the horses, a server will likely offer you a drink. For sports players, the bet requirement is $20, although the rules seem quite relaxed here.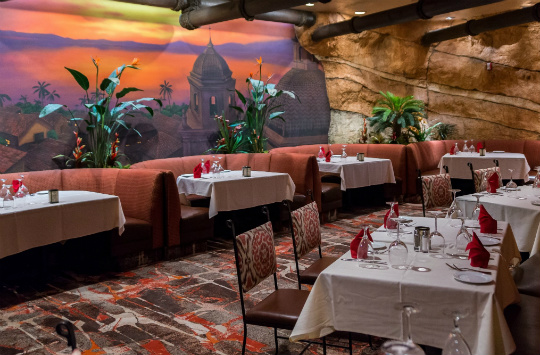 It's Game Time at Fiesta Henderson
Betting on the money line, point spread or futures is quick and easy at Fiesta Henderson. There are several parking spaces reserved exclusively for sports bettors with the doors to the venue a short walk from the parking lot. Those spots are easy to obtain during the week, but expect some competition during March Madness or the Super Bowl.
Here are some of the sports available for wagering at this neighborhood resort:
Pro and college basketball
Major League Baseball, including playoffs and World Series
Mixed Martial Arts and UFC events
Major soccer leagues from around the world
Boxing, but mostly just major fights
Hockey, including the playoffs and Stanley Cup
Auto racing, with weekly race odds and Sprint Cup Championship futures
Golf, with weekly odds and futures on all four majors
Tennis, with odds on all four Grand Slam events
Here are some of the bet types available on Fiesta Henderson sports lines:
Money line
Point spread
Over/under totals
Future betting
Proposition bets, especially for the Super Bowl
Parlays
Teasers
For those that want to skip the betting queue and take their wagering action online, Station Casinos has its own STN Sports app. It's free to join and members can earn points on their myBoardingPass rewards card depending on the amount wagered.
Members can also take advantage of wagering on the "live betting" feature, where the odds change as the game unfolds. This feature is not available on every game played, but it is offered on major events and championships.
It should also be noted that the STN Sports app, which is available on iPhone and Android devices, is only valid in the state of Nevada. 
Location in the Suburbs

Fiesta Henderson, which is just three miles south of another Station Casino property in Sunset Station, is southeast of McCarran International Airport and the famous Las Vegas Strip. Upon the resort opening in the late 1990s, Henderson, Nevada was the fastest-growing city in the U.S. at that time. The property is easily accessible for residents traveling from California or Arizona since it's all highway driving to Fiesta Casino Las Vegas Nevada.

Visitors arriving at McCarran will head east on Interstate 215 for about 10 miles to I-515. The resort is on the southeast corner of this intersection.

Travelers heading northeast from California will exit Interstate 15 at St. Rose Parkway (Highway 146) and then travel east on I-215 to the resort.

Travelers heading northwest from Arizona will take Highway 93 and Interstate 11 into Henderson.

Fiesta Henderson does not currently offer a shuttle service to and from the airport.

Fiesta Henderson Parking

Parking can be expensive on the Strip, but it's free at the many local destinations like Fiesta Henderson. The resort offers hundreds of spaces around the property with easy access to the hotel, casino, and sportsbook.

The four-floor parking garage entrance is located on the east side of the resort and can be accessed from the north, east and south side of the structure.

The entrance to the hotel is located on the first floor.

Valet parking is available on the first floor, with general parking on the other three levels.

Open-air parking is offered on the north, south and west side of the hotel.

Public Transportation Options

If you're not staying on the Strip or downtown, the city's transit bus system isn't your best bet to get around the Las Vegas valley. It takes too long to ride the bus and there are limited stops. The Henderson & Downtown Express (HDX) does stop at Fiesta Henderson Hotel and Casino, but the more popular rideshare programs are a better option for travel to the airport or your next destination.

Download the free rideshare program apps Uber and Lyft to your mobile device. The cost of a ride can be as low as half the price of a taxi. Once you have accepted your negotiated price, your cost is fixed on Uber or Lyft. Traffic congestion will not affect your total since you have already paid the fare.

Pick up your rideshare on the second level of the parking garage at the airport. The estimated cost to Fiesta Henderson from the airport is around $22.

There is always a long queue of taxis waiting at the airport outside the main terminal. The cost for a ride to Henderson is about $45 — double the cost of rideshare.

Limousine services are available with the going rate around $85-90 an hour.

A bus pass is $6 for two hours, $8 for 24 hours, and $20 for three days. Visitors should use the HDX route to head downtown. HDX does not make a stop close to the Strip.

Food & Drinks at Fiesta Henderson

This Henderson property has full-service restaurants including the 24-hour Cafe Fiesta and upscale Fuego Steakhouse. It also offers a food court with some common American names like Subway and Starbucks. But the greatest value can be found at the Festival Buffet where lunch is $8 and dinner is $10 with your free my BoardingPass players card.

Here is a sampling of some of the resort's restaurants:

Feast with family and friends while enjoying authentic Mexican fare at Leticia's Cocina.

It's hard to find a steak that compares anywhere in Las Vegas at Fuego's prices, according to the restaurant's website.

Cafe Fiesta serves classic dishes for under $10, although many reviewers complain about slow service.

There's a full complement of bars and lounges to go along with those restaurants:

Cerveza Cantina is located on the casino floor and includes several video poker machines.

Cocoa Lounge offers standard bar seating and lounge chairs with live music Thursday through Saturday.

Fiesta Henderson Rewards

Station Casinos, including Fiesta Henderson, has the same rewards card for all of its Las Vegas valley locations.

It's called my BoardingPass where cardholders earn points for casino play, horse and sports wagers, and poker. But your points and status credits also pile up on everything you spend money on at any Station resort, including restaurants, bars, concerts, bowling alleys, movie theaters, hotel stays, and spa experiences.

Membership is free to join at any of the Station Casinos resorts.

The entry-level status is called Preferred. From there, cardholders graduate to higher levels like Gold, Platinum, President, and Chairman. Points are accumulated from January 1 to June 30, and from July 1 through December 31. You keep your status for the remainder of the six months, plus the next six.

The higher levels earn resort and cruise discounts, plus many other privileges and free play.

Fiesta Henderson Casino

Locals voted the Fiesta casino Las Vegas Nevada as having the best video poker from 2009 to 2011. The casino also received the top ranking for best bingo in 2011. But there's a lot more to this 70,000-square-foot gaming area than just video poker and bingo.

Fiesta Henderson features more than 1,400 slots machines, including the traditional favorites and some of the latest-themed names. There are a few slots that offer progressive jackpots of more than $1 million.

There's also a lot of action in the table area with blackjack, roulette, and craps available with some minimums as low as $3 a turn.

Here are some of the Fiesta casino Las Vegas gaming features at table games on the casino floor:

Blackjack: Limits $3 to $500 on six-deck blackjack or $5 to $1,000 on double-deck, which pays 3-2 on a 21.

Roulette: There are two roulette tables with the standard 0-00 set of zeroes, with $3 to $500 limits.

Craps: There's one craps table with 10 times odds. The field pays double on a roll of 12.

Other table games include Pai Gow Poker, Ultimate Texas Hold'em, and Three Card Poker — all with $5 minimums.

Complimentary drink service on the main casino floor is quite generous at Fiesta Henderson. A tip is recommended if you're expecting the good service and free drinks to continue.

If the penny slots aren't enough action for you, players can try their luck in the high limit room, which is located next to Cafe Fiesta. There's personalized service with a 24-hour attendant, snacks, and enhanced beverage service.

Fiesta Henderson Hotel

Renovated in 2016, all of Fiesta Henderson's 224 rooms provide free local calls, free long-distance calls, and complimentary weekday newspapers. Room rates for the resort which opened in February 1998 start at around $50 during the week and $90 on the weekend. An $18 per night resort fee is added on at the end of your stay.

All four types of rooms are 312 square feet in size and come with 32-inch flat-screen TV and mini-fridge. Rooms are available in smoking and non-smoking.

The base rate is for a deluxe king room. A deluxe two queens or premium king are $10 more. A premium two queens is $15 more.

Hotel guests also have access to free WiFi in public areas, 24-hour fitness center, outdoor pool, spa tub, and arcade.

The resort is home to a 12-screen movie theater. Showtimes start late in the morning and run until 11 p.m.