Boulder Station Sportsbook 101
The operators of Boulder Station casino have set this sportsbook apart from other area venues. It's not like the templated designs you will find at MGM or Caesars properties. And it has more seating and longer hours than just about any of its competitors.
Players must be 21 years of age or older to wager anywhere in Nevada, including on Boulder Station entertainment odds, esports betting lines or any other gaming event available in the platform in Las Vegas.
Boulder Station Hotel and Casino Las Vegas Nevada, which is located at 4111 Boulder Highway, has received some complaints about being a bit smoky, but no one can complain about its seating capacity and the number of televisions.
The large sportsbook has about 300 seats available with numerous viewing areas and about 80 televisions facing different directions throughout the venue. The design of the room features a spacious bar in the middle of the room with big screens and an odds-results banner scrolling around the top of this space. It's very similar to the bar in the middle of the Cosmopolitan sportsbook.
There are about 45 leather club chairs in rows at the front of the book, with many more high chairs and tables located throughout the room. The racebook, which is separate from the main sports betting area, features the typical desk row seating for about 100 players with an individual TV and light on the desk.
The sportsbook has three video walls filled with big screens and odds boards. Two giant screens dominate the main viewing area. There's one big screen in the racebook with quite several smaller TVs to keep up with all the races across the country.
Bettors can line up to wager on all the top leagues in the U.S. and around the world in the sportsbook. Boulder Station Las Vegas sportsbook odds are displayed for NHL, NBA, MLB, and NFL games, while other daily betting lines and futures are offered on hard copy printouts.
Complimentary drinks are pretty easy to obtain at off-the-Strip locations, and Boulder Station casino in Las Vegas is no exception. Drinks are offered with a minimum of $20 on sports or horses, but these places tend to be more lenient and give vouchers away for just about any wager.
Like all the other Station Casino destinations in the Las Vegas area like Red Rock or Green Valley Ranch, players can sign up and wager on the STN Sports app. But the platform, which is available on iPhone and Android devices, is only valid for Las Vegas sports betting in the state of Nevada. You won't be able to take advantage of Boulder Station online sports betting if you live anywhere else in the United States.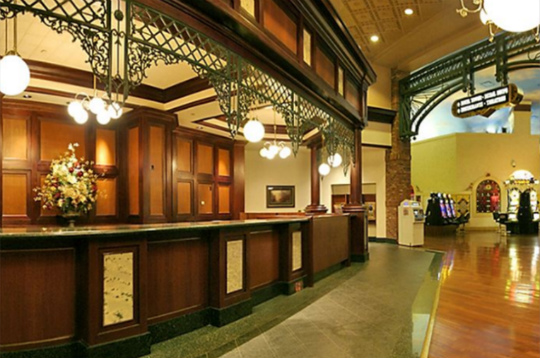 It's Game Time at Boulder Station
There are plenty of odds and games to choose from every day of the week at the Boulder Station Hotel and Casino. Visitors can expect a packed house for major sporting events like the Super Bowl and March Madness, but most days of the week, there's only a few betting windows open to service a much smaller crowd.
Here are some of the sports to wager on at the land-based Boulder Station Las Vegas sportsbook:
Pro and college basketball
Major League Baseball, including playoffs and World Series
Mixed Martial Arts and UFC events
Major soccer leagues from around the world
Boxing, but mostly just major fights
Hockey, including the playoffs and Stanley Cup
Auto racing, with weekly race odds and Sprint Cup Championship futures
Golf, with weekly odds and futures on all four majors
Tennis, with odds on all four Grand Slam events
Here are some of the bets available on the Boulder Station sports lines:
Money line
Point spread
Over/under totals
Future betting
Proposition bets, especially for the Super Bowl
Parlays
Teasers
The STN Sports app is available at all Station Casinos, including Boulder Station. The betting platform is free to join and easy to use. There are also many more wagering options online over the traditional land-based venues, including the hottest trend in sports betting — "in-play wagering," where the odds continuously change during the play of the game.
Off-the-Strip Location

Boulder Station, which is located just a few blocks north of Sam's Town Hotel & Gambling Hall, is northeast of McCarran International Airport, while the mega-resorts on the Strip are to the northwest. Some of the Station Casinos in the Las Vegas area — like Texas Station — are a bit of a drive from the airport, but Boulder casino isn't one of them. It's about a 10- to 15-minute trip.

Visitors arriving at McCarran Airport will head north on Swenson Street and east on Tropicana Avenue to Interstate 515. Exit at Boulder Highway with the casino right across the street.

Travelers heading northeast from California will exit Interstate 15 at I-515 and head southeast from downtown Las Vegas to the Boulder Highway exit.

Boulder Station does not currently offer a shuttle service to and from the airport.

Boulder Station Parking

Like most local casinos that are not on the Las Vegas Strip, parking is free at the resort's open-air and covered lots. Boulder Station offers hundreds of spaces around the property with easy access to the hotel, casino, and sportsbook.

The five-floor parking garage entrance can be accessed off Lamb Boulevard, along the side of the casino.

There is a covered but unenclosed walkway to the casino on the second floor of the parking garage.

A car wash is located on the first floor of the parking garage. It's open Tuesday through Sunday from 8 a.m. to 9 p.m.

Public Transportation Options

Las Vegas is getting more expensive to visit every year with parking fees, resort fees, airport taxes and higher costs for restaurants and shows. Most visitors will seek out ways to save money at every opportunity, and one of the best bets for your trip is to use rideshare programs as much as possible. There are other public transportation choices like a taxi or city bus, but the benefits of these options don't compare to Uber or Lyft.

Download the free rideshare program apps Uber and Lyft to your mobile device. The cost of a ride is about half to two-thirds of the taxi service. Pick up your rideshare on the second level of the parking garage at the airport.

Price your trip to Boulder Station on both Uber and Lyft before completing your transaction. It will cost about $20 for a ride on either service from the airport to the hotel.

There is always a long queue of taxis waiting at the airport outside the main terminal. The cost for a ride to Boulder Station is about $35 — about double the cost of rideshare when you add in a tip.

Limousine services are available with the going rate around $85-90 an hour.

Boulder Station is a neighborhood casino on the main Boulder Highway Express (BHX) transit route, but using city buses will require a lot of time to travel around the city.

A bus pass is $6 for two hours, $8 for 24 hours, and $20 for three days. Visitors should use the BHX route to head downtown or Route 203 to travel to the Strip.

Food & Drinks at Boulder Station

One reviewer of the Broiler inside the casino Boulder Station called it "a gem that seems to be undiscovered." The steak and seafood dining spot is just one of 11 restaurants that offer guests a wide range of cuisines.

Here are a few of the other eateries at Boulder Station:

Guadalajara means authentic Mexican fare with $8 lunch specials and $5 margaritas.

Classic simple Mexican dishes are made to order at Viva Salsa, but at a lower cost than the adjacent Guadalajara.

One reviewer says the Feast Buffet is as good as some of the eateries on the Strip but at a better price. It's $15 for dinner without a player's card. That's less than half the cost on the Strip.

Boulder Station also has five bar options on-site. Here is a small sampling:

Located across from the main hotel lobby, the Havana Lounge features premier cigars and a late-night happy hour.

Brewers Bar is one of the local's little secrets with 12 different beers on tap and nightly drink promotions.

Boulder Station Rewards

Station Casinos, including Boulder Station, have the same rewards card for all 10 of its Las Vegas locations.

It's called my BoardingPass where cardholders earn points for casino play, horse and sports wagers, and poker. But your points and status credits also pile up on everything you spend money on at any Station resort, including restaurants, bars, concerts, bowling alleys, movie theaters, hotel stays, and spa experiences.

Membership is free to join at any of the Station Casinos resorts.

The entry-level status is called Preferred. From there, cardholders graduate to higher levels like Gold, Platinum, President, and Chairman. Points are accumulated from January 1 to June 30, and from July 1 through December 31. You keep your status for the remainder of the six months, plus the next six.

The higher levels earn resort and cruise discounts, plus many other privileges and free play.

Boulder Station Casino

The resort's 90,000-square-foot gaming area features more than 2,200 video poker and slot machines, 44 table games, 70-seat keno lounge, and a bingo hall. There's also a 10-table Boulder Station poker room.

One positive feature newcomers will like at the Boulder casino is the low minimums. Players can wager as little as $5 at live blackjack and baccarat, and $3 at craps and roulette. Here are some other Las Vegas gaming features at table games on the casino floor:

Five different types of blackjack, with the dealer hitting on a soft 17 at all of them.

The main draw is the double-deck blackjack.

Three craps tables with 10 times odds. The field pays double on a roll of 12.

There are also three roulette tables with the standard 0-00 set of zeroes.

Other table offerings in the gaming area include Pai Gow Poker, High Card Flush, Ultimate Texas Hold'em, and Three Card Poker.

Boulder Station is also home to some of the best video pokers in the Las Vegas area. Some of the machines boast a return of more than 100 percent on max bet. Omaha HiLo is the main draw in the poker room, but there are a few games of Texas Hold'em during peak hours.

Complimentary drink service is quite generous at the Boulder on the casino floor. A tip is recommended if you expect good service and free drinks to continue.

Boulder Station Hotel

Boulder Station and its 300-room hotel are geared towards the budget traveler with room rates during the week starting around $35. The cost tends to double or triple on the weekend, depending on the time of the year. The resort earns a 3.9 out of five rating on TripAdvisor, based on more than 4,500 reviews.

All rooms, with one king or two queen beds, are non-smoking. Expect a $22 per day resort fee added on at the end of your stay.

Deluxe rooms offer WiFi, fridges, 40-inch flat-screen TVs with cable, and free weekday newspapers.

The last of five renovations on the 16-story building was completed in 2011.

Up to three children stay free using existing bedding. A rollaway bed is available for $15 a night, but cribs are free.

Hotel guests also have access to a 24-hour fitness center and an outdoor pool.