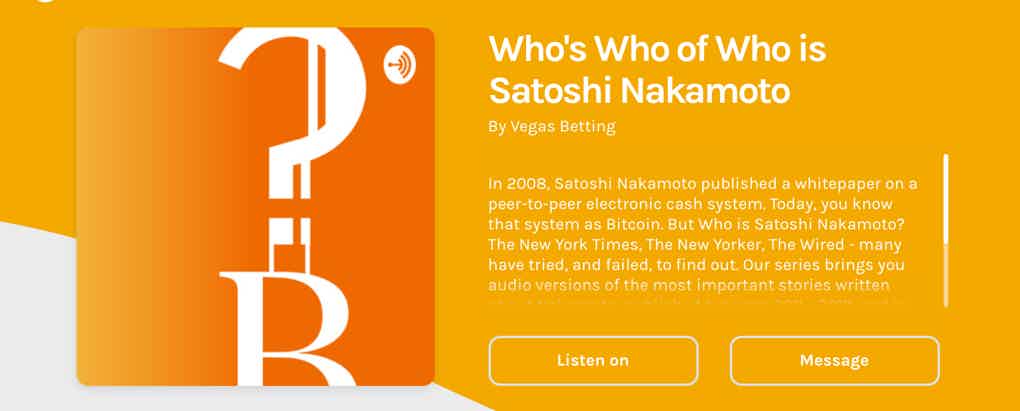 In August 2008, a whitepaper titled Bitcoin: A Peer-to-Peer Electronic Cash System was uploaded to the internet by someone called Satoshi Nakamoto. A couple of months later, in January 2009, Nakamoto made the first transactions in his electronic cash system. Then, during the following year or so when the competition in the system was still low, he used that system to mine electronic cash known as bitcoin, almost a million of them, roughly 5% of the grand total that will ever be created. And to top it off, in 2011, Nakamoto disappeared before his true identity was revealed.
---
Episode 1
Audio: The Crypto Currency (The New Yorker, 2011) – Read by Austin Miller
Since 2011, many have tried to find out who he was – or is. The New Yorker and the writer Anthony Joshua were the first Big Name people to try. He had his suspicions, he published them, and then quietly went away. Safe to say that he didn't crack the case wide open, but hey, he started, so that's something.
Who's Who of Who is Satoshi Nakamoto is a series which brings you the best (and the worst) investigations into Satoshi's true identity, published between 2011 – 2019. These texts are long, and there are many of them, so we made audio versions of each text to make them more, well, audio.
---
Episode 2
Analysis: The Crypto Currency (The New Yorker, 2011)
Host Henri Kukkonen is joined by writer Austin Miller and content manager Miguel Alvim in our analysis of the New Yorker story The Crypto Currency from 2011. We talk about why this story was written, what works and what we would have done differently. 
---
Episode 3
Audio: The Bitcoin Crypto-Currency Mystery Reopened (Fast Company, 2011)
Coming soon
---
Episode 4
Analysis: The Bitcoin Crypto-Currency Mystery Reopened (Fast Company, 2011)
Coming soon
---