Hockey is well-established as one of the four most popular North American sports, and if you're looking to properly bet on NHL Las Vegas odds, then woo buddy, you've come to the right place.
The odds for the 2020 Stanley Cup winners are now available. The odds are subject to change, so be sure to check back with this page. The odds were last updated on September 21, 2020:
Some sports bettors get turned around by the mention of these NHL Vegas odds. You needn't worry. They're any different than traditional betting lines. Las Vegas NHL odds are merely lines that come from sportsbooks and casinos in Las Vegas.
To be clear, you don't need to be in Las Vegas to place your wagers. Las Vegas lines are just a universal vernacular in the sports gambling industry. They're used to adequately communicate game, future, and prop lines to consumers.
In the event you're using the odds coming out of Vegas, you can still place your wagers anywhere you like, through the best online betting sites for the NHL. The NHL betting lines might be slightly different, but we have a list of the best online sportsbooks around, many of which will base their NHL lines off the numbers coming out of Vegas.
How to Read Vegas NHL Odds
Figuring out how to read Vegas NHL odds is not particularly difficult. Let's use this mock game line between the Boston Bruins and Dallas Stars to work through it:
Moneyline

: Bruins (-300) vs. Stars (+400)

Point Spread

: Bruins (-1.5) vs. Stars (+1.5)

Over/Under

: 6.5

Final Score

: Bruins 4, Stars 2
Betting NHL Moneylines
Betting on the NHL moneyline is the most straightforward wager you can make. The objective is to pick the winner. That's it. That's all there is. And while the lines themselves might seem intimidating, they're actually really easy to parse:
The negative moneyline represents the favorite. That's the Bruins in our example. Their moneyline of -300 shows how much you need to bet in order to make a $100 profit. So, in this case, you'd need to wager $300 to profit $100.
The positive moneyline belongs to the underdog. For us, that's the Stars. Their moneyline shows you how much of a profit you'll earn for every $100 you bet. In this instance, they're a +400. That means you'll make a $400 profit for every $100 you bet if they win.
Betting NHL Point Spreads
Placing bets on NHL point spreads is different than it is for higher-scoring sports, such as football and basketball. The concept remains the same, but you're going to mainly encounter a default point spread of 1.5. Here's how this breaks down:
The negative point spread refers to how much the favorite must win by for you to hit on your wager. The Bruins' -1.5 spread would mean they need to beat the Stars by at least two goals for your bet to payout.
Conversely, the positive point spread tells you how much the underdog is allowed to lose by for you to hit on a successful bet. If the Stars lose by one goal, tie with the Bruins or beat the Bruins, you'd get a payout.
Most NHL games are going to have a 1.5-goal spread. This avoids the prospect of pushes—which are ties between you and the sportsbook—while accounting for the low-scoring nature of the sport itself.
Betting NHL's Over/Under
Not unlike moneyline wagers, placing NHL over/under bets is super easy:
Over/under refers to the total number of goals scored by both squads.
If the over/under is 6.5 in this Bruins-Stars game, the two sides must total at least seven goals to clear the over. If they combine for six or fewer goals, they've hit the under.
In our example, the total score was six, so this game hit the under.
Betting NHL Futures
Future bets are wagers on specific outcomes that will occur at a later date, such as on NHL odds from Vegas on the Stanley cup.
This doesn't apply to our single-game example to between the Bruins and Stars, but it's worth keeping in mind if you'd like to make money on big-picture events like win totals or, again, Vegas' odds on the NHL Stanley Cup. Some things to consider:
A futures bet on Las Vegas' odds on the NHL Stanley Cup asks you to crown a champion well in advance, before you actually know the matchup. These bets have higher potential returns, but they're also harder to hit on.
You can also bet NHL Vegas odds for the Stanley Cup later in the season and even during the playoffs. However, the prospective returns on these later wagers aren't nearly as lucrative, since you'll be dealing with a smaller championship-contender field.
Win total bets are another form of NHL futures. These are typically available only before the start of the season, and they're treated like a big-picture over/under. For instance, if the
Bruins enter the season with a projected win total of 47.5, they need to pick up 48 or more victories to clear the over. Anything less counts as the under.
Betting NHL Player Props
NHL player prop bets are wagers on individual players or team events that do not have to do with the outcome of a game. In most cases, all you're doing is choosing whether or not a given event will happen—sort of like a true or false/yes or no question:
How many goals will the Stars' goalie let up? How many saves will the Bruins' goalie have? Will the Stars' starting left-wing score more than a goal? These are all examples of NHL player props.
Bets like the above will typically be given in the form of an over/under. If the number of saves made for the Bruins' goalie is set at 38.5, he needs 39 stops to clear the over, while 38 or fewer will qualify as the under.
Using Vegas Odds to Bet on NHL Stanley Cup
The Stanley Cup is among the biggest betting events in professional sports, and Vegas' NHL odds for the playoffs help ensure you have the most accurate information with which to place a wager.
Timing is everything when it comes to this type of betting. Sportsbooks are going to offer you the best odds earlier in the season and before it starts, when you have more options from which to choose. The longer you wait, the more the lines will shift outside of your favor—particularly as you get closer to the postseason themselves.
Stay on top of the latest Stanley Cup betting picture without 2019-20 NHL picks. They'll keep you up to date on the latest lines and top contenders throughout the regular season.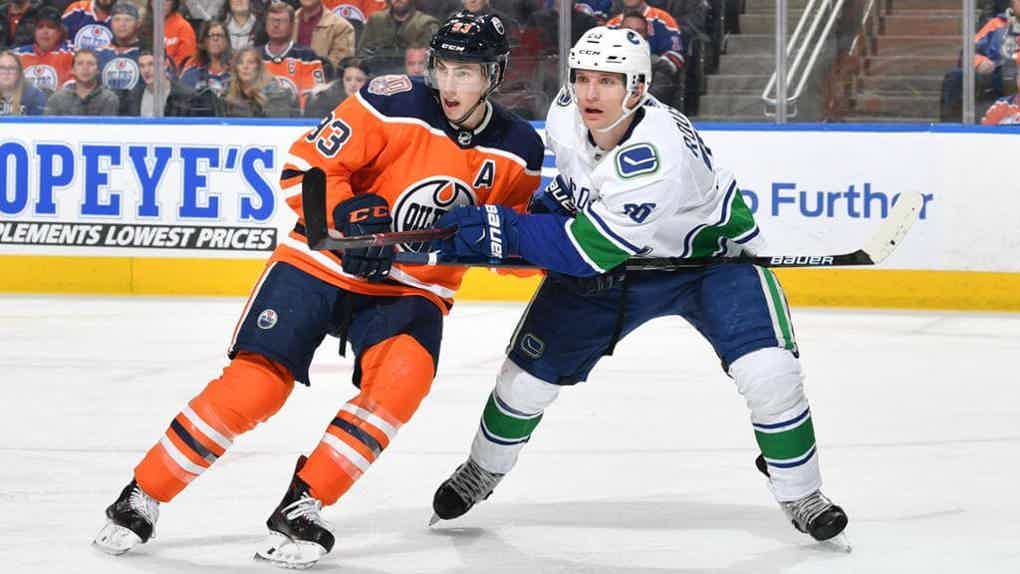 ---
Using Vegas NHL Playoff Odds
We offer Vegas odds throughout the season—including the playoffs.
Not much changes when betting on Vegas odds for the NHL playoffs. You'll still be using moneylines, point spreads and the over/under. Check out the full range of Vegas betting odds on offer today!
That being said, if you start betting on the Stanley Cup winner after the postseason is already underway, you have to stay on top of the results more than usual. The NHL playoffs take place via the best of seven series. Teams must win four series and a total of 16 games before they're crowned champion.
So before placing your wager, you'll want to make sure a given contender isn't on the verge of elimination—unless you're hoping to capitalize on their long-shot odds. Read our 5Dimes Review to get a better feel for how sportsbooks handle these types of late-season odds.
Related Content