Let's take a look at the UFC 242 odds for the main event in the octagon:
Khabib Nurmagomedov -365
Dustin Poirier +275
Lightweight Title on the Line
Dustin Poirier finally gets what he wished for and that is to remove the title "interim" in front of lightweight champion. But it will be anything but easy in UFC 242.
Khabib Nurmagomedov, the current champ who comes into this bout off a nine-month suspension, is the overwhelming favorite to retain his belt in the main event on Saturday, Sept. 7 at The Arena, Yas Island in Abu Dhabi, United Arab Emirates.
Nurmagomedov (-365) was suspended for his post-fight fracas with Conor McGregor's team at UFC 229 (UFC odds provided by Bovada). Poirier (+275) meets the champ after years of climbing the rankings.
"I don't know how it's going to happen, but I'm either going to knock him out or I'm going to submit him," Poirier said. "I'm going to finish Khabib Nurmagomedov."
The event will mark the promotion's third visit to Abu Dhabi, and first since UFC Fight Night in 2014.
The main event, which is scheduled for 4 p.m. ET with the time difference, is one of 11 clashes on the UFC 242 card. It will be broadcast on pay-per-view in the U.S., and shown at top Las Vegas sportsbooks like the Bellagio and South Point.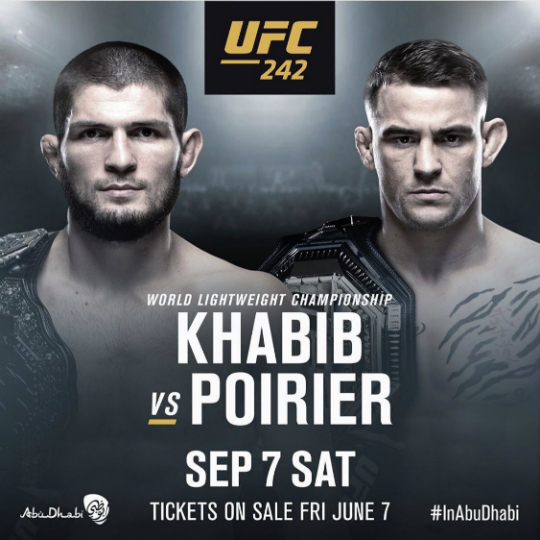 Other Top Names in UFC 242
After the main event, the card takes a dip in name value and blockbuster fights, but there are plenty of high-quality bouts in the event.
Two of the best pure strikers in the sports meet in a rematch. The lightweight duo of Edson Barboza (-185) and Paul Felder (+150) fight for the first time since the Brazilian won a unanimous decision in July 2015.
Stipe Miocic reclaimed his throne in the heavyweight division, but there are still some contenders with their sights set on the top spot. Curtis Blaydes (-340), ranked No. 4 in the weight class, looks to knock off Shamil Abdurakhimov (+260) and earn a title shot sometime in 2020.
Two women flyweights highlight the early preliminary card with Joanne Calderwood (+170) set to clash with Andrea Lee (-215). Calderwood comes into this fight off a recent setback, while Lee has won seven straight.
The UFC Vegas Odds are fixed when you make your bet, but the odds can change as fight night approaches, especially if a lot of money is wagered on one fighter over the other. There's also dozens of prop bets available to play on all the fights on the card.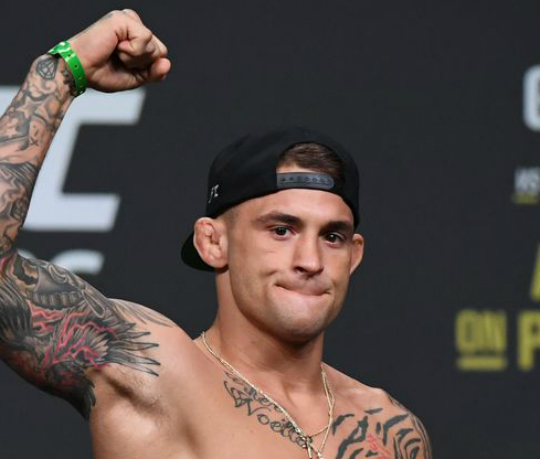 UFC 242 Picks on Top Fights
Most of the attention will be fixated on the blockbuster lightweight title clash taking place in UFC 242's main event, but there are several fights worth following on the undercard. Let's take a look at the top fights and make some UFC picks:
Khabib Nurmagomedov -365 vs. Dustin Poirier +275
Poirier (25-5) tries to dethrone the most dominant force the lightweight 155-pound division has ever known in Nurmagomedov. Poirier, who won his gold against UFC featherweight champ Max Holloway earlier in 2019, gets a chance to unify the belts on Sept. 7.
"I have the opportunity to make history and do something that's never been done," Poirier said. "I'm embracing that … I have an opportunity to show the world how great I am on the biggest scale possible and unify these belts. Make history — that's what this is about."
However, that's one big mountain to climb on the horizon. Nurmagomedov enters this fight with a 27-0 record and has won 37 per cent of his fights by decision.
We know what Khabib does with his wrestling, but the fact he was able to control a dominant and powerful striker in Conor McGregor only adds to the confidence of his ability despite being a bit one dimensional.
"Khabib is growing stronger mastering his striking technique," said Abdulmanap, his father and coach. "We have already prepared some surprises for Dustin Poirier.
"We will witness them in the middle of the second or the beginning of the third rounds. The surprises will be about the new striking technique.
Pick — Khabib (-365) successfully defended his UFC Lightweight Championship for the first time last year by beating The Notorious with a fourth-round neck crank. He's remain the undefeated, undisputed champ in this one.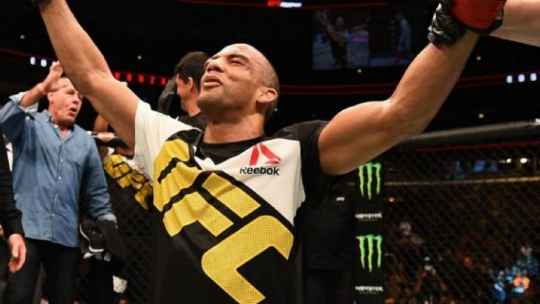 Edson Barboza -185 vs. Paul Felder +150
Barboza (20-7) has gone 4-4 since his victory in 2015. Felder (16-4) has entered the Octagon nine times with six wins since that loss in Chicago.
Felder is coming off a solid win over James Vick in February, while Barboza is seeking redemption after getting pummeled by Justin Gaethje in March.
If this matchup is anything like the last fight, it promises to be violent.
Pick — Felder (+150)
Curtis Blaydes -340 vs. Shamil Abdurakhimov +260
Blaydes (11-2) looks to continue his climb up the heavyweight rankings with a victory over Abdurakhimov. The No. 4-ranked contender comes into this bout off a win in March in Nashville.
However, it would be dangerous for the 28-year-old Blaydes to look past Abdurakhimov (20-4). The 37-year-old is currently on the best winning streak of his UFC career, capturing his last three fights.
Pick — Blaydes (-340)
See below the top sportsbooks where you can wager online and choose the best one for you: