Fall Classic Goes The Distance In L.A.
It's only fitting that one of the most exciting World Series ever would go the distance.
The Los Angeles Dodgers forced a seventh and deciding game in the 2017 Fall Classic with a 3-1 victory Tuesday over Houston ace Justin Verlander and the Astros. Game 7 is Wednesday night at Dodger Stadium.
The average ticket sold to the winner-take-all game was purchased for $1,795, according to ticket reseller StubHub. Instead of getting a seat to the game, let's try and pick the champion and cash our own winning ticket (odds provided by bovada.lv).

For the third time in four years, the National and American League champions have pushed the best-of-seven series to the limit. Lance McCullers (0-1, 5.06 ERA) faces Yu Darvish (0-1, 21.60) in the most important game of their careers.
McCullers was the winning pitcher in Game 3 where he went 5 1/3 innings. He gave up three runs on four hits, along with four walks and three strikeouts. In the regular season, the 24-year-old was 7-4 with a 4.25 ERA.
Darvish also pitched in Game 3. His start was a nightmare. He surrendered four runs on six hits in 1 2/3 innings — the shortest start of his career. The 31-year-old was 10-12 with a 3.86 ERA in the regular season. But he had been lights out in his first two playoff starts, allowing just two runs in more than 11 innings of work.
Dodgers Have Lost Once At Home In Playoffs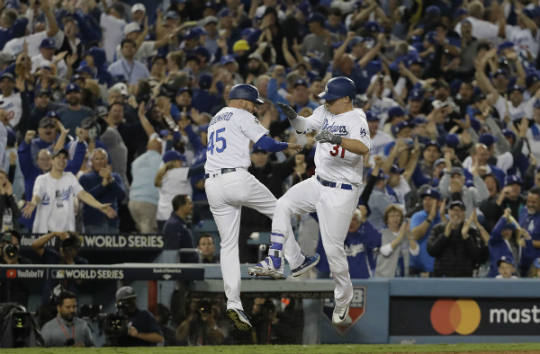 My Team's Next Match
Los Angeles Dodgers
The Astros are the only team to beat L.A. this postseason at Dodger Stadium. The Dodgers are 6-1 heading into this do-or-die game after going 57-24 at home during the regular season.
Those are not good odds for the Astros, especially since Houston is 2-7 on the road this postseason. They were 53-28 away from home during the regular season.
Jose Altuve needs to have a big game for the Astros in Game 7. The Dodgers have silenced Houston's best player for most of the series as he has six hits in six games and is hitting just .214. George Springer (.375, five home runs) is having a great World Series and Carlos Correa (.280, two home runs) has delivered as well.
The Dodgers have been having their problems at the plate. Chris Taylor (.227) has just five hits in six games, same for Corey Seager (.217). Justin Turner (.130) has three hits and Yasil Puig (.167) has only four.
It must be the pitchers. And we've seen a lot of them. In Games 2 and 5, the two teams used 14 pitchers. In the six games, 60 pitchers have made their way to the mound — an average of 10 hurlers a game.
One of those relievers just might be the hero in Game 7 on sport's biggest stage.
VGB's pick — Los Angeles (-166), Under (7.5)