Money Order Betting Sites
Money order betting sites are commonplace. The money orders are a traditional payment similar to checks, whereby sportsbook users would use a piece of paper that acts as a replacement for actual cash. The biggest difference between a money order and using a traditional check is the fact money orders don't require a bank account.
The ease-of-access to any of the various locations that facilitate money order transfers, such as post offices and convenience stores, means that money orders are one of the prominent means of depositing money into sportsbooks accounts. There are a whole host of online providers which offer money order payment transactions. In fact, we have a complete list of the top-rated sportsbooks providing betting on their sites and allow money order deposits. The list includes a variety of the top sites, providing a depth of detail including deposits and withdrawal limits.
Sportsbooks Accepting Money Orders
Bovada offers a great range of betting odds for all major sports, entertainment and political events year after year.
Intertops is a trusted online sportsbook with years of experience in the industry, offering a great range of odds and excellent betting options. 
Mybookie is one of the fastest-growing sportsbooks, boasting a great range of prop bets as well as covering all the mainstream sports betting markets. 
BetNow is boasting a generous number of betting options, with their sportsbook, horse-racing platform, casino, live tables and much more. 
WagerWeb has a simple yet pleasing interface, which makes the whole betting experience much better. Not to mention the endless range of markets. 
BetDSI is ideal for those looking to start playing with an online sportsbook. They offer a great range of services and are already recognized as one of the top sportsbooks online. 
BetOnline is one of the top providers and offers a great range of betting options, posting great odds throughout the year. 
Advantages of Money Order Betting
Betting sites have been offering money orders as a form of payment since the early days of online sportsbook providers and casinos and to this day they remain one of the most reliable payment methods around.
One of the major benefits of money orders is that they are straightforward. So much so, that a user from any generation would be able to understand the logistics of topping up their sportsbook account via money order. At present, the United States Postal Service allows postal money orders to be obtained up to an amount of $1000.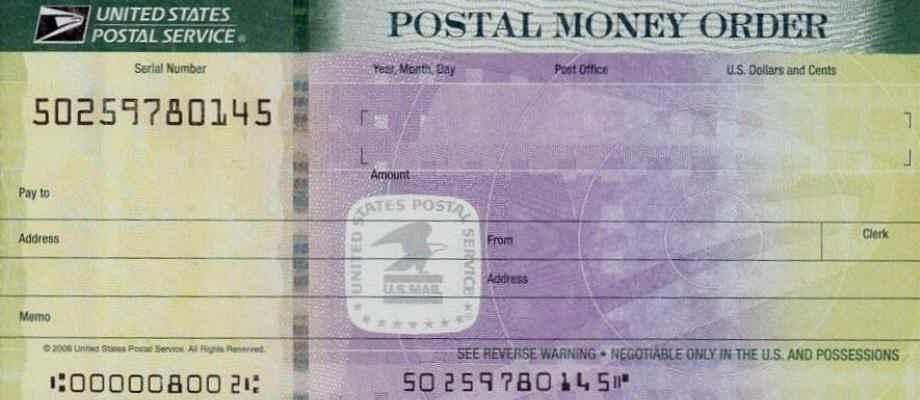 Another appeal to sportsbook users about topping up their accounts via money order is the anonymity provided. Money orders don't require users to reveal any personal information beyond the most basic and in some cases nothing at all. Anonymity in the gambling industry is highly valued, as such it means money orders are extremely appealing.
Money Order Welcome Bonus
Welcome bonuses are one of the most important factors sports fans should consider before depositing with a sportsbook. Why are Welcome Bonuses so important? Well, at the point a sports fan deposits money into their new account they will be offered huge funds as extra cash – depending on the payment method used.
However, it's difficult for the team here at VegasBetting to give an accurate estimate of exactly what's on offer from money order betting sites. Although, what we can do is provide a generalized value of what it might be. For example, from the best sportsbooks that we list above, the offers range from 50% up to $500-$1000, which is excellent. Take a look around and see what's on offer today!
Are there any fees when I deposit with Money Order?
Generally speaking, there are no fees attached to money order payments. However, it's worth noting that money order fees will vary from sportsbook to sportsbook, so ensure to check the details of each sportsbook, or take a look at our recommended sportsbook page.
If the sportsbook chosen has fees attached to money order payments, the chances are that they'll be comparatively low. However, money orders are sent via mail, which means users have the option to pay a little extra and have a courier service, such as UPS, to deliver the money order for a higher price.
Related Content