There's been a surge in the number of esports betting sites over the last few years. The growth of the esports community has led to a number of major sponsors getting involved, which has given life to competitive gaming on a global scale.
There are esports competitions all over the world, which take place on an almost monthly basis with major events occurring a handful of times a year. Some of the most prominent games are League of Legends (LoL), Counterstrike (CS:GO), and Dota2. Though these are the main games for esports gambling, there are a host of other games such as; FIFA, Forza, Fortnite, WoW, Apex Legends and many more.
Overwatch league betting has also become very popular in recent years. Blizzard, the producer of the greatest MMO-RPG of all time, World of Warcraft, create the high-intensity FPS shooter Overwatch back in 2016.
With so many games and an array of websites to choose from, it's easy for esports fans to find an online sportsbook that suits them. Like with all sports gambling, it really benefits the user to get up to date with recent events, past performances, and up-to-date team news to get a comprehensive idea as to how the wager might play out.
Where can I bet on Esports games legally?
Esports gambling is entirely legal, but it's important to be wary of phony sportsbooks as quite often we see new sportsbooks popping up online. When looking for an online sportsbook that suits your preferences, ensure to check our recommended sportsbook reviews to make sure you get a genuine provider.
Bovada is one of the major players and provides a broad range of markets, including a number of casino games and prop bets on a range of different sports. 
BetOnline is a multi-faceted gambling site, including sports betting, poker, horse race betting, casino gaming, and live In-Play betting.
Intertops is one of the top sites for esports betting. As one of the first major platforms to go digital, they are early-adopters when it comes to new markets. 
BetUs is now over two decades old and has supported mainstream sports for a long time. They have now branched out into the esports market, offering a great range of odds.
WagerWeb is a well-established, trusted and reliable site for esports fans to play on. They put their customers first and ensure that the odds they have are balanced and cover broad markets. 
GT Bets is another sportsbook we'd highly recommend to esports fans looking to play the market. They are well-renowned and committed to providing a quality and consistent service to their customers. 
MyBookie is another highly popular sportsbook, which offers a ton of betting options as well as casino games. One of the absolute most legit options for US bettors.
Check out our full reviews for more details.
Esports is no longer an entirely new concept, though the idea of esports gambling is a new thing. Though, esports betting in the USA is slowly gaining momentum and is still relatively new. Because of this, it would be advisable to have a look around the various sportsbooks and see which is offering the best odds on the markets.
Esports Betting
With so many games to choose from on the esports circuit, esports betting is as popular as it's ever been. The growth of the esports industry has led to numerous events to choose from, the likes of ESL One (in Rio and Cologne), the Blast Series, Dreamhack series and IEM. The events take place across every continent and draw sponsorship deals from major gaming companies and global brands.
These days some of the most popular wagers placed on esports are outright winners/losers odds, though there are other markets available from time to time. Esports events are huge and go on for a number of days. They often include a range of companies presenting new technology, giveaways, famous musicians and celebrity appearances, so these kinds of things can create certain prop bets.
Similar to what you have in the NBA, another market for esports betting is to play the over/under. The over/under in esports involves betting on the score, the number of rounds, or races featuring in each particular game. For example, in LoL, which is a medium-paced team game, the over/under might refer to the length of time the game lasts. The best teams will win in short amounts of time, while the final would feature two strong teams and the game could swing either way, giving better odds on the over/under.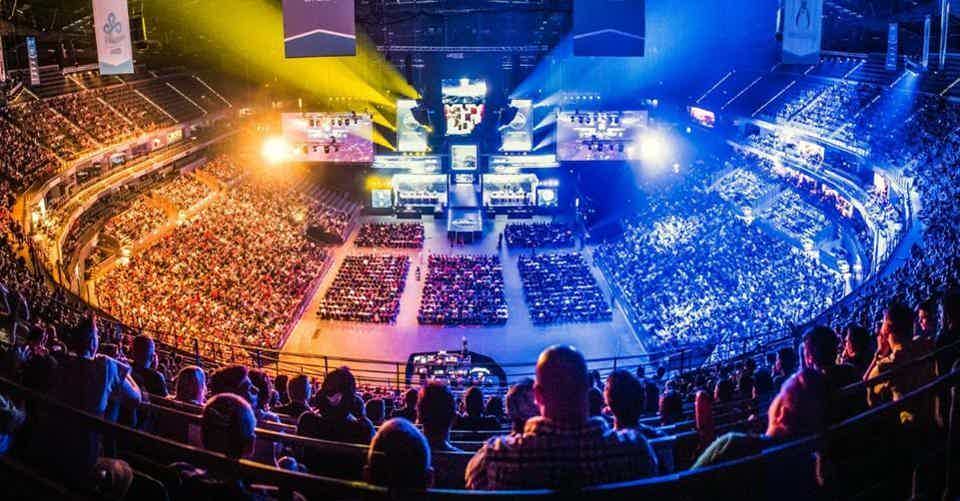 How to bet on Esports games
Esports betting is no different from betting on major sports, such as NBA, NFL or MLB. Nowadays, there are a ton of websites offering esports betting odds. So, shop around, find a sportsbook that suits you. Consider the odds, usability, deposit methods, and whether it covers the odds for sports you're interested in.
So now you have your sportsbook. All you need to is sign-up to their site and log in, then deposit money into your account by whatever method is most suitable. Next, check the odds and find value in an esports market and place a wager. You can play a variety of different bets on esports, so always check the different types of bets available.
Esports Betting Strategy
One strategy for esports betting is making predictions about what may happen. You can track predictions via numerous websites, which track team data, results and up-to-date team news. Reviewing the opinions of experts is a proven method of getting a little insight before placing a bet.
As well as checking predictions, there are a variety of other ways to ensure you get the most accurate idea of how games will turn out.
Esports Betting Systems
When it comes to choosing the right esports odds, it's important to have an idea of how the team is doing and then you'll be able to recognize the value in bets. Being able to spot value in the numbers is really important.
Part of being able to read the market and take advantage of any fluctuations is tracking the odds. Tracking the odds across a variety of esports betting sites will ensure you have full transparency in the market. The ability to maximize value in your stake is the most intelligent way to place bets.
Esports Live Betting
Live betting isn't available for the vast majority of Esports games, though on certain platforms and apps available via mobile users can access "In-Play", or live betting. As we see an increase in the number of sites taking on esports wagers, it's more likely online sportsbooks will provide esports live betting.
Related Content