Monday, March 30
ESL Pro Leagues at MyBookie
MyBookie is great. I love how organized and well laid out everything is. The same goes for their esports.
Right now, they have wagers on the North American and European ESL tours. ESL is a big name in esports. Right now, their DOTA2 and CS:GO leagues are in full swing. 
While ESL was excited to do a world tour, with the athletes traveling around the globe, they are happy to be able to continue their competitions. No longer with live audiences, true. But the action continues!
Friday, March 27
Flashpoint CS:GO at Bookmaker
Flashpoint is a new Counter-Strike League. Expect it to be good. It is backed by Cloud9 and Immortals Gaming Club (IGC). We are entering the inaugural season now.
Cloud9 is an esports organization working on all kinds of sports. They know what they are doing. IGC is a big hub for all kinds of news, partners, and other stakeholders in the esports world.
Bookmaker is on it!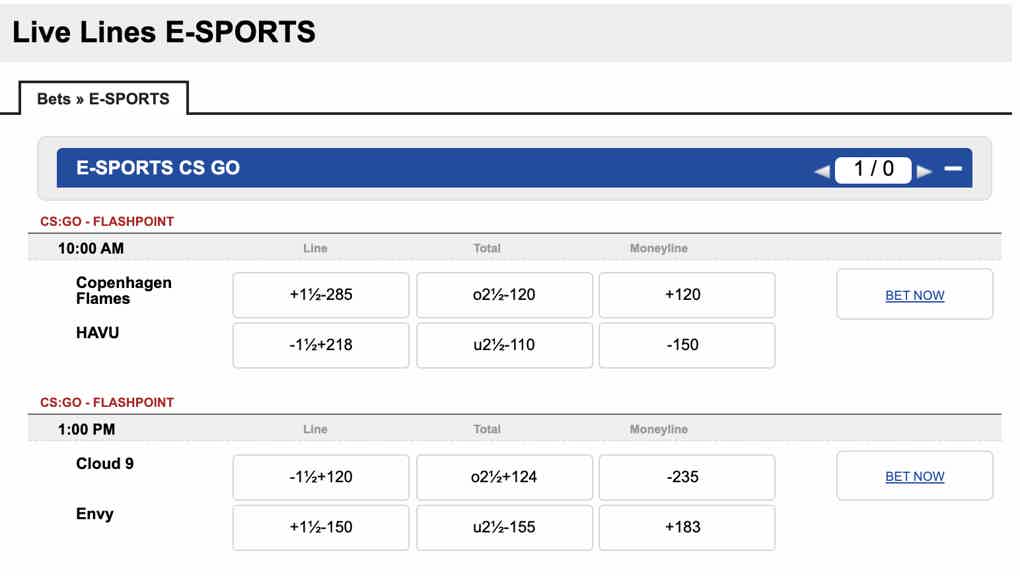 Wednesday, March 25
Parlay Deals at Intertops
Have you ever wanted to get started on Parlay bets? Well, now is your chance!
Intertops is offering a deal esports parlays. If you bet a four-fold or more parlay, and all your options lose, they will return to you your original stake. 
Parlays are high risk, high reward. This keeps the reward high while reducing the risk.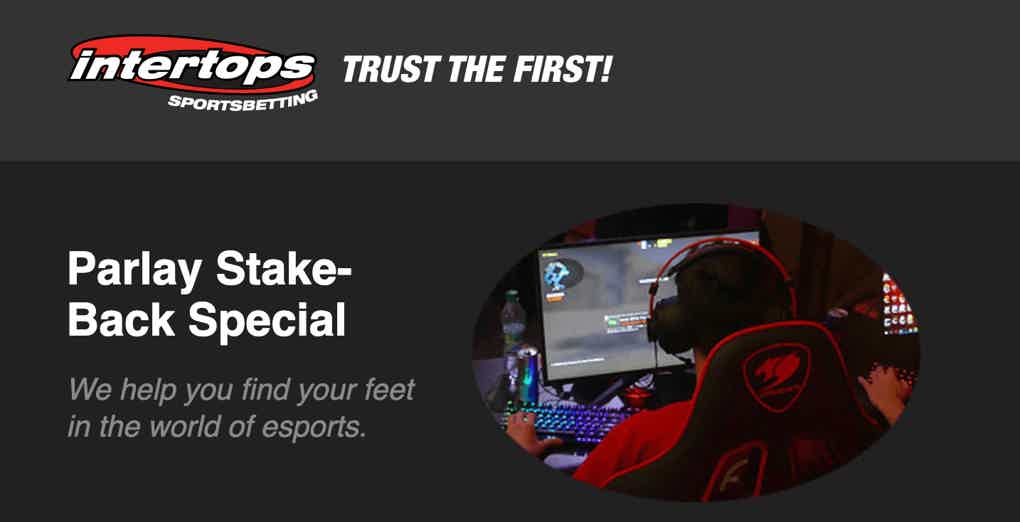 Monday, March 23
CS:GO Betting Made Easy at Intertops 
Intertops does a great job of helping navigate eSports betting. They highlight top bets and provide odds on the most-anticipated battles.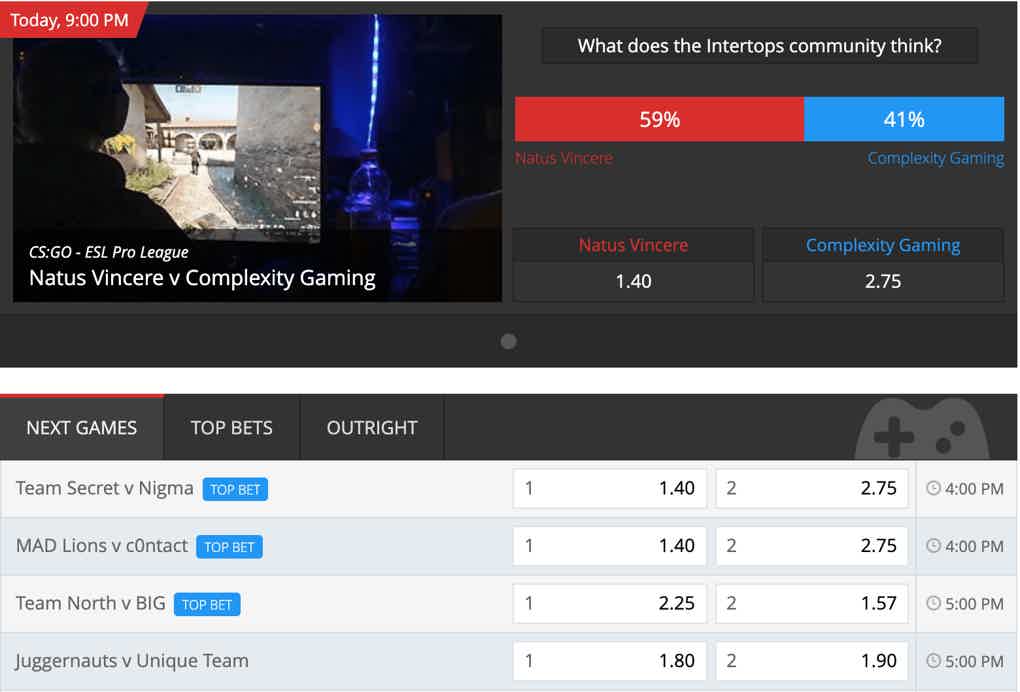 eSports By Country and League at GT Bets
We love GT Bets for their organization. Because there is so much happening in eSports, it is nice to see GT Bets lay it out by game, country, and league. This is a great place to start your eSports betting research or to dive into the betting if you already have a good feel for what's happening.

Thursday, 19 March
Hot eSports Bets at Intertops
The Bulgarian team Fate is set to take on Turkey5 in what is shaping up to be a hot match of Counter-Strike. All of this is the warm-up for the championship taking place shortly.
The European Playoffs for the CS:GO Championship is heating up! Soon we will see if the Swedish Fnatic Rising can recover from their disappointing start.
Intertops is offering great bets on throughout the CA:GO European Championship.
Tuesday, 17 March
CS:GO betting at Bovada
CS:GO is slowly approaching the big event in Brazil, ESL: ONE. As one of the major Counterstrike events on the annual calendar, there is a lot at stake and teams are doing their all to get prepared in time.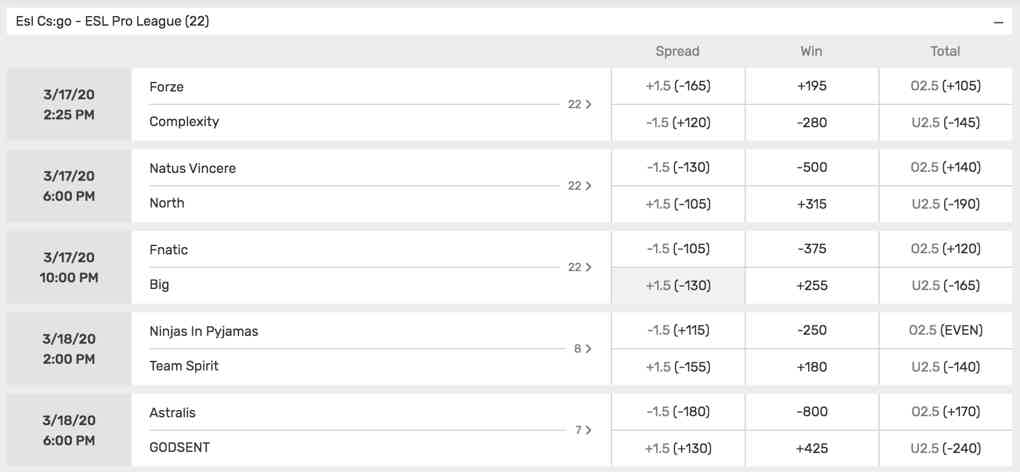 CS:GO betting at Sportsbook.ag
Sportsbook.ag is offering a range of betting lines on a variety of different esports, including the latest odds on the most popular FPS shooter around – Counter-strike: Global Offense. Right now Sportsbook.ag has odds available for the main competitive league ESL Pro League.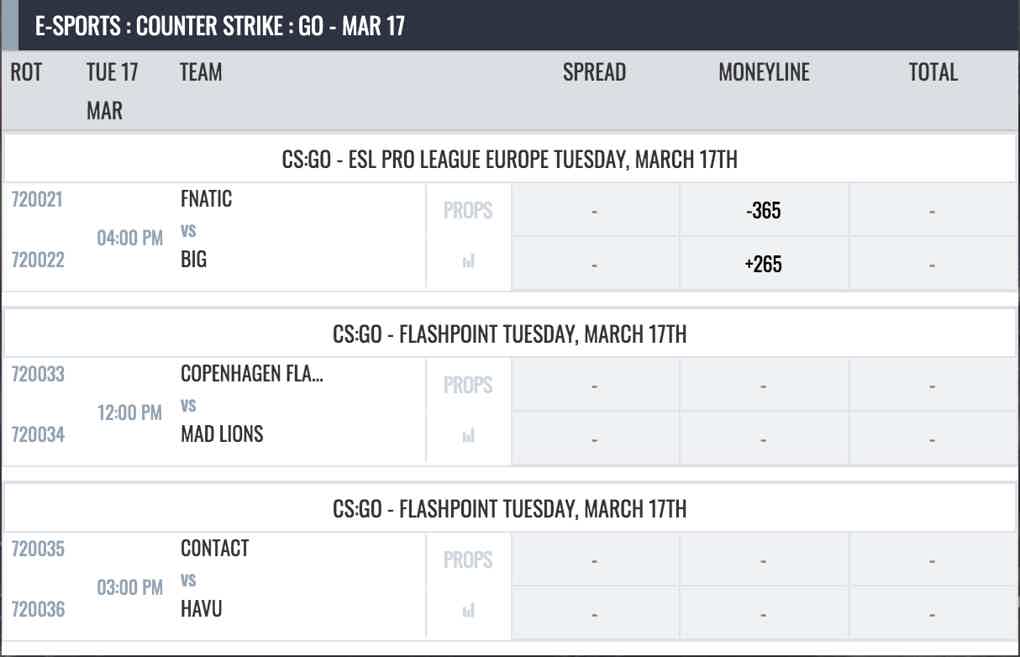 Monday, March 16
League of Legends betting at GTBets
LoL offers the best menu of betting options for today. There are multiple tournaments and leagues to bet on, and the action runs more or less around the clock. If you bet at Betway, you can try to fill the weekly esports objectives to get a free bet of up to $30.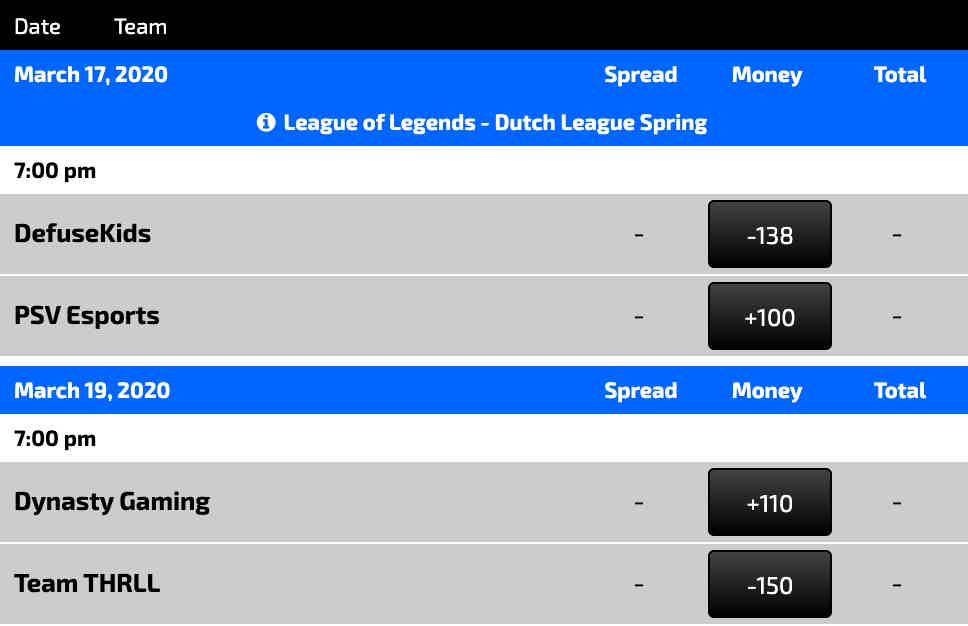 League of Legends at Bovada
Bovada has esports betting events scheduled for the next three days – and more markets will be added daily. You can make LoL bets around the clock because some events are held in European time and some in US time. Your best option is always to check straight at Bovada's website.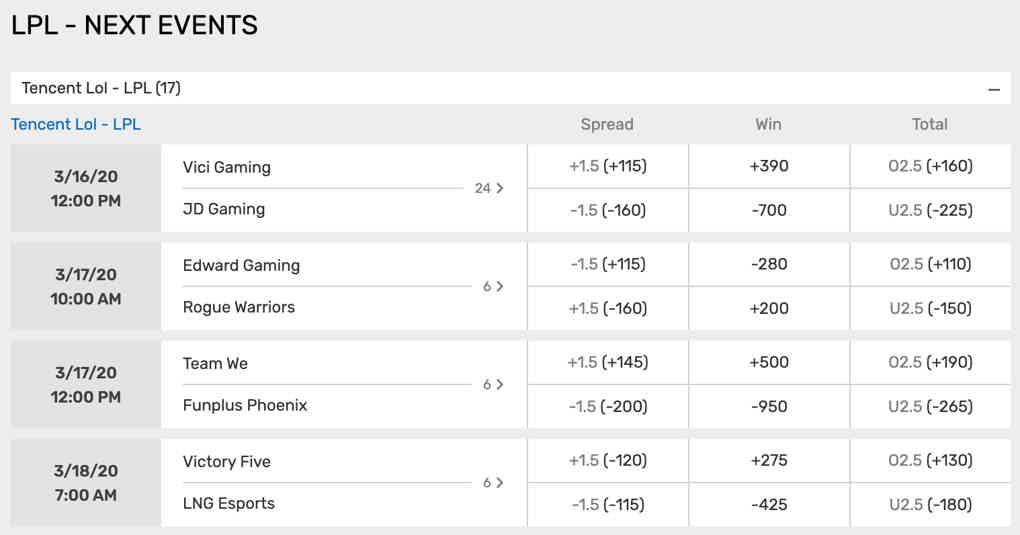 The ESL odds are available on other sites too, so you should compare the odds before you make your bets.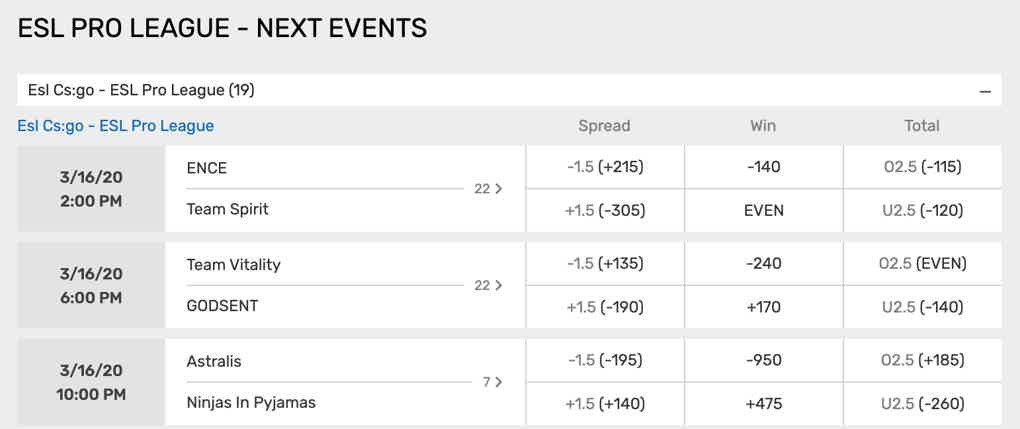 Dota 2 betting at GTBets
The best Dota 2 teams are battling it out in the GG Championship at GTBets and in the Hot Price League at Betway. KBU has 2 matches today – they're a clear favorite in their second match and the underdog in today's first match.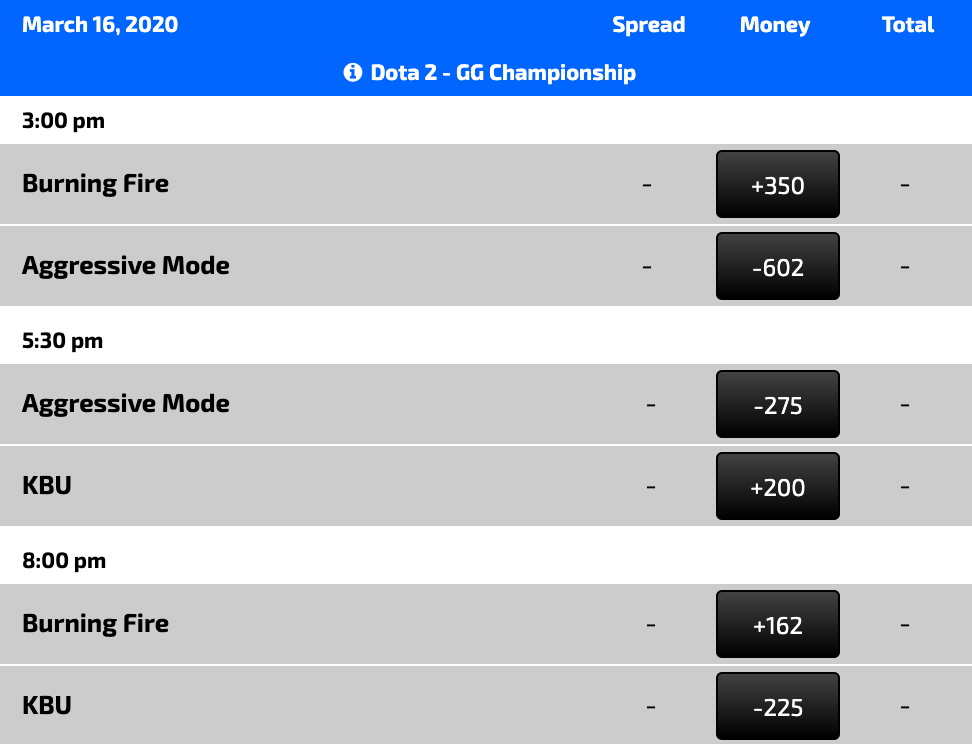 Starcraft betting at GTBets
If you like Starcraft, you should head over to GTBets. My favorite markets are these BroodWar CasterMuse clashes, but you'll also find action in the Starleague.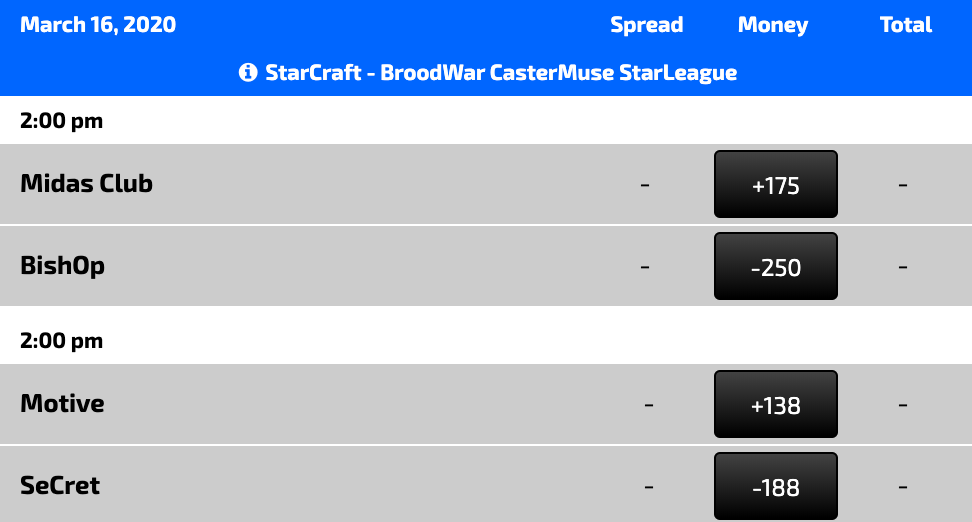 CS:GO at MyBookie

Competition is always good. I would suggest that you compare betting lines for esports as often as it's possible. For CS:GO, MyBookie offers a nice reference point which you can use to evaluate how good the odds are elsewhere.
Related Content