Go ahead, try and predict which four teams are going to make the college football national playoffs this season.
Week after week, at least one of them seems to take a tumble. Last weekend, it was Georgia and Notre Dame. And Alabama was on the ropes. The Crimson Tide are the even-money favorites to win the national championship, but this title is definitely up for grabs.
Even though No. 1 Alabama and No. 2 Clemson play this weekend, they might as well have the time off as the Crimson Tide meet Mercer and the Tigers play the Citadel. These are more like scrimmages before their respective conference finals on Dec. 2.
Let's take a look at the other two Top Four teams and try to pick a two-team parlay from their games (odds provided by bovada.lv).
VGB's college football Week 12 parlay pick — Take Virginia (+19) over Miami and Kansas (+38) over Oklahoma for $25. If both teams beat the spread, the payoff is $66.13. If either team loses against the spread, the ticket is void.
---
Miami Defense Fourth In Nation In Turnovers

Virginia at No. 3 Miami — The Hurricanes (8-0) stormed into the national playoff conversation after their lopsided victory over Notre Dame last weekend. There is no room for error now. They must beat Virginia this weekend and Clemson in the ACC conference final on Dec. 2 in Charlotte.
Along with Auburn, Miami is the other school quickly climbing the rankings, and their dominating defense is making most of the noise. In last week's drubbing of Notre Dame, Miami's D had three interceptions, a strip sack and a fumble recovery.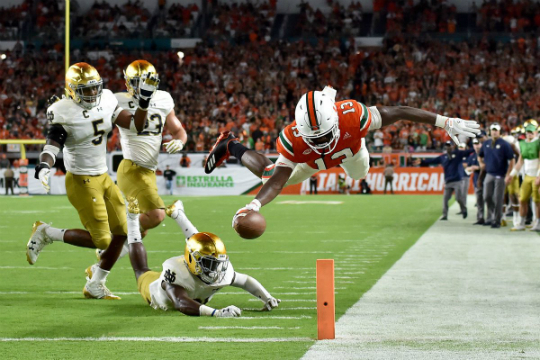 The defense now has 24 takeaways for the season, which is fourth best in the nation. As a team, the Hurricanes are plus-15 in the turnover margin, which is second best in the nation.
The Cavaliers (6-4) have lost three of their last four and are 5-5 against the spread this season. They were a 14-point underdog last weekend, and lost by 17. But the Cavaliers are 5-2 ATS in their last seven games against the Hurricanes and they are bowl eligible for the first time since 2011.
---
Huge Risk To Bet Sooners On Money Line

No. 4 Oklahoma at Kansas — There's little doubt the Sooners (9-1) are going to win this game. They are -39000 on the money line, which means a bettor would have to wager $39,000 to win $100 in profit. Yikes!
But against the spread, the Sooners have to win by more than five touchdowns — something they've done twice this year. They are 6-4 ATS and have averaged 48 points a game in their last four victories. The Jayhawks (1-9) are 3-7 ATS and have averaged 11 points a game over their last five.
Baker Mayfield is closing in on the Heisman Trophy. The Sooners' senior quarterback is in the top three in the nation in multiple offensive categories including passing yards per game, completion rate, touchdown passes and total offense.
It's his title to win or lose now.
However, the Sooners have bigger goals than a Heisman for their quarterback. Don't be surprised if they rest a few of their stars at some point in this game and save their energy for the conference final and a shot at the national title.
---
VGB's Top 10 College Football Teams
(Current odds, provided by bovada.lv, to win the national championship listed after team record.)
Alabama (10-0) +100 — No. 1 team pushed to limit by Mississippi State.
Miami (9-0) +900 — Nasty defense, could be best team in the nation.
Oklahoma (9-1) +400 — Another huge victory for Mayfield, Sooners.
Clemson (9-1) +800 — Tigers have date with Hurricanes in ACC final.
Wisconsin (10-0) +1200 — Badgers 10-0 for first time in school history.
Auburn (8-2) +900 — Dominated Bulldogs in every facet of the game.
Georgia (9-1) +1200 — Far too many mistakes, Tigers much better team.
Ohio State (8-2) +1800 — Buckeyes trounce MSU, longshot for playoffs.
Notre Dame (8-2) +30000 — One-dimensional team not ready for prime time.
USC (9-2) +6600 — Darnold improves to 18-3 as Trojans' starting QB.
---