Probable March Madness Winners
By Eric Uribe
The 68-team March Madness bracket is still weeks away from being finalized. A lot can change in that span, however, these four teams are early favorites to end up cutting down the nets in the NCAA Championship.
Duke (+600)
A buzzer-beating loss to Syracuse just ended Duke's seven-game win streak, but the Blue Devils remain the odds-on favorite to win it all. Grayson Allen is in the running for best college basketball player in the nation, Amile Jefferson is the senior voice of the team, and Jayson Tatum and Harry Giles are likely one and done at the season's end.
However, the X-factor in Duke's quest to be the best might be Luke Kennard. The sophomore has become a superstar seemingly overnight. He's averaging 20 points a game and has become the team's go-to player as Allen nurses several injuries as of late. Kennard — who has hit 20 or more points in 14 games this year — has been the one constant in a rollercoaster season for Duke highlighted by head coach Mike Krzyzewski undergoing back surgery.
The Blue Devils championship experience will come in handy, too. Coach K is a five-time tournament winner and many of these players are hold overs from Duke's 2015 title run. Duke is the safe pick, but you gotta risk it to get the biscuit, right? We believe the Blue Devils will fall shy of the title.
Kansas (+750)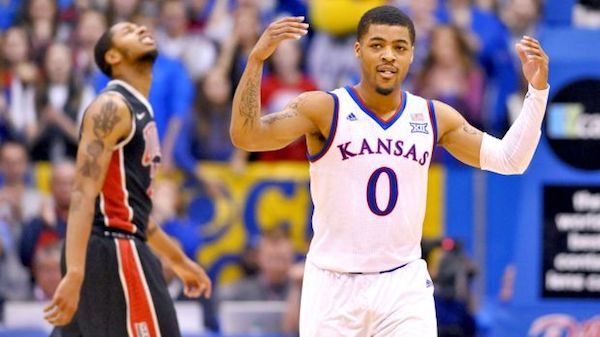 The Big Dance is where superstars are born. Time after time, we've seen a player rise to the occasion and carry his team to a championship run — all the while boosting his NBA Draft stock. The early contender to do it this year is Frank Mason III.
If it was up to us and the season ended today, Mason would win Player of the Year Honors. The senior guard's stat line is gaudy: 20.3 points, five assists, and 4.2 rebounds are his averages this season. There's just an "it" factor about him. His toughness and fiery competitiveness is contagious on the Jayhawks. That's why Kansas is our pick to win the NCAA Championship.
Villanova (+1000)
It seems to be a given that the Wildcats won't repeat as champions. After all, the last team to win back-to-back titles was Florida ten years ago. Repeating is difficult, but Villanova have the experience and talent to pull it off.
While the Wildcats lost five players to graduation from their 2016 championship team, much of its core remains. Kris Jenkins, who hit the game-winning jumper in the finals, is still here. He's averaging 13.3 points a contest and we know Jenkins has ice in his veins. And above all, Josh Hart is still leading Villanova. He was the best player on last season's roster and with him being a senior, he would want nothing more than to go out a winner.
With only two losses on the season, the Wildcats are a solid option to win it all. Personally, we don't believe it's in the cards, but +1000 are great odds for a defending champion.
Louisville (+1400)
If you want a darkhorse contender, than look no further than the Cardinals. They are 22-6 on the season and betting on Rick Pitino is always a smart choice. Plus, this is a program recovering from a one-year, self-imposed postseason ban. Pitino and his players are hungry to return to their winning ways.
Since taking control of the program in 2001, Pitino has led Louisville past the Round of 32 seven times. Betting the Cardinals at +1400 is a great value pick.