Take the Warriors in five games
Everyone loves a good David vs. Goliath story and this series fits the description. One on hand, you have the NBA champion favorite Warriors, who have won 19 of their last 20 games. Then, you have the team that handed the Dubs that lone loss, the pesky Jazz. The betting odds back this underdog-versus-big-dog narrative as Golden State has -3000 odds to advance. Utah has a prayer chance of +1500 to pull off the stunner, according to BetOnline.
However, the Jazz have some stones in their arsenal to toss at Goliath. The biggest one is their clear-cut size advantage. For one, no one in the league has a larger wingspan than Rudy Gobert at an outstanding 7-foot-9. With all due respect to Draymond Green, Gobert is the best defensive player in this series. He averaged an NBA-leading 2.6 blocks per game, along with 14 points and 12.8 rebounds.
Gobert isn't the only mismatch on a small Warriors lineup. Utah has length all over the floor. On the wings, both Rodney Hood and Gordon Hayward are 6-foot-8 and the frontcourt is rounded out by 6-foot-10 power forward Derrick Favors, who may be the X-factor for the Jazz.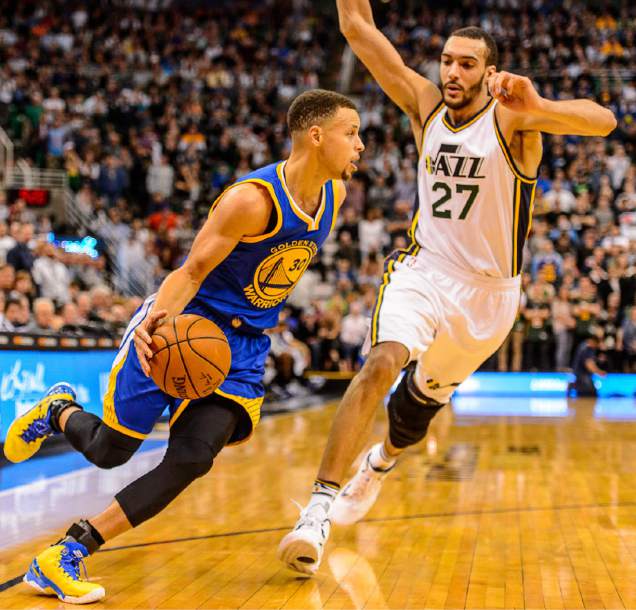 He's fresh off a monster 17-point and 11-rebound game in Game 7. However, Favors injured his lower back and his playing status remains murky.
Favors joins Durant and Steve Kerr in this series injury report. Durant did return in Game 4 of the first round, but he's been more or less out of the lineup since March. He's going have to prove he's 100 percent and a physical Jazz defense will surely test him.
Kerr is a bigger mystery. He reaggravated back issues that sidelined him half of last season. With Kerr, it's more of a worry will he ever come back to the sideline? He's out indefinitely and Mike Brown is filling in during the interim. Yes, the Warriors don't lack star power, but losing Kerr mid-playoffs isn't something they can just shake off.
Utah has to exploit those small vulnerabilities on a loaded Warriors team. These two teams met three times in the regular season, with Golden State winning two games.
The encouraging sign from those three matchups is the Jazz were able to contain the Dubs death lineup. At 115.9 points per game, no one scores more than the Warriors. However, that average dipped to 103 points a game. This is the classic best offense vs. best defense story, too, with Utah surrendering a league-low 96.8 points per game.
Furthermore, in the regular season series, the Jazz were hobbled by injuries. Their lone All-Star Hayward missed two of those games, and Hood, Favors, and George Hill also missed at least one game. It's encouraging all four of them, sans Favors, will be ready for this tilt.
Perhaps the biggest glimmer of hope for Utah is Joe Johnson. The 35-year-old had a career renaissance in the first round, averaging 15.7 points on 48.4 percent shooting from the field. That's big for a Jazz team that's struggled to score.
Against the Warriors, you'll have to put up points no matter how suffocating your defense is. With that said, Utah's slow-tempo attack has some perks here. While most assume the only way to top Golden State is to match their offensive firepower, that's not the case. Teams like Portland and Houston have tried to run with the Dubs and it's blown up in their face. If the Jazz can control the tempo, it's possible it'll throw off the Warriors death lineup.
All in all, Utah is going to give the Warriors a run for their money. The length of the Jazz will cause Golden State problems, akin to Oklahoma City last year, and this series will be more exciting than most expect.
Nonetheless, it's going to take a miracle for the Warriors to lose the series. Still, don't be surprised when this goes six games.
Pick: Warriors (-3000)
Series outcome: six games (+450)