Let's take a look at the Formula 1 betting odds 2019 for the U.S. Grand Prix:
Lewis Hamilton +185
Charles Leclerc +200
Sebastian Vettel +350
Hamilton Chases History
Lewis Hamilton is just a few points away from a remarkable sixth world championship as the F1 circuit rolls into the United States on Nov. 1-3.
The 34-year-old British driver and his Mercedes team have won four of the last five Formula One world driving titles. Another championship would make him the second most successful driver ever, bettered only by racing legend Michael Schumacher.
Lewis (+185) is the favorite to capture his 11th circuit win on the season in the F1 U.S. Grand Prix in Austin, Texas (Formula 1 championship odds provided by Bovada). Ferrari's Charles Leclerc (+200), who is currently third in the driver's standings, is the second choice on the Formula 1 odds board, while Sebastian Vettel (+350), who also drives for Ferrari, is the third pick.
Race time in Austin, Texas, is 1 p.m. on Sunday, Nov. 3. The event has been held 48 times in the U.S. since 1908 and it has taken place at 10 different locations. However, the race has been contested at the Circuit of the Americas in Austin every year since 2012.
The field of cars will race around the 5.5-kilometre track 56 times, or 308 kilometres, to the checkered flag. Bettors, start your engines!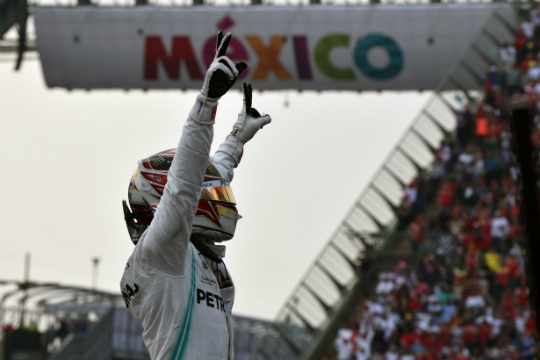 What Bettors Need to Know
Your odds are fixed if you bet on the U.S. Grand Prix now, but the betting lines will likely change through qualifying and as race time approaches. Prop bets are a huge hit with bettors, especially at online sites like GTBets and BetNow.
Players can wager on prop bets like:
Make of winning car
Nationality of winning driver
Number of drivers to finish the race
First driver to retire from the race
Winning margin
Here are some other facts and figures bettors need to know before placing their F1 bets:
Kimi Raikkonen claimed his first Formula One victory in five years when he won the 2018 U.S. Grand Prix in Austin. The defending champ hasn't finished better than seventh in a race this year.
Lewis Hamilton won his 10th circuit event is 18 starts this year in the Mexican Grand Prix. He finished first six times and second twice in his first eight races of the season.
Hamilton had won four straight and six of his last seven races in the U.S. before finishing third last year.
Hamilton has a commanding lead in the driver's standings with three races left in the season. Valtteri Bottas is second, with Leclerc in third.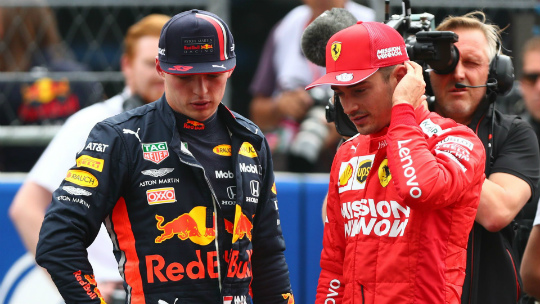 U.S. Grand Prix Prediction
Hamilton has only lost eight of the circuit events this year.
There are only four other drivers to have won a race, which includes: Valtteri Bottas (3), Leclerc (2), Max Verstappen (2), and Vettel. It's safe to say that Hamilton is the one to knock off in every race. He has a 10-3-2 record in 18 starts and has not lost more than three races in a row at any one time this season.
Sebastian Vettel +350
The 32-year-old German racer is 1-5-3 on the season and is coming off a second-place finish in the Mexican Grand Prix. The four-time world champion finished fourth in the U.S. Grand Prix last year.
Vettel and his Ferrari teammates failed to record a victory in the opening 12 rounds of the season, and with just three races remaining, Vettel believes they could build some momentum for next year with top performances in the U.S., Brazil and Abu Dhabi.
"We're trying to use these races to get the right momentum and get in the right place for next year," Vettel said. "The cars will be largely the same, so anything we can learn from this year will still help us next year."
Charles Leclerc +200
The 22-year-old driver from Monaco had a slow start to the season with two seconds and two thirds in the first 10 races. But Leclerc has been coming on lately, with two victories, a second and a third in the next eight starts. He finished fourth in Mexico.
"If I feel like I'm ready to be challenging for world titles, at the end I have the car and team for it," Leclerc said after his first victory of the season in Belgium. "You always need to feel ready, once you are in that position, otherwise I shouldn't be in the seat that I am in today."
Leclerc is just six points ahead of Vettel in the driver standings — a battle for the top spot on Team Ferrari.
Lewis Hamilton +185
Hamilton's recent victory was only his second since Formula One's European summer break in August, his second in Mexico and the 83rd of his career. It also extended his run of points-scoring finishes to 30 races.
"I think (Hamilton) is an amazing driver," said Felipe Massa, a former Ferrari teammate of Schumacher. "What he is showing to Formula One is that he can be the most important name in Formula One history soon."
Pick — Hamilton (+185). His streak of four straight U.S. Grand Prix victories was snapped last year. He returns to the winner's circle in 2019 and captures his sixth driving title.
See below the top sportsbooks where you can wager online and choose the best one for you: