Echeck betting sites and sportsbooks offer the service as a form of electronic payment made over the internet, with the intention of replicating a traditional paper check. Except payment using an Echeck is much easier and can be done without having to discuss anything with your bank.
Echecks fall into the category of electronic fund transfers, or EFTs. Echecks work similarly to how debit cards work, which are another form of EFT. When depositing using Echecks, the funds submitted are debited directly from the client's bank account. This method ensures security through various security features: encryption, digital signatures, authentication and public-key cryptography.
Paying via Echeck can provide customers with anonymity and in a timely fashion. Unlike traditional paper checks, Echecks are one of the swiftest methods of deposit funds into a sportsbook. It may aim to mimic a paper check, but it's so much easier and efficient.
Sportsbooks Accepting Echeck
BetOnline is one of the few sportsbooks accepting Echeck as a payment method. They are even offering a 25% bonus on all Echecks deposited, not just the initial one, but all future deposits via Echeck. 
Bovada offers a great range of betting odds for all major sports, entertainment, and political events year after year. 
Intertops is a trusted online sportsbook with years of experience in the industry, offering a great range of odds and excellent betting options. 
Mybookie is one of the fastest-growing sportsbooks, boasting a great range of prop bets as well as covering all the mainstream sports betting markets. 
BetNow is boasting a generous number of betting options, with their sportsbook, horse-racing platform, casino, live tables and much more. 
WagerWeb has a simple yet pleasing interface, which makes the whole betting experience much better. Not to mention the endless range of markets. 
BetDSI is ideal for those looking to start playing with an online sportsbooks. They offer a great range of services and are already recognized as one of the top sportsbooks online. 
XBet is the new kid on the block. They've been around since 2020 and command a strong group of dedicated bettors, who enjoy their modern markets and competitive odds. 
Echeck Betting Sites
Fortunately for VegasBetting users, we've provided a full list of our recommended sportsbooks to look through and find the Echeck betting site that best suits them. We only recommend the highest industry-standard site, which ensures safety and security as well as an enjoyable betting experience!
The security provided through online sports betting sites is second-to-none and customers will always be able to feel safe when depositing with Echecks. Be sure to check websites for the markets you're interested in playing on before making a deposit. As well as checking the bonuses and promotions offered to the customer who deposits or withdraws using Echecks.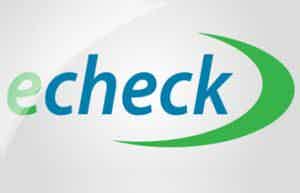 Advantages of Echeck Betting
Echeck betting offers a number of great advantages, even some of which other payments can't match. Like when using Paypal betting payment methods, customers are able to deposit at a lowcost and quickly. A payment method that allows customers to get their funds straight into online sports and begin playing straight away, is a huge advantage.
Secondly, one of the most annoying things as a customer when making payments using Echecks is having to use one method for depositing and another for withdrawing money. One of the big selling points of Echeck betting is customers are often able to use the method both ways. This saves a lot of hassle and can be a real pull factor for customers who are deciding which sportsbook to deposit with.
Another factor for a lot of bettors is not having to worry about revealing sensitive information to the providers. This is often thought of as shady, when in fact many users just prefer to keep it that way.
The Echeck was first used by the US Treasury for the purpose of online payments and it's since become one of the best deposit methods which are favoured among U.S. sportsbooks. 
Echeck Welcome Bonus
Here at VegasBetting all of our recommended betting sites offer a variety of different welcome bonuses, which vary depending on the payment method selected by the individual. Many sportsbooks gift welcome bonuses, which are rather generous, and even in some cases offer to reload bonuses too.
Almost all sportsbooks accept check payments, which is much the case with Echecks. So it's always worth looking through the various recommended sportsbook to find one which suits you. In order to activate a Welcome Bonus, the client will have to do more than just sign up, but actually deposit funds into the account, often with a minimum sum to activate the bonus.
Are there any fees when I deposit with Echeck?
Depositing and withdrawing funds using Echecks couldn't be easier, simply go to the payments section of the sportsbook you're looking to deposit or withdraw from and specify the Echeck payment method.
Depositing money to PayPal betting sites, for example, you can choose how much personal information to include; full name, account number, possibly the clients' address, but this is entirely down to the individual. After depositing a check it can take anywhere from 6-7 days to clear into the account. Normally there are no, or very low fees for depositing using Echecks.
It's a similar story when looking to withdraw funds, they'll go immediately into the designated bank account. Customers who use Echecks, or bet using PayPal money, will normally not be charged any fees, due to the speed, low costs and speed of the payment method. It works both ways, it's good for the client and the sportsbook provider. In terms of times regarding payments, it can take up to 6-7 days for the money to arrive. Though this isn't always the case as certain companies may charge fees on withdrawals.
 Related Content