Hard Rock Sportsbook 101
The
Hard Rock sportsbook is an impressive venue
for such a small resort. This is an obvious destination for the younger crowd at 4455 Paradise Road but, being a mile east of the congested Strip, it's also a perfect location for locals, too.
Situated at the front of the gaming floor by the main casino entrance, the Hard Rock Las Vegas sportsbook is a non-smoking venue, but there is a video poker bar nearby where smoking is allowed.

The daily
Hard Rock sportsbook hours
are Monday to Friday from noon to 8 p.m., Saturday from 8:30 a.m. to 10 p.m., and Sunday from 8:30 a.m. to 9 p.m. Hours are extended during football season. These are some of the shortest hours in Las Vegas and would certainly knock it off the list of contenders for one of the
best sportsbooks
around.
Players must be 21 years of age or older to wager anywhere in Nevada, including on Hard Rock entertainment esports.
The room is conveniently divided into two sides with each having its own set of big screens and Hard Rock sportsbook odds. The side for sports bettors has nine large TVs including a giant screen, while horseplayers have five TVs with one main screen.

The seating layout is identical as well, with desk row seating and a personal television for horseplayers and
Hard Rock sports betting
. There is also VIP seating, but you will hardly feel important in one of the six oversized chairs in the back corner of the room. The sound is this venue is decent enough, although it is sometimes overwhelmed by Hard Rock's booming casino music.
There are plenty of betting windows to play all the sports of the day, depending on what pro teams are in action in the NFL, NBA, MLB, and NHL. But, typically, there are only one or two betting windows taking wagers due to the light traffic on the Hard Rock sports lines.
Of course, there are options to waiting in line to make a bet. It seems every sportsbook has an online app today, and Hard Rock is no different. Join Hard Rock online sports betting for free. Download the app, which uses the CG Technology platform, to your Android or iOS device and you are off to the races. CG Technology is the same online provider used at the Cosmopolitan and Tropicana.
However, the Hard Rock sportsbook online is only available in the state of Nevada. A better option would be to join a top-ranked online site like Bovada that is available anywhere in the U.S.
While the sports betting app is free, complimentary drink vouchers are a different story. The rules of the day are a $150 bet on the horses and a $300 wager on sports. That's ridiculous. Free drinks are much easier to come by at other off-the-Strip venues, like Red Rock, Golden Nugget or South Point.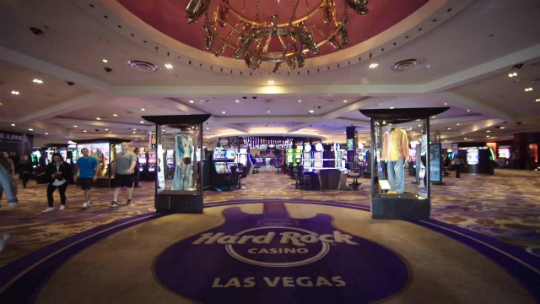 It's Game Time at Hard Rock
The Hard Rock sportsbook is fairly inactive during the day, but that is sure to pick up on the weekends or as game time for a major championship approaches — like the Super Bowl or March Madness.
Here are some of the sports available to bet on with posted Hard Rock Las Vegas sportsbook odds:
Pro and college football
Pro and college basketball
Major League Baseball, including playoffs and World Series
Mixed Martial Arts and UFC events
Major soccer leagues from around the world
Boxing, but mostly just major fights
Hockey, including the playoffs and Stanley Cup
Auto racing, with weekly race odds and Sprint Cup Championship futures
Golf, with weekly odds and futures on all four majors
Tennis, with odds on all four Grand Slam events
Here are some of the bets available at the land-based Hard Rock sportsbook:
Money line
Point spread
Over/under totals
Future betting
Proposition bets, especially for the Super Bowl
Parlays
Teasers
The
Hard Rock sports betting app
offers even more wagering options, especially on props and "in-play" wagering where odds and spreads change continuously as the sporting event unfolds. This type of betting has become a hot ticket at most Las Vegas sportsbooks, including MGM's
Mirage
and
Mandalay Bay
.
Location off the Strip

Hard Rock Hotel & Casino is the closest venue and most direct route of the major resorts to McCarran International Airport. The property, which is located at the major intersection of Paradise Road and Harmon Avenue, is within walking distance of Planet Hollywood's Miracle Mile and the rest of the shopping complexes on the Strip.

New arrivals at the airport will head north on Swenson Street and turn left onto Harmon. The property is on the north side of Harmon.

If guests are traveling on Interstate 15, either the Flamingo Road or Tropicana Avenue are a good option. Head east off the highway towards Paradise Road.

Hard Rock offers a free shuttle to hotel guests to and from the Strip. The shuttle is based on availability and departs on the hour from 10 a.m. to 5 p.m.

The return shuttle departs 15 minutes after the hour from 10 a.m. to 5 p.m. from the Fashion Show Mall, in front of Forever 21. The mall is located across from the Wynn and Encore towers.

Hard Rock Parking

The trend of free parking at off-the-Strip venues continues with the Hard Rock. Unlike the Strip mega resorts that are charging as much as $20 per day to park, it's a complimentary service at this property.

Enter the eight-floor parking garage off Paradise Road.

The casino entrance is located on level one.

Even the parking garage walls are decorated with rock 'n roll decor.

Public Transportation Options

Whatever mode of public transportation you choose to travel to the Hard Rock, it should be an inexpensive trip from the airport. It's just over a mile with a few traffic lights. All vehicles — whether it's the bus, taxi or a rideshare vehicle — should scoot north on Swenson to Harmon where you will find your new vacation home.

A residential Las Vegas public transit bus service travels to and from the airport. Wait for the bus (Route 108) on Level 0 at the airport. The cost is $2 for a one-way fare.

A bus service also runs 24 hours a day on the Strip, with routes to both outlet malls and Downtown Vegas. A two-hour bus pass on the Strip is $6, 24-hour pass is $8 and a three-day pass is $20.

There is a long queue of taxis waiting just outside the main terminal. It will cost around $15 for a ride to Hard Rock.

Food & Drinks at Hard Rock

There isn't a buffet at Hard Rock, but there's still some fine dining and casual eating choices. It's best to call ahead to reserve a spot for group dining in a private or semi-private location.




Here are some of the restaurants to choose from at Hard Rock:

Traditional Japanese cuisine is infused with some bold flavors at the ever-cool Nobu.

MB Steak pairs an old-school steakhouse with a rich, comfortable vibe. MB stands for "My Brothers," as in the owners David and Michael Morton.

Pink Tacos features its trademark homemade tacos which one online reviewer called some of the best in Las Vegas.

Mr. Lucky's iconic 24-hour diner with colossal dishes has been open for more than two decades.

Don't forget the drinks. Here are some of the bars and nightlife venues at Hard Rock:

Open 24 hours a day, seven days a week, Center Bar offers a perfect view of the entire casino floor.

SMASHbar lives up to its name as the sexy new place to mix and mingle.

Vanity is a 14,000-square-foot nightclub reserved exclusively for special events with two marble bars and a sunken dance floor.

Download the free ride share program apps Uber and Lyft to your mobile device. The cost for a ride is about two-thirds of the taxi service. Hook up with your rideshare on the second level of the parking garage at the airport.

Hard Rock Rewards

Get a Backstage Pass at Hard Rock and start collecting those creative rewards.

The new system lets Hard Rock customers earn points for every dollar spent — gaming and non-gaming — at the 1,500-room hotel-casino. But the rewards are a little bit different than those offered by mega properties — like Caesars and MGM.

Based on points earned, Hard Rock guests with a Backstage Pass card can score complimentary concert tickets to shows in The Joint, free passes and priority access to the property's Rehab Pool Party, priority entry into the Vanity nightclub along with complimentary bottle service, and exclusive access to the hotel's spa.

Use that card with every transaction at Hard Rock. Those points will add up.

Hard Rock Casino

The good? Hard Rock offers more table games than most casinos its size. The casino, complete with go-go dancers, also carries a $5 minimum at the tables, which is a nice break for the casual gambler. The bad? The casino floor is only 30,000 square feet and there's not a lot of variety of games to play, unless you love blackjack.

The gaming floor is small but fun to walk around, with the Center Bar in the middle of all the action. Here are some of the tables games to play at Hard Rock:

Blackjack, with 38 tables that pay 6-5 odds on a 21.

Roulette, with wheels containing two sets of zeroes.

Craps, start at $10 minimum with standard rules.

Baccarat, few tables with a $25 minimum.

Other table games found on the casino floor include: Pai Gow Poker and Three Card Poker.

There are three poker tables located in the middle of the main gaming area, plus a high limit salon for blackjack and baccarat players willing to wager $100 or more a hand.

Complimentary drink service is offered

to those playing the machines or table games. It's best to tip for that courtesy if you want to be offered another one. Or, you could just go join the party.

Hard Rockin' Hotel

There are three towers at the Hard Rock, which opened in 1995, with more than 1,500 rooms and suites of varying shapes and sizes. All of these rooms, which are worn and tired from all the partying, feature rock 'n roll photos, 55-inch televisions and the usual necessities.

The 11-floor Casino Tower has 640 rooms and suites, the 17-floor Paradise Tower lists 490 rooms and suites, and the 15-floor HRH Tower checks in with 366 suites and eight spa villas.

Average rate per night for a basic room is $55. Average rate per night for a suite is $99. Add fees, taxes and the resort fee of $37 per night to get your total.

Rooms in the Casino Tower, with a king or two queen beds and French doors, start at 460 square feet.

Rooms in the Paradise Tower, with a king or two queen beds and extra large showers, start at 476 square feet.

Rooms in the HRH All-Suite Tower, with a king or two queen beds and separate sitting and sleeping areas, start at 700 square feet.

The biggest unit in the complex is the 4,950-square-foot Penthouse Real World Suite. It has one king and two queen beds, a pool table, phone room and a single-lane bowling alley.