Aliante Sportsbook 101
This resort is one of the higher-end venues for locals in the North Las Vegas area. Located at 7300 North Aliante Parkway, Aliante casino entertainment includes a spacious 180-seat race and sportsbook. The darkly lit room is a bit of a walk from any parking spot around the property.
Players must be 21 years of age or older to wager anywhere in Nevada, including on Aliante entertainment betting lines, esports odds or any other gaming platform in Las Vegas.
Aliante sports lines, which are powered by Boyd Gaming and available online on the sports betting app B Connected, are posted in the center of the viewing area on the main front wall. There are about a dozen betting stations located below the main viewing area, but only two or three are open most days of the week.
Bettors can line up to wager on all the top leagues in the U.S. and around the world. Aliante Las Vegas sportsbook odds are displayed for NHL, NBA, MLB, and NFL games, while other daily betting lines and futures are offered on hard copy printouts.
The premium leather club chairs on the right side of the room are in high demand, but those who enjoy horse racing will likely opt for one of the traditional spots with a personal TV, light, and chair.
Every seat offers a great view of the many screens at the front of the room, which includes one large screen for the event of the day and many other LED big screens. There are a dozen medium-sized screens at the bottom of the viewing area to cover the less popular sporting events and horse racing.
Complimentary beverages are easier to come by at the Aliante than most sportsbooks in the Las Vegas area. The minimum is around $25 on sports betting or $20 on horses to earn a free drink. The venue also has food and beer specials starting at $1.50.
Like all the other Boyd Gaming destinations in the Las Vegas area like Suncoast and Sam's Town, players can sign up and wager on the B Connected sports app. But the platform, which is available on iPhone and Android devices, is only valid for Las Vegas sports betting in the state of Nevada. You won't be able to take advantage of Aliante online sports betting if you live anywhere else in the United States.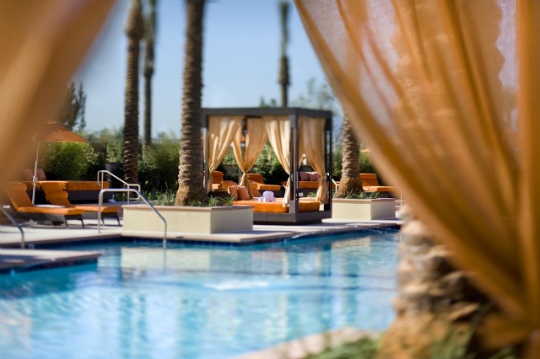 It's Game Time at Aliante
There are plenty of odds and games to choose from every day of the week at the Aliante Las Vegas sportsbook. Expect a packed house and a lineup at the betting windows for all the major championships, especially the Super Bowl and March Madness.
Here are some of the sports to wager on at the land-based venue and Aliante sportsbook online:
Pro and college basketball
Major League Baseball, including playoffs and World Series
Mixed Martial Arts and UFC events
Major soccer leagues from around the world
Boxing, but mostly just major fights
Hockey, including the playoffs and Stanley Cup
Auto racing, with weekly race odds and Sprint Cup Championship futures
Golf, with weekly odds and futures on all four majors
Tennis, with odds on all four Grand Slam events
Here are some of the bets available on the Aliante sports lines:
Money line
Point spread
Over/under totals
Future betting
Proposition bets, especially for major championships
Parlays
Teasers
Aliante online sports betting offers even more wagering options, especially on props and "in-play" wagering where odds and spreads change continuously as the sporting event unfolds. The betting lines can make drastic moves in "live betting," which keeps punters focused on every play of the game. 
Enjoy the Action at Aliante

The secluded Aliante Casino and Hotel is more of an attraction for locals than tourists, but it has all of the same features as the mega-resorts on the Strip. The resort has five signature restaurants, a 650-seat showroom, and more than 100,000 square feet of gaming space.

Visitors arriving at McCarran Airport will head north on either Interstate 15 or I-215 to Bruce Woodbury Parkway. Travel 10 miles west to the Aliante Parkway with the resort on the east side of the road. The entire trip will take close to 40 minutes, depending on traffic.

Travelers heading northeast on a four-hour drive from Los Angeles will also exit I-15 west at Bruce Woodbury Parkway. There are few stoplights for California guests to this resort which is located close to the Aliante Nature Discovery Park.

Aliante Parking

The Aliante resort offers free parking with hundreds of open-air spaces and an eight-floor parking garage. Free parking may not seem like a big deal, but some of the mega-resorts on the Strip are charging as much as $20 per day.

The parking garage is easily accessible off Elkhorn Road.

The garage also offers direct access to the casino and hotel.

Valet parking is complimentary.

Outdoor parking is available in five separate lots around the property.

Public Transportation Options

This North Las Vegas retreat is one of the most secluded resorts in the valley. Public transit does make a stop at the Aliante on Route 119, but it's at the end of the run and probably not practical to rely on bus service to get to other destinations. Also, there isn't a free shuttle service to and from the Aliante and the airport like other resorts, so visitors are left with two public transportation options — taxi and rideshare program.

Download the free rideshare program apps Uber and Lyft to your mobile device. The cost of a ride is around two-thirds of the taxi service. Once you have accepted your negotiated price, your cost is fixed on Uber or Lyft. Traffic congestion will not affect your price since you have already paid the fare.

Pick up your rideshare on the second level of the parking garage at the airport. It's not as convenient as the taxi queue right outside the main terminal, but the cost-saving is attractive.

There are more Uber vehicles on the road than Lyft in Las Vegas. Price both options before completing your transaction. The estimated cost to the Aliante from the airport is around $40.

There is always a long queue of taxis waiting at the airport outside the main terminal. The cost for a ride to the Aliante is about $85 — more than double the cost of rideshare.

Limousine services are available at the airport with the going rate around $85-90 an hour.

Food & Drinks at Aliante

There are 13 eateries, including a food court, buffet, and bistros at the Aliante. Prices range from the budget-friendly fast-food stops to the higher-end fine dining locations like the Mrkt. Oysters anyone?

Here are some of the culinary choices at the Aliante:

Mrkt, which is a reservation-only restaurant, receives outstanding reviews on TripAdvisor. The steakhouse-seafood dining place is ranked No. 4 out of 286 North Las Vegas restaurants.

Another top-ranked restaurant, the vegetarian-friendly Bistro 57 features house-made Italian favorites. "Better than Olive Garden," one reviewer wrote.

The Farm Cafe offers classic American fare for breakfast, lunch or dinner at reasonable prices.

Las Vegas resorts are known for their friendly bars and lounges. Here are a few favorite spots at Aliante:

ETA Lounge heats up most nights with live music that gets the dance floor bouncing. Guests can also enjoy the venue's happy hour specials.

The Salted Lime is centered around a giant margarita bar. Sip on your favorite beverage while enjoying authentic south-of-the-border fare.

Aliante Rewards

Boyd Gaming's rewards card is not only valid for use at Aliante in Las Vegas but nationwide at any of the company's 24 locations.

As the program's promotion says: "It's Good To B Connected." Players can acquire points and benefits and climb to the top level of the B Connected program at any of the eight Las Vegas properties, which also include Sam's Town and Suncoast.

The program is free to join for new members. Players start at the Ruby level and progress through play or purchases at participating locations up to Sapphire, Emerald, Onyx, and Titanium. The rewards and benefits escalate with each level earned.

Players have from January through December to earn their tier and the following year to enjoy those benefits, including automatic discounts for hotel stays. Other top rewards include stays in Hawaii and the Bahamas, and other extraordinary annual gifts.

Boyd Gaming also has resorts consisting of a casino and hotel in Louisiana, Illinois, Indiana, Iowa, Mississippi, Missouri, Kansas, and Ohio. So, players are not just earnings the benefits for their next stay in Las Vegas.

Aliante Casino

The resort, formerly known as Aliante Station until 2012, offers 125,000 square feet of gaming space, which includes table games, slot machines, video poker, and bingo.

Guests will also find 40 table games on the main casino floor, with limits running anywhere from $5 to $1,000. There's a seat open at the following games:

Blackjack, some tables offer an attractive 3-2 odds on a 21, starting with $5 minimums.

Craps, start at $5 minimum with standard rules.

Roulette, with all wheels containing the standard set of 0-00, with $5 minimum and $1,000 maximum tables.

Other table games spotted on the casino floor include Wild 5 Poker, High Card Flush, Ultimate Texas Hold'em, Pai Gow Poker, and Three Card Poker.

Complimentary drink service is quite generous at Aliante for those playing one of the 2,500 slot machines or table games. A tip is recommended if you expect good service to continue.

There was a live Aliante poker room, but it closed in 2012. The company gave poker a second chance with PokerPro machines, but that experiment didn't last long either as the room closed in 2016.

However, the venue is also home to Aliante casino bingo. The all-paper room has a 200-seat capacity, with a no-smoking restriction. The first game is 10 a.m. daily with a new session every two hours. The last game is at 10 p.m.

Aliante Hotel

The Aliante Las Vegas, which opened its doors in November 2008, is an isolated spot for locals and tourists looking for an upscale stay away from the massive crowds in Old Vegas or on the Strip.

There are more than 200 stylish rooms and suites, starting at $69 a night. Expect to pay a $28 resort fee per night at the end of your stay.

Deluxe rooms, with one king or two queen beds, are 400 square feet with some offering a view of the mountains. Smoking is prohibited in all rooms.

Three suite sizes and rates to choose from include Ambassador, Executive, and Presidential.

Other room features include refrigerators and coffee/tea makers, and flat-screen TVs with cable channels. Free newspapers are also available.

Full-service pool — located on the south side of the hotel — offers a relaxing, laid-back atmosphere.

Other resort features include a 16-screen all-digital movie theater, dance club, concert hall, 24-hour business center, free WiFi in public areas, and free valet parking.