Let's take a quick look at UFC 244 odds for the main event:
Jorge Masvidal -165
Nate Diaz +135
Special UFC Belt
Renegade welterweights Jorge Masvidal and Nate Diaz headline UFC 244 on Saturday, Nov. 2 at Madison Square Gardens in New York City with a special BMF title belt on the line.
If you can't figure out what the "BMF" title stands out, you are likely new to UFC.
Masvidal (-165) has won two straight fights with a career record of 34-13-0 (UFC betting odds provided by Bovada). Diaz (+135) has won three of his last four bouts with a career record of 21-11-0.
"There ain't no gangsters in this game anymore. There ain't nobody who does it right but me and him," Diaz said. "I know my man's a gangster, but he ain't no West Coast gangster," added the 34-year-old California fighter.
The main event is one of 12 contests on the card. The early prelims get underway at 6:15 p.m. ET. The prelims, which can be seen on ESPN2, start at 8 p.m. The pay-per-view main card is scheduled to begin at 10 p.m. ET, but that's 7 p.m. PT at Las Vegas sportsbooks like the Venetian and Lagasse's Stadium at the Palazzo.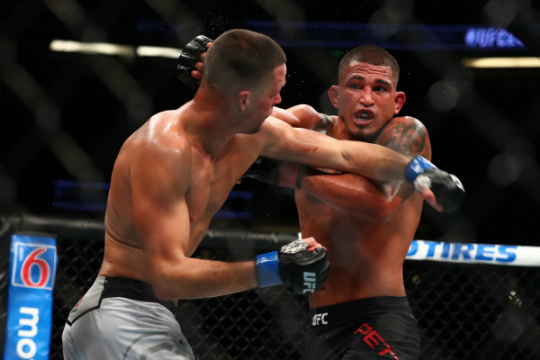 UFC 244 Predictions
The UFC odds feature more than just the blockbuster bout between Masvidal and Diaz. There's also a massive middleweight match between Kelvin Gastelum and Darren Till and a light-heavyweight tussle between Corey Anderson and Johnny Walker.
It's time to hype up the crowd and get on with our UFC picks for the main card.
Kevin Lee +130 vs. Gregor Gillespie -160
Kevin Lee, who has lost three of his last four fights, returns to the lightweight category against former college wrestling champ Gregor Gillespie.
The 32-year-old Gillespie has been unstoppable since arriving in the UFC with a perfect 6-0 record, including three knockouts and two submission wins. Lee (17-5) was on a five-fight win streak and earned an interim title shot back in 2017 before his recent slide.
VGB's pick — Gillespie (-160)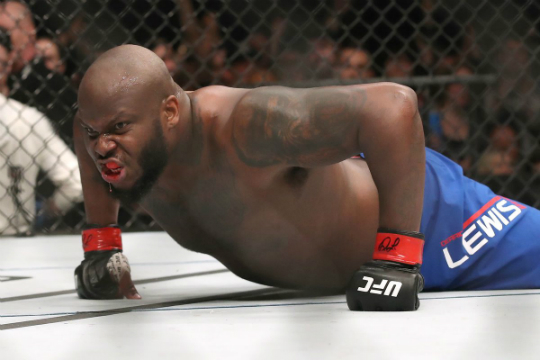 I got respect for him. I'm going in there to prove my worth against him."
Gastelum (16-4-0) has also suffered a few setbacks in the last couple of years. The 27-year-old southpaw lost a bloody battle for the interim middleweight championship in April in UFC 236 to Israel Adesanya in what many were calling "one of the best title fights in over 25 years."
Gastelum is 2-2-1 in his last five matches since March 2017.
"I want to go out there, I want to show that I'm still hungry, I'm still in contention, and I'm still one of the best guys around at this weight class," Gastelum said.
VGB's pick — Gastelum (-165)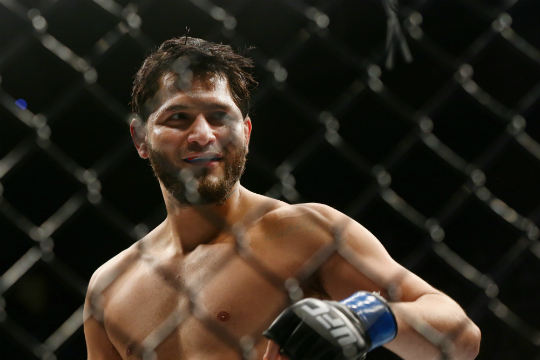 Jorge Masvidal -165 vs. Nate Diaz +135
The main event is a five-round fight in the Octagon where the winner will receive the BMF title belt from WWE legend and Hollywood icon Dwayne "The Rock" Johnson. Expect an all-out war between two ferocious fighters.
Diaz has won three out of his last four bouts and is coming off a spectacular unanimous decision win over Anthony Pettis at UFC 241 with Masvidal in the crowd. But that's the only fight for Diaz in the last three years since losing to Conor McGregor in UFC 202.
Masvidal is coming off outstanding knockout victories over Darren Till and Ben Askren. And he seems to be getting better with age as the 34-year-old has become more patient with his attack.
"You will see two of the most skilled fighters in the game stand and bang," TV sports anchor Graham Hunter said. "Diaz's jiu-jitsu is fearsome, so if he gets behind, that's where it could go.
This fight "should be legendary."
VGB's pick — Masvidal (-165)
See below the top sportsbooks where you can wager online and choose the best one for you: