Let's take a look at the UFC Vegas odds for the main event in UFC 243:
Robert Whittaker -145
Israel Adesanya +115
Middleweight Melee
There are 12 fights in the Octagon on Saturday, Oct. 5 in UFC 243, but there's none bigger than the middleweight unification bout between Robert Whittaker and Israel Adesanya.
Whittaker (-145), the defending champ who has been out of action since June 2018 with injuries, faces the interim champ Adesanya (+115) on a card held at the outdoor Marvel Stadium in Melbourne, Australia, that could break UFC attendance records (UFC 243 odds provided by Bovada).
"He always fights like he is in a Karate movie sometimes," Joe Rogan says of Adesanya on the UFC promotional video titled "Things Are About to Get Real."
"What is Robert Whittaker made of, cause it's not flesh and bone like us," adds Rogan.
The 28-year-old Whittaker, who trains out of New South Wales, Australia, is 20-4 with nine straight victories, but he has fought only once in the last 26 months.
The 30-year-old Adesanya, who was born in Nigeria but moved to New Zealand as a teen, is a perfect 6-0 since joining the UFC 18 months ago.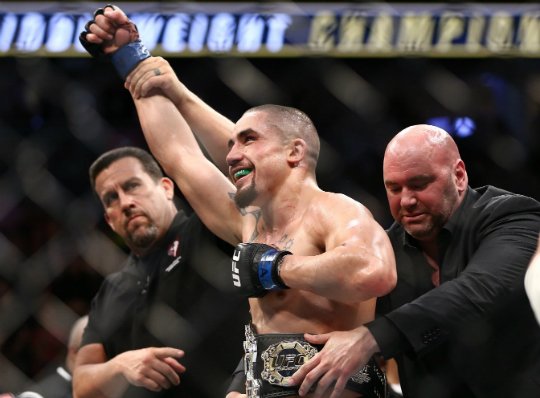 Other Top Names in UFC 243
The main card for UFC 243 gets underway at 10 p.m. ET on Oct. 5. Let's take a look at some of the other top bouts Down Under (UFC odds listed after fighter's name):
Dan Hooker -110 vs. Al Iaquinta -110
Kiwi Dan Hooker and gritty New Yorker Al Iaquinta hook up in a lightweight bout that is sure to be a slugfest between two active fighters.
"I wasn't really even expecting him to take that fight, because it was so risky for him," the 14th-ranked Hooker said of his fight with the No. 6-ranked lightweight. "But it just shows you the exciting match-ups that I put on."
Hooker (8-4) has won five of his last six Octagon appearances. Iaquinta (9-4) dropped a five-round verdict to Donald Cerrone in his most recent promotional appearance.
Tai Tuivasa -190 vs. Sergey Spivak +165
This is a must-win heavyweight fight for the 13th-ranked Tai Tuivasa, who is on a two-fight losing streak. The Aussie faces relatively unknown Sergey Spivak, who is 0-1 in UFC events. However, Spivak had an undefeated record at 9-0 prior to his UFC debut, with all of the victories being stoppages.
The 26-year-old Tuivasa (8-2) lost to heavyweight legend Junior dos Santos in a second-round TKO and then fell short in a unanimous decision to Blagoy Ivanov at UFC 238.
Luke Jumeau -145 vs. Dhiego Lima +115
Kiwi welterweight Luke Jumeau (13-4) will look to string together back-to-back victories for the first time when he faces Dhiego Lima, who makes his second stint on the UFC circuit. Jumeau hasn't fought since his unanimous decision over Daiche Abe in February 2018, where he suffered a broken hand.
"We've worked on heaps of holes in my game," Jumeau said. "I'm sharper than I've ever been, I'm stronger than I've ever been, I just can't wait. The hunger is back in full force."
The 30-year-old Lima, who is on a two-fight winning streak, made his way back to the tour with a top performance on the Ultimate Fighter: Redemption season.
UFC 243 Record Crowd
UFC 243 will be held at Marvel Stadium in Melbourne's Docklands.
In 2015, the venue hosted Ronda Rousey's UFC 193 bantamweight title defense against Holly Holm. In front of a UFC record 56,214 fans, Holm produced one of the sport's greatest upsets when she earned a second-round knockout to capture the title.
Holm, now 12-5, will take on American Raquel Pennington (10-7) in a bantamweight bout. Holm has lost five of seven fights since the stunning upset four years ago.
Promoters are expecting an even bigger crowd for this championship card, which is a pay-per-view event and likely available at all the Las Vegas sportsbooks such as the Linq and Mandalay Bay.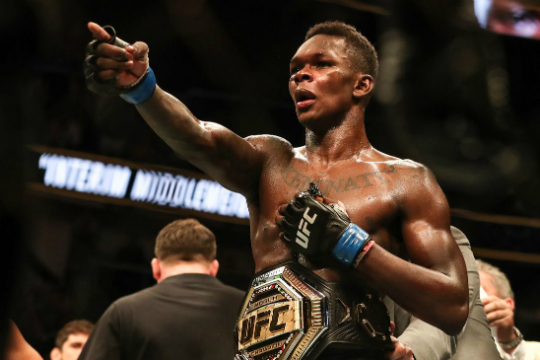 UFC 243 Picks on the Main Event
The fighters have taken different routes to get to this championship match.
Robert Whittaker beat Yoel Romero twice to earn the middleweight title, but injuries and mental health issues have slowed his competitive schedule. Adesanya has been a beast, with five victories in just over a year, including a unanimous decision over Kelvin Gastelum in UFC 236. Here are our UFC picks for the main event:
Robert Whittaker -145 vs. Israel Adesanya +115
Adesanya has been pointing to this championship fight since he joined the UFC and started on a meteoric rise to the top.
"Once I got signed, before I stepped in the cage, I said, 'In 2019, I'm going to fight Robert Whittaker, if he still has the belt, I'm going to fight him for the middleweight championship,' " recalls Adesanya, who remains undefeated as a pro in 17 fights, including six in the UFC.
It's been a long road back for Whittaker, who admits he has struggled with bouts of depression.
"Honestly, I just reached a point where I felt that it was either do or die for me," the champ said during training. "And I wasn't ready to do that."
Whittaker has been critical of Adesanya's Fight of the Night performance against Gastelum, where he believes his opponent was partly exposed. But here's the thing: Whittaker has some questions to ask himself, too.
He hasn't fought since June 2018, so will he be battle-ready for this elite competition? Are all of his injuries behind him? How about his mental toughness for this grueling five-round championship?
Pick — Adesanya (+115). This is the biggest fight of his life, but he has been focused on Whittaker for a long time.
See below the top betting sites where you can wager online and choose the best one for you: