Vegas Snaps Home Losing Streak
The Vegas Golden Knights slammed the door on a four-game home losing streak on Sunday.
William Karlsson scored a natural hat trick and goalie Marc-Andre Fleury earned his 48th career shutout to help the Golden Knights remain undefeated against the Calgary Flames this season with a 4-0 victory.
Vegas improved to 3-0-0 against Calgary while outscoring the Flames 15-5. The teams meet once more — in the regular-season finale at the Scotiabank Saddledome on April 7.
The Golden Knights (46-21-5), who have 10 games left in the season, play their final game of a four-game homestand Tuesday against the struggling Vancouver Canucks (25-38-9). Vegas is favored for the 20th consecutive time (odds provided by Bovada). The team, which plays its home games at T-Mobile Arena on the famous Las Vegas Strip, is 11-8 in that stretch.
"We weren't happy with the way we played over the last couple of weeks," Vegas head coach Gerard Gallant told the media after Sunday's victory.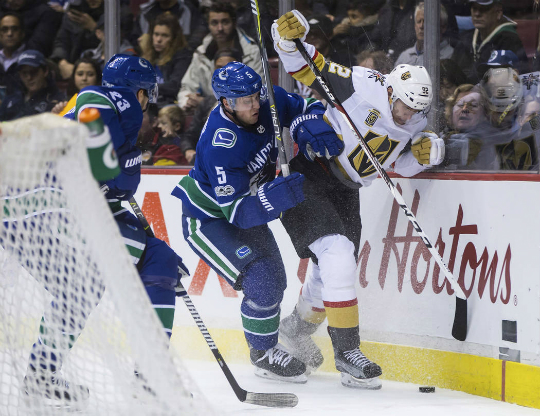 The last time the Pacific Division leaders had won at home before Sunday's shutout was also against the Canucks on Feb. 23. Vancouver, which is 1-7-2 in its last 10, has lost six straight. The team hasn't won in regulation time since Feb. 25.
The Canucks, who are seventh in the division and 38 points behind Vegas, have been outscored 19-6 in this recent losing streak and have been shut out three times. One positive for the Canucks this season is the fact they rank eighth in the league on the power play.
This is the third time these two rivals have played each other. Vegas won 5-2 on Nov. 16 at Rogers Arena and 6-3 on Feb. 23 at T-Mobile. They wrap up their four-game season series on April 3 in Vancouver.
Brock Boeser is the team leader in goals and points for the Canucks. The rookie has 29 goals and 26 assists for 55 points. Daniel Sedin has one more assist (21-27-48) than Boeser, who will not play against Vegas because of a lower back injury.
Karlsson continues to lead the Golden Knights in goals scored. His hat trick on Sunday pushed his goal total to 39 for the season. He now has 65 points, one behind team leaders David Perron (16-50-66) and Jonathan Marchessault (22-44-66). Karlsson also leads the NHL in plus/minus at +39.
The Golden Knights are second in the league in goals scored and seventh on the power play.
After Tuesday's contest, the Golden Knights have four more games at T-Mobile and five on the road. Six of those games are against division rivals, including two against the second-place San Jose Sharks.
Vegas needs to start putting together another home win streak. Vancouver is the perfect opponent to get that run started. The under total is 8-3 in the last 11 Golden Knights' games.
VGB's pick — Vegas (-300), Under (6)
VGB's Top 10 NHL Teams
(Current odds to win the Stanley Cup listed after team record. Odds provided by Bovada.)
Nashville (48-14-10) +450 — Haven't lost in regulation since Feb. 17.
Tampa Bay (49-19-4) +450 — First team to clinch playoff spot in East.
Boston (45-17-9) +900 — Bruins 20-10-4 on the road, 8-2 in last 10.
Winnipeg (43-19-10) +1100 — Fourth in NHL in point differential (+51).
Toronto (43-22-7) +1400 — Among hottest teams in league, 6-2-2 last 10.
Vegas (46-21-5) +600 — 11-8 in last 19, worst stretch of first season.
Washington (41-24-7) +1800 — 19 points separate first to last in Metro.
Pittsburgh (41-26-5) +900 — Losing record on road may hurt in playoffs.
Minnesota (41-24-8) +2800 — Another Wild finish for postseason in Central.
San Jose (40-23-9) +2800 — Hottest team in Pacific surges into second.