All-Star Goalie Earns 400th Career Win
The Golden Knights are heading home and back to the warm weather of Las Vegas after a successful five-game road trip in the eastern time zone.
Ryan Carpenter scored with less than three minutes to play on Monday to lift the Pacific Division leaders past the Philadelphia Flyers 3-2.
The Golden Knights — who went 4-1 on the trip — also beat the New Jersey Devils, Detroit Red Wings and Buffalo Sabres. Their only loss came to the Columbus Blue Jackets. Vegas now plays eight of its next 10 games at T-Mobile Arena, starting with the Devils on Wednesday night.
The Golden Knights have been favored in 16 straight games, winning 10 of them (odds provided by Bovada). This is their second and last regular season meeting with the Devils, who the Golden Knights beat 3-2 on March 4 at the Prudential Center.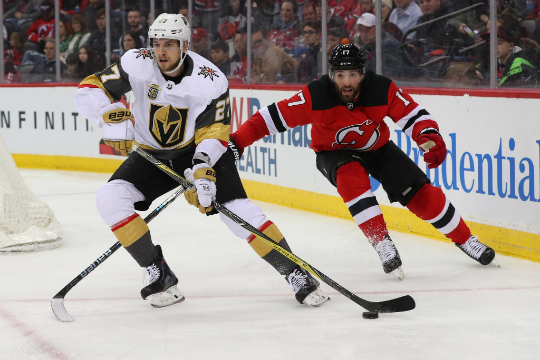 Vegas netminder Marc-Andre Fleury, who's 33 years old, became the 13th goalie in NHL history to earn his 400th career victory on Monday.
The 13-year veteran, who earned his first NHL win on Oct. 18, 2003, became the third active goalie to reach the milestone, joining Roberto Luongo of the Florida Panthers and Henrik Lundqvist of the New York Rangers.
"He's a better person than goaltender," head coach Gerard Gallant told the media after Monday's victory, "and that says a lot."
The Devils, who snapped Nashville's 10-game winning streak last week, currently cling to the second of two wild card spots in the Eastern Conference. They are 4-6 in their last 10 games and 17-12-5 away from home.
All-star Taylor Hall is the leading scorer for New Jersey with 30 goals and 44 assists for 74 points. He has 31 more points than the next closest player on the team in Nico Hischier (14-29-43).
My Team's Next Match
Vegas Golden Knights
The Golden Knights, who are 6-4 in their last 10 and 24-7-2 at home, have four scorers with 60 points or more. Jonathan Marchessault leads the way with 22 goals and 43 assists for 65 points. William Karlsson (36-26-62), David Perron (16-46-62) and Reilly Smith (22-38-60) round out the top four.
After a mediocre homestand in February, the Golden Knights have found their winning ways on the recent road trip. They should handle the Devils at T-Mobile with the NHL playoffs last than a month away.
VGB's pick — Vegas (-185), Under (5.5)
VGB's Top 10 NHL Teams
(Current odds to win the Stanley Cup listed after team record. Odds provided by Bovada.)
Nashville (44-14-10) +550 — 10 straight wins push Preds to lead in West.
Tampa Bay (48-17-4) +500 — 9-0-1 in last 10 games, solid lead in East.
Boston (43-16-8) +700 — Great record within conference (28-7-6).
Winnipeg (41-18-10) +950 — Don't look to beat Jets at home (24-7-2).
Vegas (45-19-5) +650 — No longer best in the West, 6-5 in last 11 games.
Pittsburgh (40-26-4) +850 — Defending champions surging in standings.
Toronto (40-22-7) +1500 — Stuck in third in Atlantic, must improve on road.
Washington (39-23-7) +1600 — Division leader with lowest point total (85).
Minnesota (39-23-7) +2200 — Wild almost unbeatable at home (24-5-6).
Florida (34-26-7) +4000 — One of league's hottest teams, 8-1-1 in last 10.