Here we go again. Another starting quarterback goes down, and now a team must rely on a backup for the rest of the season.
Philadelphia's Carson Wentz, who tore his ACL in his left knee in Sunday's win over the Los Angeles Rams, must now watch from the sidelines and wonder just how far the Eagles could have gone in the playoffs. Maybe even the Super Bowl.
Nick Foles takes over as play caller for the Eagles (11-2). The 28-year-old had a great season with the team four years ago as he threw for almost 3,000 yards and 27 touchdowns with just two interceptions. Wentz said in a video message earlier this week that Foles will do "an amazing job."
But oddsmakers disagree. The NFC East champions were 6-1 to win the Super Bowl last week. With Wentz's injury, they've soared to 12-1.
Is Nick Foles the next Case Keenum? He has three games — against the New York Giants, Oakland and Dallas — to get ready for the playoffs.
***VGB's Week 14 Pickem record: 8-8
Week 15 picks in the following chart are in bold.
---
Week 15
FAV
PICK
ODDS
WINS
DEN at IND
DEN
DEN
-150
CHI at DET
DET
DET
-240
LAC at KC
LAC
LAC
-120
HOU at JAC
JAC
JAC
-600
BAL at CLE
BAL
BAL
-340
GB at CAR
n/a
CAR
n/a
MIA at BUF
n/a
MIA
n/a
CIN at MIN
MIN
MIN
-600
ARI at WAS
WAS
WAS
-220
PHI at NYG
PHI
PHI
-350
NYJ at NO
n/a
NO
n/a
LAR at SEA
SEA
SEA
-130
TEN at SF
SF
SF
-125
NEP at PIT
NEP
PIT
+135
DAL at OAK
DAL
DAL
-165
ATL at TB
ATL
ATL
-270
---
Steelers, Patriots Fight For Home-Field Advantage
A stunning loss by the Super Bowl champions has opened the door for Pittsburgh.
The Patriots (10-3) needed a win in Miami to remain tied for home-field advantage throughout the playoffs. The Dolphins dominated the Patriots 27-20 on Monday Night Football, giving Pittsburgh a one-game lead over New England for the AFC top spot.
The two powerhouses meet Sunday at Heinz Field with the coveted position likely on the line. The Patriots opened the betting as the surprising favorites. They are 6-1 on the road and had won eight straight before losing their first road game of the year in Miami.
Oddsmakers have kept the Patriots as the favorites to defend the Super Bowl title at +275. The Steelers (11-2) are 5-1 at home and 8-1 against conference opponents. They have also won eight games in a row.
There are three other huge games this weekend, all with major playoff implications:
The Los Angeles Chargers (7-6) travel to Kansas City to battle the Chiefs (7-6) with first place in the AFC West on the line. The Chargers, who have won seven of their last nine games, are a slight favorite. The Chiefs have won once in their last five, but they're 4-2 at home.
The Los Angeles Rams (9-4) head north to Seattle to square off against the Seahawks (8-5). Seattle is 4-0 in divisional games this season. A win here by the Seahawks would tie them for the NFC West lead. The Rams are 5-1 on the road.
The Packers (7-6) must win their final three games to make the playoffs. Two-time NFL MVP Aaron Rodgers will return to action for Sunday's contest at Carolina against the Panthers (9-4) after receiving medical clearance from a broken collarbone. Obviously, the Packers need him to beat the NFC South leaders. Green Bay was 4-1 before its superstar quarterback was sidelined.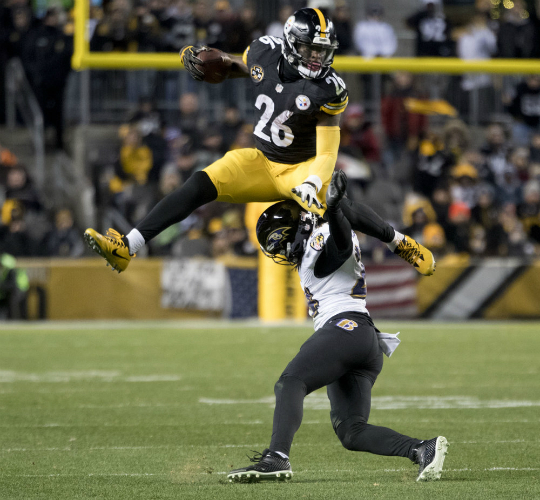 VGB's Top 10 NFL Teams
(Current odds to win Super Bowl LII listed after team record. Odds provided by bovada.lv.)
Pittsburgh (11-2) +350 — Steelers open as underdogs at home against NE.
Minnesota (10-3) +800 — Vikings can clinch division crown against Bengals.
New England (10-3) +275 — Biggest game of the year up next for Patriots.
Carolina (9-4) +2200 — Panthers play two of last three games on road.
Los Angeles Rams (9-4) +1600 — Next game could decide NFC West title.
Philadelphia (11-2) +1200 — Eagles lose young star QB for rest of season.
New Orleans (9-4) +1000 — Brees throws first red-zone pick this season.
Jacksonville (9-4) +1800 — Jaguars have won six of their last seven games.
Atlanta (8-5) +1400 — NFC champs had the exact same record last year.
Los Angeles Chargers (7-6) +1800 — AFC West leaders 7-2 ATS in last nine.