A Giant Mess Predicted In New York
The soap opera continues in the Big Apple.
Last week, the Giants benched two-time Super Bowl champion Eli Manning to evaluate others for the starting quarterback position. It was a public relations nightmare for the team, which lost again on Sunday.
As a result, the Giants (2-10) cleaned house earlier this week, firing coach Ben McAdoo and general manager Jerry Reese. Giants defensive coordinator Steve Spagnuolo will be the interim head coach for the team's final four games of the season.
Also, the 36-year-old Manning will reportedly get his job back and start Sunday against the Dallas Cowboys (6-6). Manning has completed 63 per cent of his passes this season for 2,411 yards. He has 14 touchdown passes and seven interceptions in 11 games.
The Cowboys need a win against their longtime division rivals to keep their playoff hopes alive. They have to play two more games without star running back Ezekiel Elliott, who was suspended by the NFL for six games.
**VGB's Week 13 pickem record: 13-3
Week 14 picks in the following chart are in bold.
---
Week 14
FAV
PICK
ODDS
NO at ATL
NO

NO

+105
IND at BUF
n/a

BUF

n/a
DAL at NYG
DAL

DAL

-210
DET at TB
n/a

DET

n/a
OAK at KC
KC

OAK

+170
SF at HOU
HOU

HOU

-150
GB at CLE
GB

GB

-175
CHI at CIN
CIN

CIN

-260
MIN at CAR
MIN

MIN

-145
WAS at LAC
LAC

LAC

-250
NYJ at DEN
n/a

NYJ

n/a
TEN at ARI
TEN

ARI

+130
PHI at LAR
LAR

PHI

+105
SEA at JAC
JAC

SEA

+120
BAL at PIT
PIT

PIT

-250
NEP at MIA
NEP

NEP

-650
---
High-Flying Eagles Grounded In Seattle
For the first time this season, the Philadelphia Eagles (10-2) were held under 20 points. The Seattle Seahawks (8-4) beat the NFC leaders convincingly 24-10 last weekend. The high-flying Eagles had been averaging almost 32 points a game.
It doesn't get any easier for the Eagles this week as they travel to Los Angeles to battle the Rams. For the fourth time this year, Philadelphia is an underdog.
The New England Patriots (10-2) remain the favorites to win the Super Bowl. The defending champions play the Dolphins in Miami this week before an AFC showdown in Week 15 with the Steelers in Pittsburgh.
Some other notes from around the league:
The Patriots will play this week without their star tight end Rob Gronkowski. The league suspended Gronk for one game without pay (about $300,000) for his late hit on defenseless Buffalo cornerback Tre'Davious White in Sunday's victory over the Bills. Pittsburgh's JuJu Smith-Schuster and Cincinnati's George Iloka were also suspended for one game for flagrant hits on Monday.
Buffalo quarterback Tyrod Taylor is day-to-day with a bruised patellar tendon in his knee. He may not play against the Colts this weekend. Taylor injured his knee on the Bills' first offensive play of the game against New England. He continued playing until he was carted off the field to the locker room in the fourth quarter.
Aaron Rodgers, who broke his right clavicle on Oct. 15, could be back next week with the Green Bay Packers (6-6). The future hall of famer is practicing this week even though he can't play Sunday against the Browns. It looks like the Packers would have to win out to make the playoffs. They might not need him to beat Cleveland, but they will against Carolina, Minnesota and Detroit.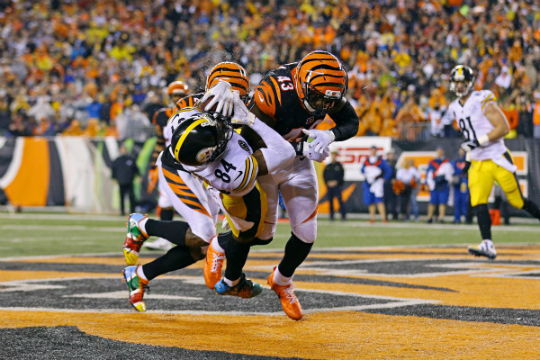 VGB's Top 10 NFL Teams
(Current odds to win Super Bowl LII listed after team record. Odds provided by bovada.lv.)
• New England (10-2) +240 — Super Bowl favorites win eighth straight game.
• Pittsburgh (9-2) +450 — Steelers down 17 points, but win seventh straight.
• Philadelphia (10-2) +625 — Eagles suffer second road loss, at L.A. this week.
• Minnesota (10-2) +850 — Hottest team in the league along with Patriots.
• Los Angeles Rams (9-3) +1200 — Rams lock up first winning season in 14 years.
• New Orleans (9-3) +1000 — Saints surge into first place with win over rival.
• Tennessee (8-4) +3300 — AFC South leaders 4-1 against division rivals.
• Jacksonville (8-4) +3300 — Jaguars 0-2 against NFC teams, now play Seattle.
• Seattle (8-4) +1800 — Playoffs on the line for Seahawks in next two weeks.
• Carolina (8-4) +2800 — Panthers just 4-4 in games against NFC opponents.