Four Division Leaders On Lengthy Winning Streaks
The New England Patriots and Pittsburgh Steelers are on a collision course to decide home-field advantage throughout the playoffs.
The two AFC powerhouses meet in Week 15 at Heinz Field. Both division leaders are 6-1 against conference opponents. The Patriots (9-2) are undefeated in five games on the road, while the Steelers (9-2) are 4-1 at home.
They are also two of four teams on huge winning streaks. The Philadelphia Eagles (10-1) haven't lost since Sept. 17, winning nine straight. The Patriots and Minnesota Vikings (9-2) have won seven straight, while the Steelers have won six in a row.
It's interesting to note that all four streaking division leaders are on the road this week.
*VGB's Week 12 pickem record: 13-3
NFL Picks Straight Up
---
FAV
PICK
ODDS
WAS at DAL
N/A
DAL
N/A
SF at CHI
N/A
CHI
N/A
TB at GB
N/A
GB
N/A
DEN at MIA
N/A
DEN
N/A
DET at BAL
N/A
BAL
N/A
MIN at ATL
ATL
MIN
+125
IND at JAC
JAC
JAC
-450
KC at NYJ
KC
NYJ
+145
HOU at TEN
TEN
TEN
-300
NE at BUF
NE
NE
-450
CLE at LAC
LAC
LAC
-1200
NYG at OAK
N/A
OAK
N/A
CAR at NO
NO
NO
-200
LAR at ARI
LAR
LAR
-300
PHI at SEA
PHI
PHI
-235
PIT at CIN
PIT
PIT
-240
---
Patriots, Eagles Remain Super Bowl Favorites
The Patriots remain huge favorites to repeat as Super Bowl champions. Brady and company have been the Vegas pick to win it all every week of the season. The Eagles, who were listed at 50-1 in the preseason, are now less than 4-1 to win the league championship. They have lost the Super Bowl twice — in the 1980 and 2004 seasons.
The Patriots play their first of three games on the road this week in Buffalo against their division rivals. The Eagles spend the next two weeks on the road as well, but their games are against division leaders — against Seattle this week and the Los Angeles Rams in Week 14.
Some other notes from around the league:
Giants bench two-time Super Bowl winner Eli Manning. It could mean the quarterback's days in New York are numbered. Manning is signed for two more years.
The NFL suspended Denver Broncos' cornerback Aqib Talib and Oakland Raiders' receiver Michael Crabtree for two games each for their roles in a brawl last weekend. The bans were reduced to one game on appeal.
Quarterback Jimmy Garoppolo will make his first start for the San Francisco 49ers this weekend since being acquired from the Patriots. The 49ers face the Bears in Chicago.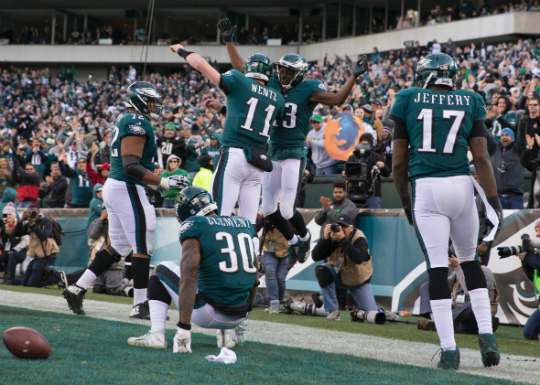 Vegas Betting Top 10 NFL Teams
(Current odds to win Super Bowl LII listed after team record. Odds provided by bovada.lv.)
Philadelphia (10-1) +350 — Eagles have won nine straight, +160 point differential.
New England (9-2) +250 — Patriots have won seven straight, undefeated on road.
Pittsburgh (9-2) +600 — Steelers have won six straight, meet Bengals on road.
Minnesota (9-2) +1200 — Vikings have won seven straight, still underrated team.
Los Angeles Rams (8-3) +1400 — Remarkable turnaround from 4-12 last season.
Carolina (8-3) +1800 — Panthers have won four straight, tied for division lead.
New Orleans (8-3) +1200 — Saints lose on road, but they were missing top DBs.
Atlanta (7-4) +1200 — Falcons have won three straight, but can they beat Vikings?
Tennessee (7-4) +4000 — Titans share division lead, but have -27 point differential.
Jacksonville (7-4) +4000 — Last weekend's loss could come back to haunt Jags.