As the college football season nears the regular-season finish line, one obvious question remains: Can anyone beat Alabama?
The Crimson Tide (8-0) are the unanimous No. 1 pick in the nation as they steamroll their SEC opponents week after week. They have outscored their conference rivals 238-38. They have also been 20-point favorites in every game but one this season. Alabama has this week off as it prepares for its next game against LSU.
For the first time in many weeks, the Top 10 just about remained unchanged with Notre Dame cracking the elite listing with its lopsided victory over USC.
VGB had a winning ticket in Week 8 as TCU (-37.5) blanked Kansas and Notre Dame (-4) crushed USC. The $25 parlay ticket returned $66.13.
Let's try for two wins in a row this weekend (odds provided by bovada.lv). VGB's college football Week 9 parlay pick — Take No. 22 West Virginia (+7.5) over No. 11 Oklahoma State and Arizona State (+3) over No. 21 USC. If both teams beat the spread, the payoff is $59.03. If either team loses or fails to cover the spread, the ticket is void.
---
Two High-Powered Passing Games Collide
Oklahoma State at West Virginia — This is the game of the year for these two Big 12 rivals. Lose this one and the conference title is likely out of the picture.


The Cowboys (6-1) have won four straight on the road this season. They have been favored in every game, but they are 4-3 against the spread (ATS). The Mountaineers (5-2) are undefeated in three starts at home this season. In the two games they weren't favored, they lost. They are 3-4 ATS.
The Cowboys have outgained each of their seven opponents this season. Mason Rudolph is the top passer in the nation with 2,650 yards. He's completed 161-of-242 passes for 19 touchdowns against four interceptions.
But West Virginia has an excellent aerial attack as well. Will Grier is seventh in the country with 2,467 yards. He's completed 177-of-267 passes for 26 touchdowns against five interceptions.
This promises to be a high-scoring game. No wonder the over/under total is set at 74 points.
---
USC Has Dismal Record Against The Spread
USC at Arizona State — The Trojans (6-2) are quickly playing themselves out of the Top 25 and a bowl game. Sam Darnold is a good, young quarterback, but he makes a ton of mistakes. Those errors were magnified against Notre Dame last weekend where USC lost 49-14.
Worse than that for supporters is the fact USC has lost six straight against the spread and it's only covered once this season. The Trojans are also 1-2 on the road this year.

Darnold still ranks 10th in the country in passing, with 2,292 yards and 17 touchdowns. But his 10 interceptions are far too many at this level of play.
The Sun Devils (4-3) have been the underdog in all of their last five games, and yet they've won three of them and are 4-0-1 ATS in that stretch. In their last home game in Week 7, ASU stunned Washington 13-7 as 17.5-point underdogs.
Manny Wilkins is having a good season in his junior year for the Sun Devils. He's completed 156-of-234 passes (66.7%) for 1,837 yards and eight touchdowns against three interceptions.
Wilkins needs to have a big game in this battle for first place in the Pac-12 South.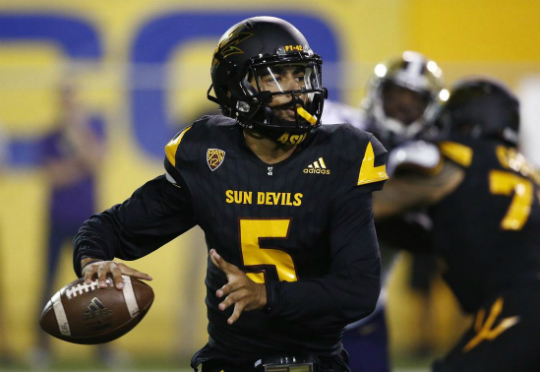 ---
College Football Games This Week
No. 2 Penn State at No. 6 Ohio State (-6) — The second-ranked team in the nation is almost a touchdown underdog in this Big Ten matchup. Both teams are undefeated in conference play and average 40-plus points a game on the season. This is the game of the week.
No. 4 TCU at No. 25 Iowa State (+6) — The Horned Frogs (7-0) have won their last two games by a combined score of 69-6 against two Kansas schools. The Cyclones (5-2) have won three straight and are 6-1 ATS.
No. 14 North Carolina State at No. 9 Notre Dame (-7.5) — If not for a one-point loss to Georgia in Week 2, the Fighting Irish (6-1) would be undefeated. The Wolfpack (6-1) have won six straight, but they are 3-4 ATS.