It doesn't look like a slam dunk for Golden State and Cleveland to meet in the NBA Finals this season — not if Toronto, Boston and Houston have any say in it.
The defending champions from Oakland may have the best record in the league, but no team is hotter than the Rockets, who have won 13 of their last 14 games. Houston is also 2-1 against Golden State this year.
In the East, the Raptors currently hold the No. 1 seed, thanks largely to the NBA's best record at home (24-4). The Celtics, who are 1-1 against the Raptors this year, have held the top spot for most of the season. The playoffs start in about two months.
With 12 games on tap on Wednesday, let's try to pick a winner against the spread (ATS) in two of them and cash a winning parlay ticket.
**VGB's NBA parlay pick (odds provided by Bovada) — Take Indiana (-5) over Brooklyn and Utah (-12.5) over Phoenix. If both teams cover the spread, the payoff is $68.17 for a $25 bet. If either team loses against the spread, the ticket is void.
---
Pacers Undefeated Against Nets
Indiana (-4.5) at Brooklyn — The Nets (19-39) may be last in the Atlantic Division, but they always seem to play close games with the Pacers (32-25).
The Eastern Conference rivals have met three times this season, with the Pacers winning them all — by nine at home on opening night, by 12 at the Barclays Center on Dec. 17, and by four at home on Dec. 23.

Since that matchup, the Nets have gone 7-19, while the Pacers have posted an 11-11 mark.
Brooklyn, which is 1-10 in its last 11 games, is 11-20 at home this season but 16-14-1 ATS. Indiana, which is 8-3 in its last 11 games, is 12-14 on the road but 14-12-0 ATS.
DeMarre Carroll, who has started the most games for Brooklyn this season, and the Nets should keep this game close at home, but five points doesn't seem like enough.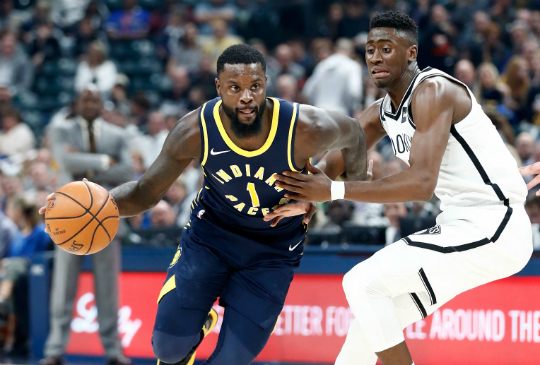 ---
Jazz Enjoying 10-Game Winning Streak
Phoenix (+12.5) at Utah — The Suns (18-40) have not won a road game since Jan. 19 when they beat the Nuggets in Denver by eight points. They are 1-14 since that victory and 9-19 on the road for the season. They sit in last in the Pacific Division.
The Jazz (29-28) are also in last place in their division (Northwest) in the Western Conference, but they are 17-9 at home and in the midst of a 10-game winning streak, which includes a 30-point victory over Golden State.

They're also just a few games out of a playoff spot after beating the No. 3 seed in the West on Monday. Donovan Mitchell scored 25 points to lead Utah at home over San Antonio 101-99.
The Jazz are 16-10-0 ATS at home this season. The Suns are 15-12-1 on the road.
Devon Booker, with 24.1 points per game, is 12th in the league in scoring, but he is doubtful for this matchup. The Jazz are just too hot to bet against these days anyways.
---
VGB's Top 10 NBA Teams
(Current odds to win the NBA Finals listed after team record. Odds provided by Bovada.)
Houston (43-13) +400 — Rockets 13-1 in last 14, haven't lost since Jan. 26.
Golden State (44-13) -190 — Odds-on favorites just 25-10 within conference.
Toronto (40-16) +2000 — Raptors have lost four times at home, best in NBA.
Boston (40-18) +1200 — Celtics have lost three of last four, all to top rivals.
Cleveland (34-22) +850 — Huge victories over Celtics, Thunder and T'wolves.
San Antonio (35-24) +2800 — Spurs have losing record (13-18) on the road.
Minnesota (35-25) +4000 — Timberwolves 9-2 in division, 26-10 in conference.
Washington (32-24) +6600 — Wizards have won six of eight, lead Southeast.
Milwaukee (32-24) +6600 — Interim coach Joe Prunty 9-2 in first 11 games.
Oklahoma City (32-26) +2000 — Paul George best two-way player this season.