Does McGregor have a prayer against Mayweather?
If you gloss over the tale of the tape between Floyd Mayweather and Connor McGregor, a few differences immediately pop out for the August 26 boxing bout.
For one, there's a giant gap between the ages. Mayweather is coming out of a two-year retirement and will fight at 40 years old. By the time the fight comes around, McGregor will be slab dab in his prime at 29 years old.
And unlike Mayweather, there's no ring rust for McGregor. In the time since Mayweather last fought (a decision victory over Andre Berto in September 2015), McGregor has stepped into the octagon four times — including two wars with Nate Diaz. Coming off a two-year hiatus won't exactly be a small order for Mayweather.
The tale of the tape also illustrates McGregor's size advantage. At 5-foot-9, he stands an inch taller than Mayweather and also holds a two-inch reach advantage.
The bout between the two will take place at 154 pounds, a light middleweight division by boxing standards. While McGregor has contested most of his career at 145 pounds, his last two fights (both wins) have come at 170 pounds and 155 pounds, respectively. Meanwhile, Mayweather has fought at multiple weight divisions, winning championships in four including light middleweight, but his last fight with Berto was at 147 pounds.
Next, McGregor is a southpaw — a stance that's given the orthodox Mayweather some trouble in the past. Mayweather has fought a southpaw only nine times in his 49-fight career, which some in the boxing world think is no coincidence.
McGregor's weapon of choice is his left fist. He has true knockout power, evident by his 18 knockout victories in his 21-win career. Don't just take our word for it, look no further than McGregor's win over Jose Aldo in 13 seconds. Aldo was undefeated for almost a decade before one McGregor left hand ended it all.
The last tale of the tape measurement — and the most important one — is record. Of course, Mayweather is an unblemished 49-0. A win against McGregor, and he'll surpass Rocky Marciano's long-standing perfect mark. McGregor is 21-3 in MMA, but 0-0 in boxing. For all of McGregor's aforementioned advantages, his inexperience undoes it all and more.
The experience factor is why Mayweather is the overwhelming favorite in all sportsbooks. With Mayweather's odds at winning hovering north of -600 across the board, there's little incentive to bet his way. The payout is minimal. The real value in this fight will be bets such as round over/under, method of victory, and even a prop bet like number of pay-per-view buys.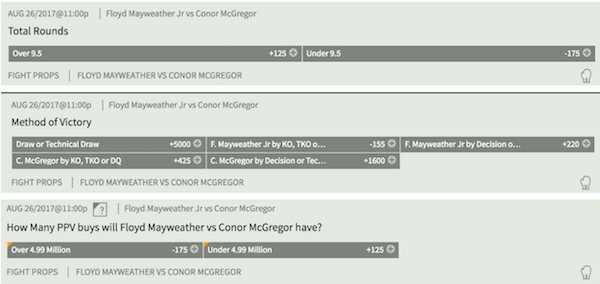 Wagering Mayweather by decision knocks out two of those bets. While some call Mayweather's fighting style "boring," the more appropriate term in "risk-free." He plays it safe and wins on points alone. Despite facing a novice fighter in McGregor, we expect Mayweather to follow suit.
If you're one of the very few people that believe McGregor will pull off the all-time upset, then the under and McGregor by KO is the obvious choice. There's zero chance McGregor will outbox a grizzled veteran like Mayweather. If McGregor wins, it'll be via one devastating knockout punch — one he's made a career out of in the MMA world.
The pay-per-view buyrate is a fun bet. By comparison, Mayweather's megafight with Manny Pacquiao generated 4.6 million buys. That's an eye-popping number. But the beauty in this fight is it'll merge two diehard fan bases — boxing and MMA. Add on the talking power of both Mayweather and McGregor, and we love the over here.
Total Rounds: Over
Exact fight outcome: Mayweather by Decision
Total PPV Buys: Over