NBA teams to back on Saturday
By Dan Favale
Philadelphia 76ers (+3.5) vs. Miami Heat (-3.5)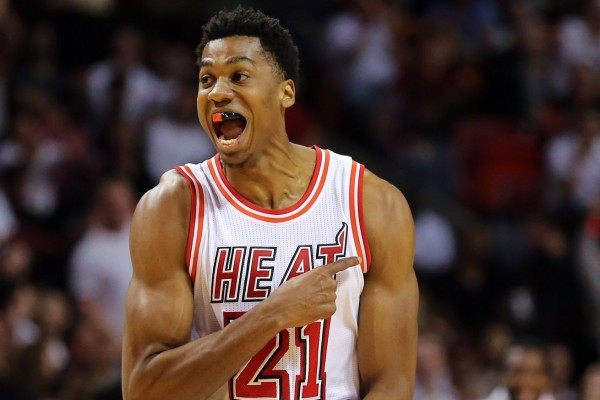 The Miami Heat have won 13 games in a row, and it doesn't seem like they're going to slow down against the Philadelphia 76ers.
We must indeed be mindful of the Heat playing their second game on the road in as many nights. But the trip from New York, where they beat the Brooklyn Nets on Friday night, to Philadelphia isn't all that bad.
Plus, the Sixers will still be playing without Joel Embiid, who remains the lone difference between a competitive, postseason-caliber squad and a borderline hot mess.
Keep an eye on whether Heat head coach Erik Spoelstra rests any of his core guys—namely Goran Dragic, Hassan Whiteside and James Johnson. But if it's all systems go for a Miami team that's suddenly within striking distance of the East's playoff bubble, this bet isn't a hard decision.
The Pick: Miami Heat (-3.5)
Indiana Pacers (+7.5) vs. Milwaukee Bucks (+7.5)
It's easy to find yourself torn on this matchup between the Indiana Pacers and the Milwaukee Bucks.
On the one hand, the Pacers have been incredibly difficult to beat at home. And the Bucks are working off a Friday night loss to the Los Angeles Lakers, during which they expended energy trying to erase a 20-plus point deficit only to come up short in the end. And let's not forget the Bucks are still dealing with the harrowing reality of having lost Jabari Parker for the season.
On the other hand, the Bucks often play like one of the most balanced teams in the league. And the Pacers are coming off a Friday night letdown against the Washington Wizards themselves.
Expect this one to be close, even with the Pacers enjoying one of the best home-court advantages in basketball. Truth told, it wouldn't surprise us to see the Bucks pick up a win.
The Pick: Milwaukee Bucks (+7.5)
Oklahoma City Thunder (+7) vs. Golden State Warriors (-7)
Though it's popular to hype up this matchup, since Kevin Durant will be returning to Oklahoma City for the first time since joining the Golden State Warriors, we can't pretend like the Oklahoma City Thunder are on the same level as his new team. They're not. And it's not even close.
That much became abundantly clear during the first two meetings between these squads, each of which the Warriors won rather single-handled.
While this is different in the sense that the Thunder are now playing at home, in front of what figures to be an incredibly boisterous crowd, we can't lose sight of how good the Warriors are, nor can we forget that Durant's new running mates will no doubt want to put this one way for him.
The Pick: Golden State Warriors (-7)
Dallas Mavericks (-6) vs. Orlando Magic (+6)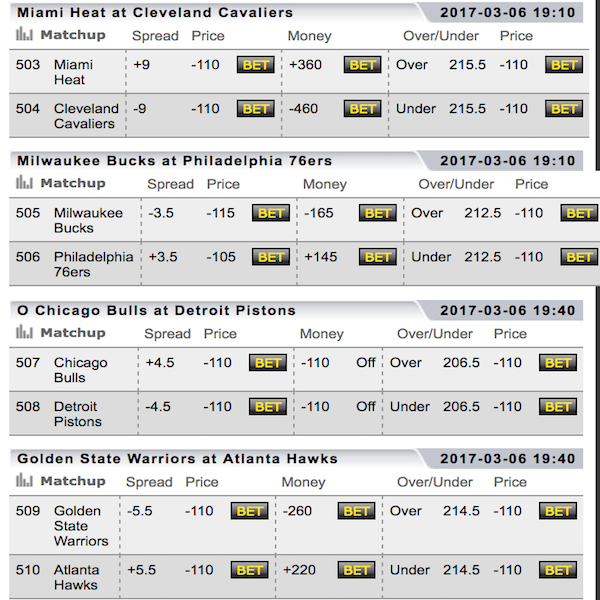 The Dallas Mavericks have been one of the hottest teams in the league in recent weeks, a rise fueled by their savvy starting-lineup change. They can still be a tad unpredictable depending on how much they play Dirk Nowitzki at center, but the Orlando Magic are, in a word, terrible.
Unless Orlando has one of its random scoring and defensive outbursts, this is a home game Dallas should have no problem securing.
Boston Celtics (+6) vs. Utah Jazz (-6)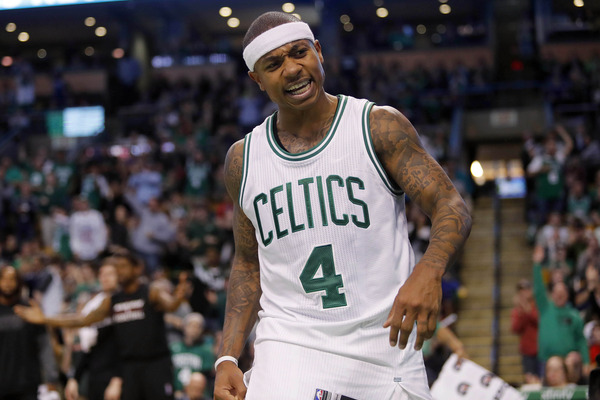 Can you say tantalizing line?
The Boston Celtics are really starting to come into their own, with the defensive versatility to prove it. But the Utah Jazz are also as healthy as they've been all year, validating their mettle as a top-four Western Conference team.
Boston is nevertheless the easy choice here, even with Utah's rebounding advantage. Things will take a turn if Jae Crowder, a game-time decision for personal reasons, is a no-go once again. But the Celtics' depth is scary.
Even if they don't win, this should be a close one.