Let's take a look at the current future odds and make some Formula One betting predictions for the 2020 season:
Lewis Hamilton -185
Max Verstappen +515
Valtteri Bottas +550
On Track For History
History is on the line in this year's Formula One season.
Superstar Lewis Hamilton (-185) will equal the all-time record if the 35-year-old British racer can continue his incredible run and capture the 2020 driving title (F1 odds 2020 provided by Bovada). If you like Hamilton to take his seventh career championship, this is the time to bet on him because his future odds will only go lower as he wins a few races and the schedule closes in on that November finish line.
Belgian driver Max Verstappen (+515), who finished third in the 2019 driver standings, is second on the future odds board, while last year's runner-up Valtteri Bottas (+550) is third.
There is a record of 22 races in the 2020 Formula One season with two stops in North America — Round 9 on June 14 in Montreal and Round 19 on October 25 in Austin, Texas. Lewis won in Canada last year, while Bottas took the checkered flag in the Lone Star State.
While the F1 odds board currently features futures for the season title and Round 1 in Melbourne, Australia on March 15, players can count on a full slate of prop bets for each race at top-ranked online sportsbooks like BetNow and GTBets.
If you're not a member of either site, be sure and take advantage of a welcome bonus where the bookmaker matches a portion of your initial deposit. BetNow offers a 50-per-cent bonus up to $1,000, while GTBets has two promotions which total $750.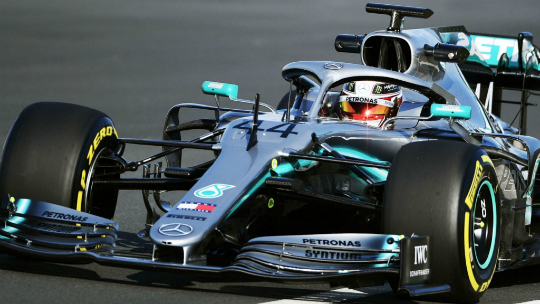 Who Will Win the F1 Championship?
The F1 circuit has been all about Hamilton since 2014 when the driver from Stevenage, England won his second championship. Since then, Hamilton has won three straight titles and five of the last six. Add in his first trophy in 2008 and Hamilton is on track to tie the all-time mark of seven championships set by racing legend Michael Schumacher.
Hamilton dominated the points standing and winner's circle in 2019. He topped the other drivers by 87 points and won 11 of 21 races. Bottas, 30, finished a distant second to the champ with four victories, while the 22-year-old Verstappen was third with three victories and nine Top 3 finishes.
VGB's pick — Hamilton (-185). Can the champ be stopped? There has been a lot of chatter from both Ferrari and Red Bull that Mercedes' record run is coming to a close. But Hamilton offered his own warning to the competition, saying that he is "physically and mentally" on "another level" compared to last year's outstanding run. It's time to join a top-ranked online site and take advantage of the odds on Hamilton now.
What Else Can I Bet On In F1 Racing?
Online websites have changed the way gamblers can play sporting events today. There are so many betting options, especially prop bets, that anyone can find a betting line that they want to wager on.
F1 racing is no different. There are head-to-head betting lines, outright winners, prop bets on all the drivers in the race, even margin of victory bets for the winner.
There is a lot of value being offered on the F1 competition, but Hamilton and his Mercedes team have shown no signs of slowing down. This should be a historical year for the superstar.
VGB's pick — Our F1 prop bet pick 2020 is to parlay a Hamilton and Mercedes title for driver and constructor. Hamilton is listed at -185, while Mercedes is pegged at -500.
See below the top sportsbooks where you can wager online and choose the best one for you: