Floyd Money Mayweather loves his toys
Up until his retirement two years ago, Floyd Mayweather regularly topped Forbes World's Highest-Paid Athletes — and no one ever came close to dethroning him.
His last fight alone against Manny Pacquiao earned him a cool payday of at least $220 million. In 36 minutes of work during that bout, "Money May" netted $6,111,111.11 a minute — or $101,851.85 per second. That's more than the payroll of every "big four" professional sports team, sans the Los Angeles Dodgers. If your eyes came unglued, you're not alone.
It's estimated Mayweather has earned north of $700 million in career earnings, which is believed to be behind only Tiger Woods and Michael Schumacher all-time for any athlete. His upcoming fight against Conor McGregor should inch him closer to that $1 billion mark.
As you can imagine, Mayweather enjoys the fruits of his labor. His collection of material items is like a luxury candy shop. Somehow, we waded through everything and picked Mayweather's most flashy possessions.
Car collection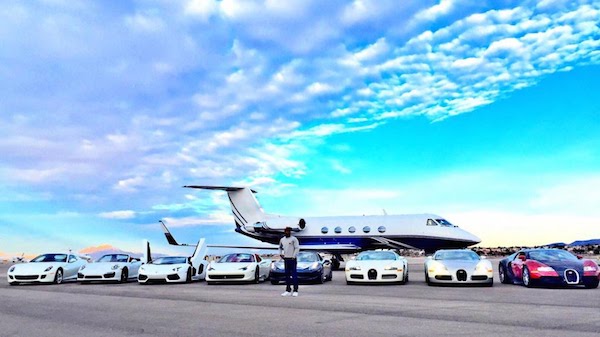 The most impressive part of Mayweather's assortment of vehicles isn't just which luxury cars he owns — multiple Bugatti's, Porsche 911, Lamborghini, Ferrari, etc. Rather, it's Mayweather has his fleet of cars color coded by location — white-painted in Miami and black in Las Vegas.
Bank account
Ok, this isn't a material thing, per se, but it's just a small glimpse into how much cash Mayweather has laying around — as he's known to carry copious amounts of cash in a duffel bag. The undefeated boxer was profiled by ESPN four years ago before facing Canelo Alvarez. At one point, the reporter saw a receipt for Mayweather's bank account. An 11-digit number read back $123 million.
In true Mayweather fashion, all he replied was "one account, baby." We bet that bank account has swelled since 2013, too.
Private Jets
What's better than owning one private jet? Oh, right, owning two. Mayweather dubs each plane the Air Mayweather I and 2, respectively.
The planes will be his mode of transportation to embark on a tour to promote his upcoming bout with McGregor — as if it needed any more publicity. He'll be traveling snug as his newest 12-seater Gulfstream III is customized with gold cup holders, a gold sink, and gold accents throughout the cabin. No word yet if the toilet is also made of gold…
Cribs
If MTV Cribs was still a thing, no celebrity would probably outshine Mayweather's slew of fortresses. He owns multiple penthouses, including ones in Los Angeles, the Las Vegas strip, and Miami.
However, his main area of residence is the famed "Big Boy Mansion" on the outskirts of Sin City. The 22,000 square-foot house has its own Instagram and Twitter account. Amenities include a 12-person shower, two-screen home movie theater, Fendi-designed light fixtures, and more.
Land yacht
At a modest $300,000, this far from Mayweather's most luxurious item. But it gets brownie points for coolness.
The "land yacht" is a completely customized Mercedes party bus. Inside, you'll find a 55-inch TV decked out with DirecTV, heated massage chairs, and a completely stocked champagne bar. This is the type of impulse buy you make when you already own everything else imaginable.
Souped-up closet
Mayweather's collection of shoes and watches could be their own item on this list, but we bunched them together for convenience sake. He owns at least two timepieces worth more than $1 million a piece. Moreover, Mayweather has more closet space for his footwear than many people have for their entire home.
Last but certainly not least, Mayweather only wears underwear once before discarding them. It must be good to be King…