Let's take an early look at the Breeders Cup 2019 odds for the Classic:
McKinzie +350
Code of Honor +400
Vino Rosso +600
Wide Open Classic
The Breeders Cup Classic could be one of the best betting races of the year.
There's no clear-cut favorite. No Triple Crown winner.
No dominant entry. Plus, horse of the year honors will be on the line. Add all this up and bettors have a mile-and-a-quarter race where the post time favorite will likely be +300 or higher. Millions will be bet on the race at online bookmakers and Las Vegas sportsbooks like the Mirage and Station Casinos.
For now, McKinzie, trained by Hall of Famer Bob Baffert, is the lukewarm favorite at +350 (Breeders Cup Classic odds provided by Bovada). Multiple Grade I stakes winner Code of Honor is the second choice at +400, while Vino Rosso is the third pick at +600.
The 36th running of the Breeders Cup returns for the ninth time to Santa Anita Park in Arcadia, California, which is about 45 minutes east of Los Angeles. The best horses from around the world will compete on dirt and turf for $28 million in total purse money.
Breeders Cup entries 2019 spotlights five juvenile races for two-year-olds on Friday, Nov. 1 and nine world championship events for older horses on Saturday, Nov. 2.
The biggest day in thoroughbred racing ends with the Classic. Post time in prime time for the main event is scheduled for 8:44 p.m. ET or 5:44 Las Vegas time on NBC.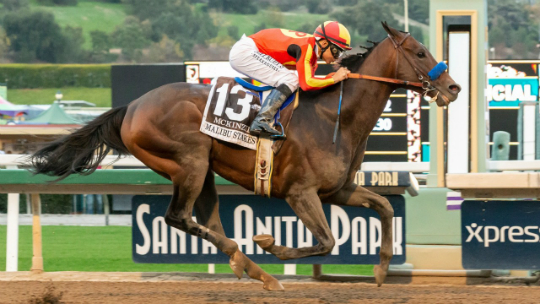 What Bettors Need to Know
$26.67: It's the average win payoff for a $2 bet on the Breeders Cup Classic.
47.3 per cent: The percentage of horses in Breeders Cup odds that were less than even money that went on to win their respective championships. There have been 26 odds-on winners from 55 such starters.
14 per cent: The win percentage of international-based starters at Breeders Cups held at Santa Anita.
Lightning fast track: The weather will likely be sunny and hot in southern California, so bettors can expect a fast track and firm turf course.
Here are our picks for the major races for Breeders Cup weekend:
Breeders Cup Juvenile
Eight Rings +275 Dennis' Moment +350 Maxfield +350
The $2-million Juvenile will be contested over a mile-and-an-eighth. Eight Rings, trained by Baffert, has already won a Grade I event at this distance and over this race course. The only defeat of his career was when he lost his rider.
Another colt with a dazzling resume is Dennis' Moment. He won his maiden race by 19 1/2 lengths and he holds the fastest Beyer Speed Rating of the group.
The Godophin-owned Maxfield will enjoy a shorter field as this colt likes to race from off the pace. His last victory at Keeneland included a breathtaking charge from the back of the pack.
VGB's pick — Maxfield (+350)
Breeders Cup Sprint
Mitole +225 Imperial Hint +300 Shancelot +350
The $2-million Sprint will be contested over the standard six furlongs. As usual, there is a ton of early speed in this race. Mitole knows how to find the winner's circle as the four-year-old is 9-1-1 in 11 career starts.
But he was soundly beaten in July by Imperial Hint, who has won two straight including a track record performance at Saratoga. Three-year-old colt Shancelot won the first three starts of his career, but he has lost his last two.
VGB's pick — Imperial Hint (+300)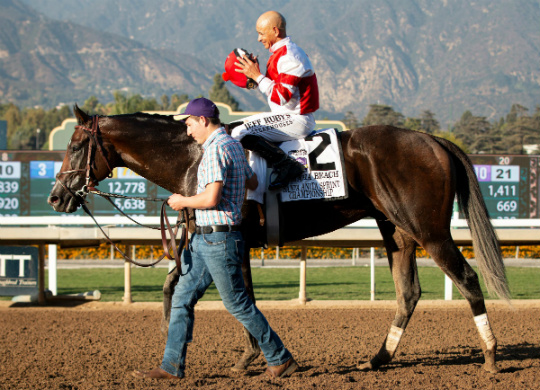 Breeders Cup Mile
Omaha Beach +200 Catalina Cruiser +300 Coal Front +600
The $2-million Mile will go around two turns at Santa Anita. Omaha Beach, the pre-race favorite for the Kentucky Derby and Breeders Cup 2019 odds for the Mile, returned from surgery and injury six months later to win a graded sprint race in early October. His connections decided this was the best spot for the talented three-year-old considering all his setbacks.
"The only disappointment in all this," Hall of Fame trainer Richard Mandella said, "is that I missed the opportunity to prepare him properly for the Classic, and I think that's where he deserves to be."
Omaha Beach will be up against a field which includes Catalina Cruiser, who has only lost once in eight career starts, and Coal Front, who is 8-0-1 in 12 lifetime efforts.
VGB's pick — Omaha Beach (+200)
Breeders Cup Distaff
Midnight Bisou +125 Dunbar Road +600 Elate +600
The $2-million Distaff will be contested over nine furlongs or a mile-and-an-eighth. Midnight Bisou, who finished third in last year's Distaff, is an undefeated 7-for-7 this year and has only been beaten once ever at Santa Anita.
Dunbar Road, 4-1-1 in six career starts, has two graded victories. The three-year-old filly lost her only start at this distance. Elate, 2-3-1 in six starts in 2019, has been beaten by Midnight Bisou three times this season. She finished fourth in the 2017 Distaff.
VGB's pick — Midnight Bisou (+125)
Breeders Cup Turf
Anthony Van Dyck +250 Magical +350 Bricks and Mortar +500
The $4-million Turf will be contested over the longest distance of any championship at a mile-and-a-half.
Epsom Derby winner Anthony Van Dyck has won at every level in Europe, but the three-year-old colt hasn't visited the winner's circle since June 1. He has one victory and a second in three tries at 12 furlongs.
Another European invader, Magical has won four times and finished second three times in eight races this year. The four-year-old is trained by Aiden O'Brien, who has won this race six times.
Bricks and Mortar, who won the Breeders Cup Turf Classic last year, has been unstoppable in five starts with four Grade I victories — none of them in California.
VGB's pick — Bricks and Mortar (+500)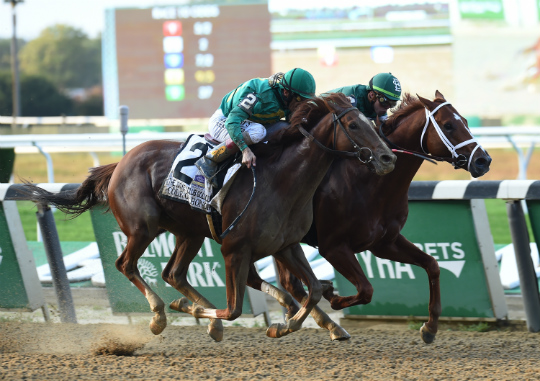 Breeders Cup Classic
McKinzie +350 Code of Honor +400 Vino Rosso +600
The Classic will be contested around two turns at a mile-and-a-quarter, with the winning connections receiving $3.3 million. McKinzie has never finished worse than second in his life, except for last year's Classic when the colt ended up 12th at Churchill Downs.
This is the four-year-old's home track where he has won twice before. McKinzie has proven himself an elite runner with the best in the world, but he has never been at his best going a mile-and-a-quarter.
By the way, favorites have won three (30%) of the last 10 Classics, so don't be too quick to place your money on the chalk.
Ever since he finished second in the Kentucky Derby, three-year-old sensation Code of Honor has been a perfect 3-for-3 with two Grade I victories.
Barring any tedious traffic problems, this colt will be a major force in the last quarter-mile of the race. He has never competed under the hot sun in California, but Code of Honor didn't seem to mind the summer heat in New York this season.
Vino Rosso is the one who beat Code of Honor in the Jockey Gold Cup, but was placed for interference. The four-year-old has just two wins in his last nine starts, but one of them came at Santa Anita earlier this year in the Gold Cup at the exact same distance as the Classic.
VGB's pick — Code of Honor (+400)
See below the top sportsbooks where you can wager online and choose the best one for you: